A Week from a Project Manager's Work at Netguru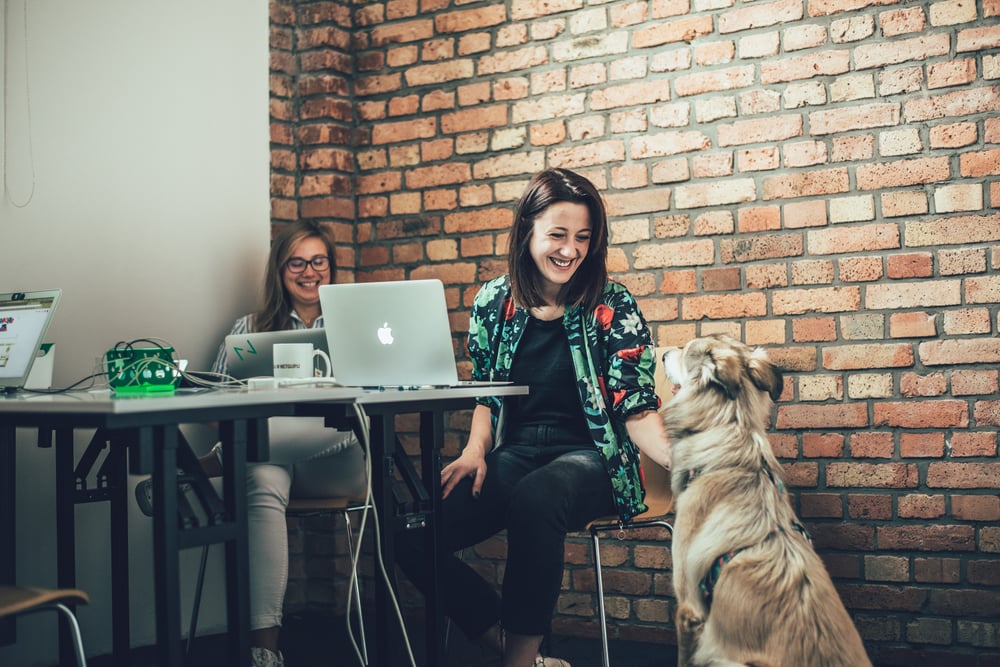 Managing projects can be a bit confusing - you are juggling a lot of tasks, and it's hard to name one main thing you are responsible for.
Let's try and see what makes up a PMs week at Netguru - hopefully, this will let you understand the role a bit better!
#The Daily Scrum
It's hardly surprising that meetings related to projects are the bread and butter of my week. They are pretty similar in all three of them - Wordguru, Bob the Bot, and Carlens - and across most of the projects in the company, although there are some exceptions.
We usually try to kick the day off with a standup meeting (or a daily Scrum), where we talk through the last day and try to plan for the upcoming one. People try to identify potential blockers and help each other remove them.
While I have not written a line of code in my life, I can be of some use there as well - I know the products pretty well and can dispel some doubts or notice something my team might not be noticing. As I need to juggle three projects, I'll often inform my colleagues about my availability on a given day - I want them to be aware if I'm in a two-hour meeting and can not respond.
I also try to coach my teams on how to have a productive but concise stand up - if some in-depth discussion is needed between two people, it's better for them to stay after the call than to keep the entire team. The fact that somebody else has the room booked right after our meeting also forces us to keep to the timebox.
#Other project meetings
While the daily standup does not really require a lot of prep, other meetings do - at least if you want them to be productive. As we want to show and tell our client what the increment from last sprint is, we take a look back at our work and make sure our staging environment is all up and running - or, even better, try to deploy it to production in time. If stuff is only partially working at this point, we'll demonstrate a happy path while still being transparent that it still needs to be finished. For many clients those weekly calls are their main form of participation in the project - they use them to give us feedback, update us on the situation in their companies, and so on.
For each project, we also have a slot booked for backlog grooming, aiming to make our plannings as efficient as possible. Every week, we spend an hour or so going through the tasks in Jira, filling in the descriptions, linking them to each other, and trying to eliminate duplicates. Since sometimes we add things to the backlog ad hoc, to fill-in later, at times some of them don't have a lot of information. Ideally, we want them to meet the definition of ready before we plan the sprint.
My role here is mostly facilitation - helping the team chose what to focus on and to go through the meetings effectively. Having a good insight into the user flow and business model of the application can be crucial here - as well as during sprint planning. When it comes to the latter, we can either work directly with the client or without them, based on the priorities agreed with them. While we usually book an hour for the planning, it can go like a breeze with properly described and estimated tasks. That's one example of how day-to-day diligence can make your life easier.
If my calendar is not too busy, I like to dedicate some time to preparing for retrospectives - it's an awesome meeting, but it can go a bit stale, so I often try to spice it up a bit with a new tool or approach. It's surprising how much you can find out about serious matters if you ask grown-up people to draw what animal this last sprint has been.
#Life outside of meetings
Whether I have time for research and preparation like this depends on the amount of various ad-hoc tasks, calls, and meetings I have in a given week. There is no week which I could fully predict - I can never know what will happen this time around. Sometimes, I'll need to fill in for a sick colleague and help his project teams; while we strive to make them self-managing, we do not want them to feel left alone in cases like this. Other times, a client might ask for a last-minute call - maybe they have found a business-threatening bug on production or just left a board meeting which forces them to change our development priorities.
A lot of my time is also consumed following the daily communication - mostly on Slack, but in some projects emails will be prevalent. Sometimes, keeping up to speed can get in the way of focusing on other tasks - which is why I keep a slot booked every morning to kick the day off by clearing my mailbox and Slack channels. If I still have some time left, I usually dedicate it to some other duties that require more concentration - the mornings are usually pleasantly slow compared to hectic middays.
#Managing projects in a rhythm
Overall, it would be justified to say that we work in cycles marked by project events. The upside is that, if planned well, it helps you keep a certain pace, which makes it all effective and predictable(-ish). Downside? Sooner or later, your brain rewires itself to think about Tuesday as Bob the Bot sprint planning day, even outside of business hours.
While projects always come first, I also engage in internal meetings and responsibilities - let's move on to that.
#V2MOM working group
As you may know from our other blog posts (link), we're using the V2MOM approach to grow our organization. Each PM works in a dedicated V2MOM group that tackles one of the challenges we're currently facing in order to improve our processes and the way we lead our projects. The groups focus on topics like cross-department cooperation, risk management, education, Jira etc. During the weekly group meeting, we collaborate with other Project Managers to provide a review of what has been accomplished and what are our plans and goals for the upcoming week. It's a great chance not only to get to know your colleagues better, but also to brainstorm and validate your ideas, experiment with different approaches, and learn.
#PM meeting
Once a week, all Project Managers meet for an hour in order to discuss current business and share important information if necessary. Every meeting has a clear agenda and notes, so no crucial information slips by. We focus mostly on day-to-day information, changes, and requests. However, our PM-Core shares also some strategic plans and decisions that may influence us in the future. The PM meeting ensures transparency in the team and keeps us well integrated.
#F2F meeting
One of our core values is "Be ambitious, grow yourself and the people around you" (you can read more about our values here) and we work hard to raise the bar, meet our goals, and learn as much as possible. In our culture of growth, we try to support and help each other and one of the opportunities to do that is a face-to-face meeting with your leader every quarter.
During the meeting, we discuss the successes we achieved and the challenges we faced during the last few months. It's essential for both sides to come to such meetings prepared. Beforehand, the leader gathers feedback from people we worked with to better understand our performance, the way we work, the strengths we need to focus on, and the weaknesses we need to improve on. As a Project Manager, you need to do a retrospective to understand what went well, what you can be proud of, and what still needs a bit of work and further development. It's also a chance to think about the organization as a whole and provide feedback that will help Netguru become an even better company. It might seem simple enough, but you need to book quite some time in your calendar to prepare for a really meaningful conversation.
#One-on-one (a.k.a O3)
Every week you also meet with your leader for an O3. It's a meeting when the full attention of your leader is at your disposal. You are the owner of the meeting and the leader is there to help you with anything you may need. We usually provide a short update about the PM's work for better context and discuss the challenges we face in projects. Sometimes we only focus on how to improve the retrospectives, sometimes we discuss the growth needs and goals we've set up, and sometimes we just dig deeper into data - it all depends on the current situation. I usually try to book a slot each week to advance towards these goals, review my progress or generally do something that benefits my self-development.
Having such an intense calendar might be challenging at times, but we have a lot of tips and tricks that make it a piece of cake - check them out here