Building an Agile Tech Team From Scratch & How to Remain Innovative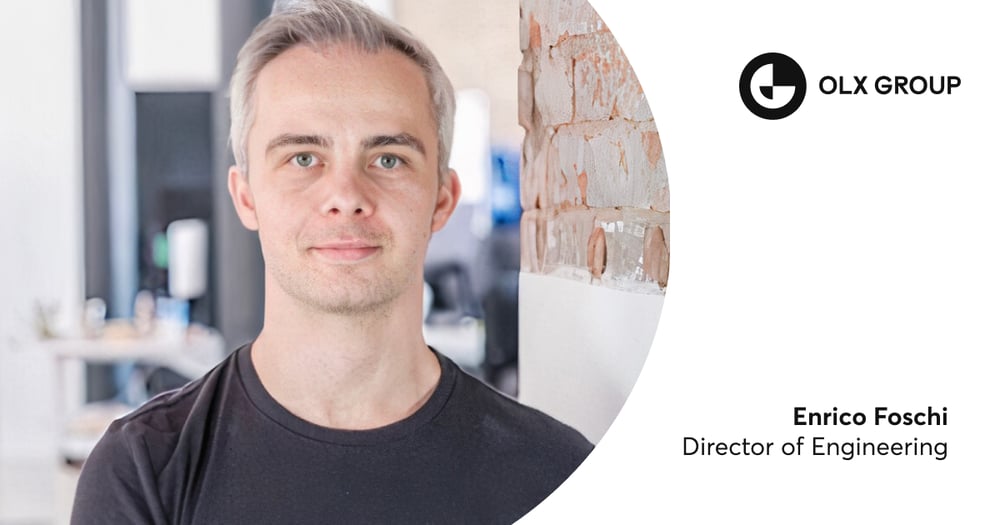 Assembling a team is easy. You can post a description on a job board, hire the first few people who respond, and you're done. You have a team.

However, assembling a successful, collaborative, and innovative team is a bit more challenging. Actually, a lot more challenging.

Enrico Foschi knows this firsthand, and he knows when a team dynamic is working and when it's not. As the Director of Engineering for Seller, Buyer, Growth (CORE) at OLX Group, Foschi is a team leader for one of the largest internet corporations in Europe.

Comprising of 20 brands that have a presence in 30 countries, OLX is home to some 7,500 employees. Needless to say, it's a challenge to keep a team of that size running efficiently, all while innovating and making sure all of their 300 million monthly users are satisfied.

Foschi sat down with Netguru and shared his insights on what he believes are the steps to take to create a dynamic and innovative technology team.
Building & scaling a tech team from scratch
Foschi has learned a lot about the dos and don'ts of team building over the years.
With over 15 years' experience as both an independent contractor and as a team lead, he understands what it's like to be brought onto a team and what it's like to be the team builder.
One common mistake he's seen time and time again is the inability for some team leaders to let go of their own bias and neglecting to build a culture first.
They focus on building teams full of members who think and work exactly like themselves and six or twelve months down the line they realize that the dynamic isn't working.
Sometimes the teams will gel and produce solid results.
However, many times team members don't, and employees will quit. Or even worse, the manager will leave only to use the same hiring process again at their new employer.
It's a vicious cycle.
However, for Foschi the first step in building a dynamic and innovative team is easy.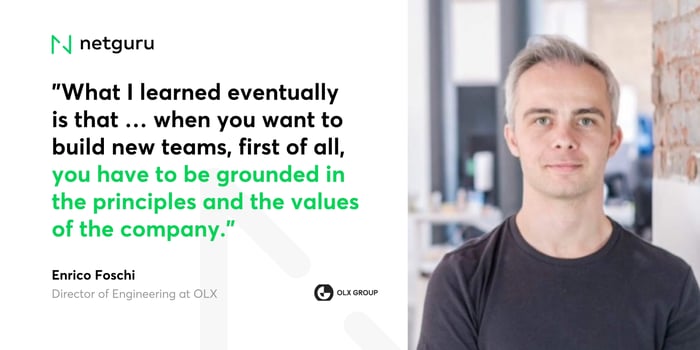 "What I learned eventually is that … when you want to build new teams, first of all you have to be grounded in the principles and the values of the company," Foschi says.
Gone are the days of finding team members who are all like-minded based on the manager's way of doing things, or the manager's goals.
Now it's about the company's vision and the company's mission.
This is exactly the approach at OLX.
Not only do they find people who are on board with their values, but those who are also open-minded.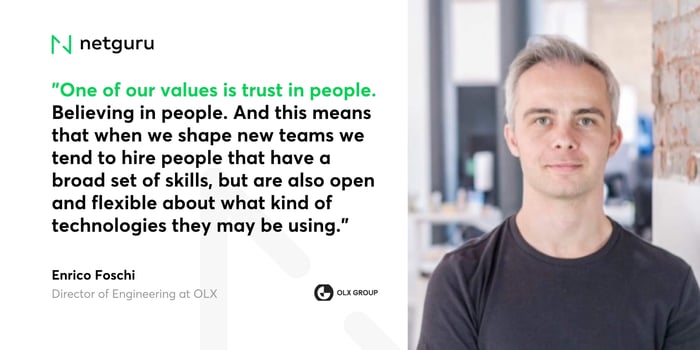 "One of our values is trust in people," Foschi says. "Believing in people. And this means that when we shape new teams we tend to hire people that have a broad set of skills, but are also open and flexible about what kind of technologies they may be using."
This doesn't necessarily mean that Foschi or OLX doesn't hire people who are specialists or subject matter experts. Needs can vary from project to project.
They hire individuals who are great for the company, and not just for one specific team or a specific technology.
For instance, build your team with full stack engineers and other personnel who are aware of multiple technologies, so that they may bounce around between different projects.
Foschi's second tip? Start small, and with teammates at various skill levels.
"So maybe have a small core team at the beginning," Foschi says. "Of three to five, to six people, with all the key components that you need that can shape the product, with a decent level of seniority and experience that allow you to not repeat some of the mistakes that each initial team goes through."
While some may not recommend hiring team members with too much seniority due to budget or other concerns, Foschi sees recruiting team members with decent experience as a plus.
This allows you to let them be more independent, as they've most likely done the work before and will require little guidance.
A small diverse team is also a plus for when your team is ready to do its own research and development. Once trust is established and team members become independent, you can begin to explore avenues for innovating from within your team.
And lastly, the final key component to building a team: a safe environment.
Foschi believes that every team member should be heard. And to be heard, team members must not feel intimidated to speak up, experiment, express opinions, or share ideas.
He believes that creating a culture that is non-judgmental and allows open dialog is important.
And simply put, he doesn't want any egos or narcissists on the team.
He wants "nice people."
He wants teammates who are dedicated to helping to contribute to the greater good.
He wants doers who are there to help solve problems.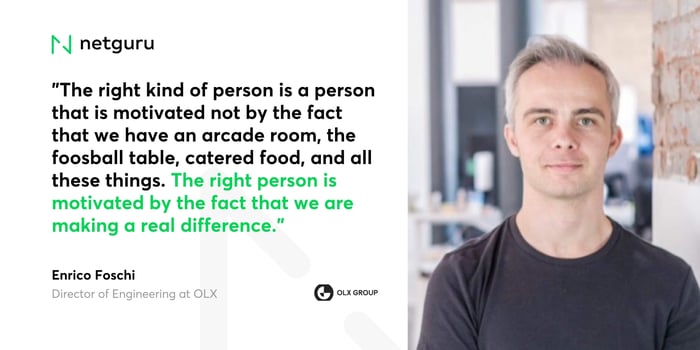 "The right kind of person is a person that is motivated not by the fact that we have an arcade room, the foosball table, catered food, and all these things," Foschi says. "The right person is motivated by the fact that we are making a real difference."
It's not just a job at OLX, Foschi explains. It's more than that.
They're helping people with their dream jobs.
They're helping people find a home where they're to grow their family.
They're helping people sell their cars for income that they need.
They're doing more than building a marketplace for users, they're helping to change lives. And for Foschi, having people on board who are doers and are excited about solving everyday issues and providing value in their environment is key to being a part of his team.
Keeping up with innovation
Foschi understands that coming up with new ideas or products today is harder than it has ever been.
However, he makes an important note that innovating as a new company is much different than innovating as an established market leader.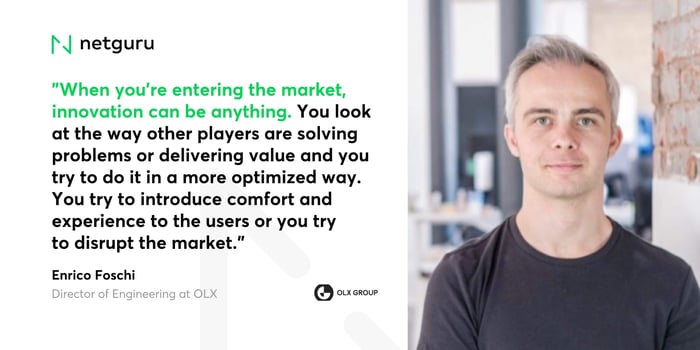 "When you're entering the market and you're a new player, innovation can be anything," Foschi says. "You look at the way other players are solving problems or delivering value and you try to do it in a more optimized way. You try to introduce comfort and experience to the users. Or you try to disrupt the market."
For Foschi and OLX, their problems are much different. And to be frank, there's no roadmap of solutions for the problems they come across, that at many times need to be solved quickly so as not to disrupt their audience.
What it comes down to for them to stay relevant and at the top of their market is to always be experimenting.
"At the end of the day, everything that we do is somehow innovative," Foschi says. "I mean at the scale that we have and the size of our user base and the number of problems and countries we're dealing with, there's basically no blueprint to follow. So everything that we do has to follow a religious approach to experimentation to find out what actually solves problems. And there is a constant process of learning and innovation."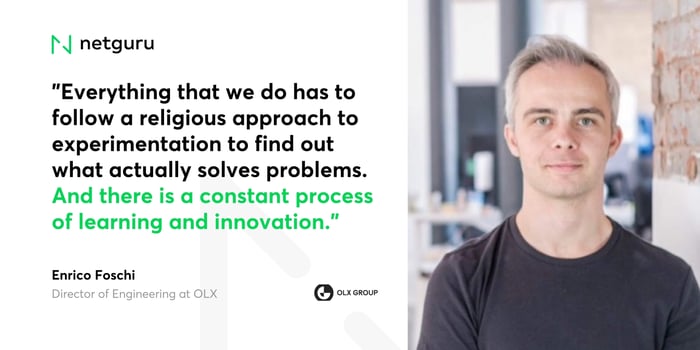 However, experimentation is much more than knowing how to code, Foschi adds.
It goes way beyond that.
It means that there is always internal experimentation on how to set up the teams, experimenting with organizational structure, and even experimenting with how coworkers interact with each other.
Even with the recent pandemic, there were experiments and trials that needed to be conducted to help with work efficiency and interacting with the customers.
There's always an experiment to conduct.
Across the board, there should always be innovation and learning. And it's something that OLX encourages everybody in the company to participate in.
Of course, many may think that a company the size of OLX can afford to sit back and play it safe and live off their large user base.
But not Foschi.
He believes that if you want to continue to make a difference in the world and evolve, you have to keep experimenting.
Or simply put: You have to be bold.
"You can take the safe approach and stay on a safe ship in harbor, because this is working, it's floating, it's fine," Foschi says. "And we have all the services aboard. But ships are made to sail, and when you don't do that, somebody else is gonna set sail and take over your business. So you need to be bold, and you need to go into these uncertainties."