How Banking as a Service Fits into Fintech's Future?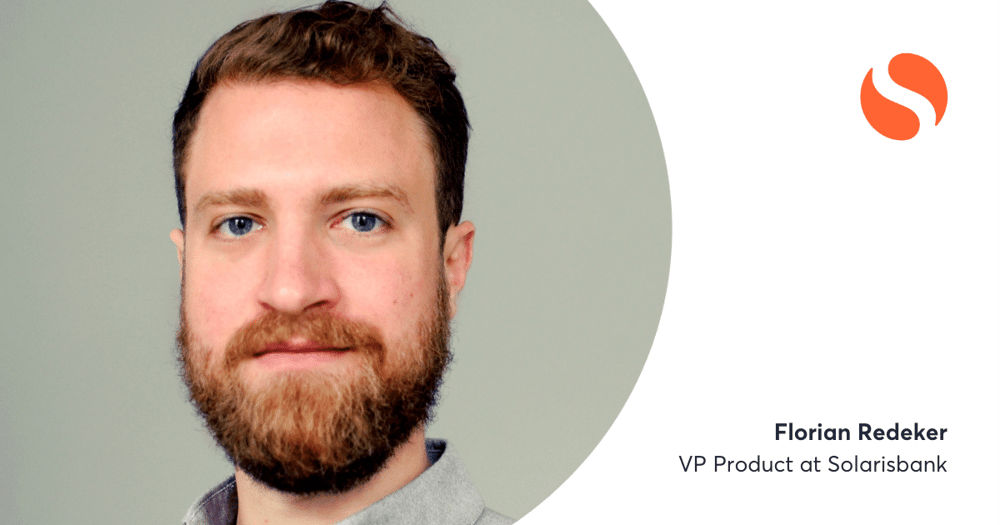 In some ways, we're seeing more and more businesses turning into fintech companies.
We've seen companies like Stripe raising huge amounts of capital and new fintech companies popping up everywhere you turn.One thing is clear. Fintech will continue to be the future of financial services.

Something that's making this possible is banking as a service. We've all heard by now about software as a service (SaaS). Perhaps even anything as a service (XaaS), but what about BaaS?

In this episode of Disruption Talks, we spoke with Florian Redeker, VP of Product at Solarisbank. Florian shares his insights into the world of BaaS. He discusses where fintech is heading and how Solarisbank is leading the way in banking as a service.
What is banking as a service?
In the growing world of "as a service" types, banking has been one to confuse people. BaaS is an end-to-end service that allows digital banks, businesses, and other third parties to connect with banking systems directly via APIs. This builds on what these companies can offer customers from a financial standpoint.
Filip Sobiecki: Could you give us a little introduction to yourself?
Florian Redeker: I've been with Solarisbank for around three and a half years now. When I joined, there were about 70 people, and now there are over 400 employees, including fintech enthusiasts, developers, and bankers as well.

I joined as a product owner and worked with our infrastructure teams and utility team to make sure that the different product teams could all run their services properly. For almost one and a half years, I've been VP of Product, and I help to build great software.
How did Solarisbank handle COVID?
We managed to easily step into a fully remote work mode and actually decided to close all the offices. In the end, we went for a remote-first setup which worked really well.

We luckily didn't see any slowdown in business, we onboarded a huge partner of ours, and other projects took place as well. We closed a financing round as well.
Were there any downsides in terms of how COVID impacted work at Solarisbank?
From a personal point of view, I think we miss meeting in person. I think that's an important thing from a leadership standpoint.

From a business point of view, we're in the card business. That depends on people traveling around, going to restaurants, and so on. That has naturally slowed down, so it takes a toll.
Can you explain how Solarisbank uses banking as a service?
Solarisbank has two very important components. One side is the license and banking side. This is where we take care of all the paperwork, audit, and regulation stuff. We bring all this into a technical product.

The second important component is that we form APIs that give you the capabilities to offer financial products combined with our license and tech skills. That's why we always say we are a tech company with a banking license.

If you look at the market, you can see incumbent banks trying to offer something similar, but they don't have the tech mindset. On the other hand, you can find technical solutions, but you still need to bridge the gap to cover the license and legal side. Solarisbank combines both of these things.
What does the market look like now? What do you think is the next big thing for banking as a service?
I think the banking as a service market at the moment is not so much around disruption but rather about evolution. Our end partners realize that banking as a service can be a very powerful extension to the existing business. This is something that took a bit of time because, after all, banking as a service is very fresh to the market.
Banking as a service is about context. We enable our partners to offer financial services in their context, and they know their context best. It's a game around data, customer centricity, and offering the right product at the right moment.

Last but not least, we have to say that banking is very often about trust.
If Solarisbank is making this more accessible, do you think that will become a problem? Will it pose a risk from those who go rogue with their banking licenses?
That's a very fair point, and it's baked into our business model. Our API ensures that it's not our partners who are handling people's money. It's always the users who are in control, and we take care of the money.

So while our partners may build interfaces, we take care of the money. Priority number one is maintaining the license, so we need to be very sound on a regulatory level.
Do you believe that traditional banks will be left behind as the 'Kodaks' of the banking world?
I think it is fair to admit that many banks built excellent banking apps in the last few years. I think this is something that improved a lot, and they understood at the right moment that mobile banking is not going to go away. People now trust banking apps, so for that reason, they've leveled up their game.

However, banking isn't just about interfaces. It's also about processes as well.

We have built a very lean process which is much smoother than you'd find at established banks. I think this is the next frontier, where fintechs build very smooth, lean processes for their customers.

This is not just for them, though. This is also valuable for those fintechs who want to scale. Scaling does not work by just hiring more and more people. You need to do it in a smart and efficient way.
What are Solarisbank's plans for expansion?
We are already expanding across Europe, and we use this idea called "passporting." This means that we offer German IBANs in those countries, so we need to adapt to a couple of local regulations, but not to all of them.

What we want to do next is to offer local IBANs in those respective countries. This will mean dealing with the diversity of banking regulations over Europe, which is a demanding thing for sure.
What is your decision-making framework?
The other day, I had a friend ask me, "is everything a list in your head?" I thought for a moment and said yes, basically it is. I'm a product manager at heart, meaning that it just comes naturally to me to put things into a list and prioritize them. For that reason, it just became a habit.

Tables are another thing. If I'm not sure about something right away, I put it in a table, which works quite well with my brain.
If you had a magic wand and could give all 12-year-olds in the world a new skill or piece of knowledge, what would it be?
I would say a sense for climate change. I think this is the biggest challenge we have as a society and as humankind. For that reason, if everybody could grasp and understand and act on climate change, that would change the world tremendously.
This discussion is part of our Disruption Talks recordings, where we invite experts to share their insights on winning innovation strategies, the next generation of disruptors, and scaling digital products. To get unlimited access to this interview and many more, sign up here: www.netguru.com/disruption/talks