Falling into the Cargo Cult. Why Banks Are Losing the Development Talent War

Access to capital? Naaah. Corporate tax rates? No biggie.
The biggest concern facing the C-suite is finding access to skilled software developers and engineers.
According to Stripe's recently released global survey of C-suite executives across industries, 97% say hiring more developers is a priority, with 57% saying developer access is a growth constraint.
Why the developer gold rush? Developers, if used effectively, have the collective potential to raise global GDP by $3 trillion over the next 10 years. I'd be shocked to find a company that isn't interested in contributing to that market cap.
Though this concern is industry-wide, I believe banks will have the most reason to worry. According to a recent Bloomberg article, banks could face obsolescence in five to 15 years, due to digital banking challengers like Venmo, Robinhood, Revolut, Klarna, and Transferwise. In 2017, 6 high-profile banking executives with tech backgrounds left for startups, with the trend continuing into 2018.
So why do banks keep bleeding talent? The three main issues I see:
Falling into the cargo cult: For many banks, hiring more is seen as the silver bullet solution. In reality, this is confusing the cause with the effect. They think, we'll redo our office, introduce free lunches, standing desks, and then developers will follow. Banks that believe Silicon Valley perks will solve their development problem, are merely falling into the cargo cult illusion.
Stuck behind a (non-standing) desk: Banks aren't innovative enough to attract top developer talent who are keen to work on more cutting-edge solutions. Many of the developers I've worked with crave flexibility, balance, empathy, and self-development opportunities (not unlike any other employee). They tend to be more drawn to the culture and the inspiring, ever-evolving environment, instead of toys and perks.
Too much red tape: A third of developers' time is spent dealing with layers of legacy infrastructure and bad code, including more than 17 hours a week on maintenance issues, such as debugging and refactoring. Especially as a developer, often working directly with a middle manager, banks simply aren't set-up in your favor. Instead, you work alongside a legacy employee who often has a "can't-do" attitude that closely aligns with the status quo.
What can banks do to improve? Few tips
So what can banks do to improve? Well, first, banks need access to a larger pool of talent and then, they need to build a culture that nurtures an entrepreneurial mindset and out-of-the-box thinking.
Remote work is a good place to start. According to The State of Remote Work report, 63% of people in product and engineering roles work remote at least once a week (21% more than the average). Imagine if banks were able to tap into that talent base?
Flexible conditions open employers up to new talent, while encouraging more diverse points of thought. Instead of being "remote friendly" banks should go all in and be "remote-first," embedding this mindset into all aspects of their company's DNA. There is no expectation to go to the office for face-to-face meetings and remote workers still have full access to the company's resources – anywhere in the world.
----------------------------------------------------------------------------------------
More on remote: How Netguru Mastered Remote Development. Our Stories with a Fintech Leader, a Personal Robot, and a Project Management Tool
----------------------------------------------------------------------------------------
44% of developers say that their C-suite is too slow to react to tech trends. As software continues to eat the world, and banking goes more and more digital, processes need to be put in place to hack the new world order. Banks must be able to react quickly and definitively when it comes to jumping on new tech trends.
One suggestion is to create a Compliance Tech Team and put the team in charge of changing the company approach to new technologies. The "old" compliance team could work as advisors and both teams would figure out ways to deal with regulations and better hack the system. That's just what Revolut did.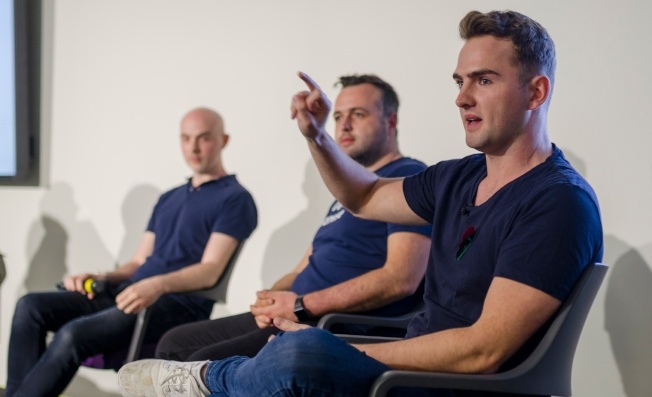 Chad West, CMO at Revolut: "We don't want to be a bank. We want to bank the world". On his right: Yannis Karagiannidis, Head of Growth at Monese and Ben Chisell, Product Director at Starling Bank at our Disruption Forum London
Beyond that, banks need to be open to experimentation, and get comfortable with the possibility of failure. This is a point of friction between the C-suite and lower-level managers. From the top-down, you need to let your people innovate, experiment, and fail without fear of consequences. This nurtures a stronger culture of experimentation, where new ideas are constantly being fed into senior teams.
With these simple solutions, banks can be ready to dive head-first into the new era of digital banking and fintech. Hopefully learning from their startup counterparts, and ultimately, creating new and maybe even better, solutions of their own.
More on how banks are reacting to the challenge: The Future Landscape of Fintech. 5 Key Takeaways from Disruption Forum London