How Spendesk is Building a Winning Team and Community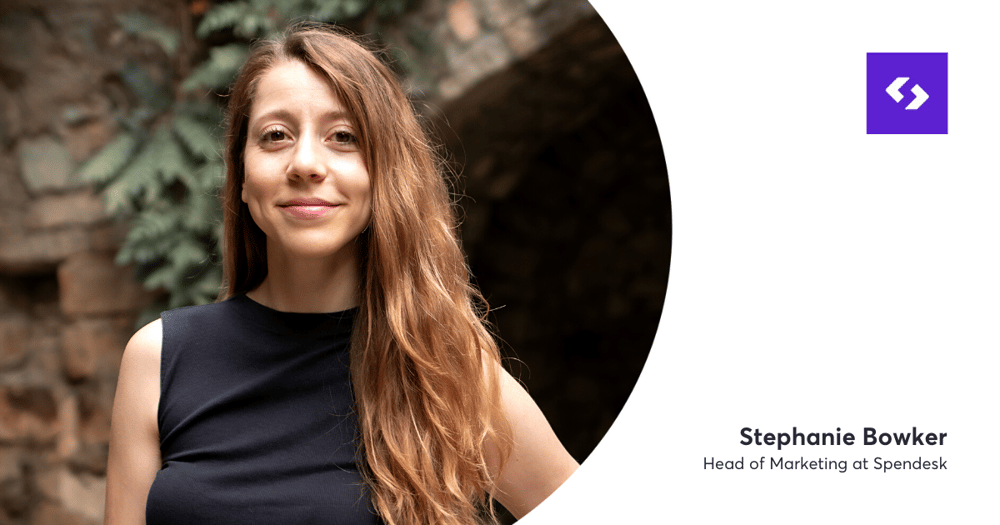 Building a team and marketing a scaling brand that customers love is all about focus and prioritization.
Stephanie Bowker, Head of Marketing at Spendesk, joins Disruption Talks as the second Spendesk team member on the show. Previously, we had Lucas Bédout, Head of Engineering, to talk about scaling a successful fintech product. Stephanie lends her unique marketing and hiring insights to the discussion.
Spendesk is an all-in-one spending management platform that has enjoyed rapid growth and expansion. At the beginning of 2022, it raised an additional €100M from leading US investor Tiger Global. On top of July 2021's Series C funding, this puts Spendesk's total funding at €260 million — pushing it into the coveted "unicorn" startup status.
Part of Spendesk's plan of action is to use this funding to continue building its world-class team and fine-tuning its products. Spendesk is also focusing more on spend management and scaling its marketing team.
Netguru's Head of Growth, Aleksandra Prejs, sits down with Stephanie to talk about adapting marketing strategies for company growth, why it's so important to grow a community, and how to make sure you're recruiting top talent.
Aleksandra Prejs: Can you give us a short introduction? What is your role at Spendesk?
Stephanie Bowker: I'm Head of Marketing at Spendesk, which includes demand gen, website, product marketing, community, content, PR, and design. Together, we are responsible for increasing brand awareness, driving pipeline generation, and increasing product adoption and usage.
What does a day in the life of a Head of Marketing look like?
My day-to-day really depends on the time of the year, but I can share where I spend most of my time. To start, it's important to give context on where we are at as a marketing team. This last year the team doubled to nearly 30 people with four team leads to manage each core function. This has freed me up to focus on less operational projects.
I'd bucket my time in 5 areas. The first is internal communication and collaboration, which takes up most of my time. This involves meetings, presentations, tracking ORRs to help represent marketing across the organization.
The second way I spend time is on performance and project reviews, which usually means reviewing campaigns, launches, budgets, and funnel performance. The third biggest area is spending time with people on hiring, team management, and development.
Then the two areas I'd love to spend more time on are the global company strategy, so looking at where we need to invest the product in the market. Then the last one is networking and ongoing learning.
I set myself a monthly objective to speak to more external experts and leaders, read more books, listen to podcasts to learn more.
What are your most important missions and KPIs?
If I had to sum up our mission for 2022 in one word, it'd be "awareness." We're really focused on building awareness of our product but also awareness in our team so we can help to attract new people to the team.
We have five core objectives this year:
Double website traffic
Increase brand awareness in our core markets
Scaling our inbound lead generation
Building dedicated employer content
Completing a big product launch coming in the fall
What metrics really matter to you, and what do you consider to be vanity metrics?
Like all companies, we track many metrics and KPIs in the funnel and also from a campaign perspective.
The metric we look at most on a weekly basis is month-on-month traffic. It's the biggest indicator for increased awareness and demand.
The second one is the MQL-to-opportunity conversion which shows the health of the sales pipeline.
Third, I'd say is website conversions, and then lastly, on the marketing side, we also look at community members and how we're reaching our target audience there.
Vanity metrics really depend on the industry and business and whether the product is B2B or consumer. For us, a few metrics that do not make a significant impact on our business goals include social followers because we focus more on our community, time on our website, and leads.
What challenges is your marketing department facing in such a dynamically growing company?
We have many external challenges, including the growing number of competitors, which increases the cost of acquisition. However, our biggest challenge at this stage is keeping the team focused.
As the company grows and more people need to be brought along for a decision, it can really slow the team down, and overly focus on internal marketing versus external marketing, so it's a real balancing act.
How do you make sure that Spendesk is meeting target group needs?
We have lots of ways that we verify product-market fit. One is through a quarterly product-market fit survey. We also have our Net Promoter Score to help track success in the platform.
We spend time on both qualitative and quantitative research to monitor product adoption, and how the product's being used. Lastly, we also watch word-of-mouth recommendations and what the feedback looks like.
Spendesk is planning to recruit a lot of people in 2022 — what's your way of attracting talent?
It's true that the talent war is on, and we're looking for more than 100 people across all our teams. There's no one magic solution, but it's important to first talk about how you invest in your existing employees. We've already hired 400 rock stars, and we want to show that we value them.
We're focusing on improving benefits, training, and more ways to creatively keep everyone engaged during these challenging times.
A few programs I'm really proud that we've implemented include BetterUp leadership coaching, Moka.care for mental wellbeing, and The Energy Project. You first need to put energy into the people you want to retain, and that helps to advocate and bring on new people.
To answer your question about how we attract talent, it really comes from a bottom-up strategy. We focus on creating employee-generated content, social takeovers, and thought leadership where we share the mic with leaders and individual contributors from every team.
We believe people are looking to join human-first companies, so we focus on creating raw, fun, and thoughtful content that reflects our true values and culture.
One of your key objectives is to grow your CFO Connect Community. Could you tell us more about it?
CFO Connect is our global finance community and resource hub for finance leaders to meet, share, and debate finance. It was our first marketing program, and now we've grown to more than 7,500 active members.
It includes a private Slack channel, virtual and in-person meetups, member matching, our annual Summit conference, the CFO Yeah! podcast, newsletters, AMAs, and a lot of other great content co-created by the members.
The community is an invaluable source of insights for us on spend management and on the needs of the finance community.
We do some user groups and surveys, but it's more about understanding what's important to them, how their roles are changing, and how finance as a whole is changing.
If you had a magic wand and could give every 12-year-old in the world a brand new skill or piece of knowledge, what would it be?
I'd say the same as Lucas did when he was on the show. Personal finance is super important for everyone to learn at a young age to give everyone the equal opportunity for financial freedom. It's something we underinvest in our education system.
This discussion is part of our Disruption Talks recordings, where we invite experts to share their insights on winning innovation strategies, the next generation of disruptors, and scaling digital products. To get unlimited access to this interview and more insights from industry experts, sign up here.