📬 Codestories Newsletter #80: Here's why machine learning isn't (yet) taking your job 🤖

Codestories Newsletter is a regular dose of news, insights, and inspiration for technology enthusiasts, delivered every two weeks. You can subscribe here.
It's February, that month when New Year's resolution setting was so long in the past that we can stop feeling guilty we are not meeting them.
At the same time the warmth of the spring sun [at least in this part of Europe] is so far in the future that the only thing we can do is grab a cup of coffee and hope for the best.
So I'm happy to share with you some articles and news that caught my attention while procrastinating between never-ending remote calls.
As a Sales Manager of remote teams, working with clients from all around the world, I find technology as an enabler for bigger things — better productivity, a better planet, and ultimately a better society. I tried to capture that in this edition.
Grab your beverage of choice [no one will judge you, we are remote anyway] and enjoy! ☕📰
Calin Muresan
Existing Business Manager
🏆 Weekly Highlights
How Volkswagen

misfired with early electric car

efforts
A new

NASA rover

closes in on Mars
What

tech the new U.S.

president will be using
Machine learning

isn't (yet) taking your job
A supersonic car for

breaking the sound barrier

that could be yours
🔥 News
How Volkswagen's $50 billion plan to beat Tesla short-circuited (WSJ)
An in-depth look at VW's struggles with its electric vehicle models, and how it hopes to overcome them to compete with Tesla.
Get the lowdown on fintech with our forthcoming guide
Sign up today to get the Disruption Guide Fintech 2021 by Netguru when it's released.
Loon, Alphabet's futuristic internet balloon venture, is shutting down (CNN)
The effort to deliver Internet service via giant balloons is coming down to Earth, as the company says there is no clear path to profitability in sight.
NASA's Perseverance rover is bearing down on Mars (BBC)
The largest vehicle ever sent to another planet is expected to arrive in the middle of the month.
Reddit's run on GameStop shuts down European trading apps (Sifted)
European investment app users also ran into roadblocks when trying to close out their positions in the Gamestop surge.
Despite Brexit and COVID-19, Irish investors remain bullish (TechCrunch)
With the UK out of the EU, Dublin has emerged as an attractive city for its European ties and large talent pool.
✅ Must-reads
Our data is traded without our explicit consent (Cyber News)
The co-founder of the Own Your Data Foundation used Data Privacy Day to advocate for personal data rights.
Here are 30+ European tech companies most likely to go public this year (tech.eu)
It's going to be an active year for European tech companies going to the next level. Here's a rundown of some of the most interesting prospects breaking out.
Joe Biden's tech – what can the president use? (BBC)
The gadget-loving President Biden will have to put up with some restrictions on his devices.
My everyday struggles as a senior developer (BetterProgramming)
An honest reflection from a large tech company developer on the ups and downs about the job.
🌱 Sustainable Tech

A new way to track endangered wildlife populations from space (YaleEnvironment360)
Scientists have developed a new technique to more quickly survey elephants and other wildlife.
Why Europe should be taking seaweed aquaculture seriously (The Fish Site)
Seaweed can serve as a new source of biomass and provide other environmental benefits to European nations.
Germany eyes a green hydrogen future for coal power plants (Greentechmedia)
Moving away from fossil fuels has been a slow process, but there are new, emerging efforts in Germany to make improvements in energy production.
💡 Get inspired
The Becoming Better Podcast
My go-to podcast about feel-good and productivity discussions. It feels like you're having a coffee conversation with friends about tips and tricks, with it being less preachy than other similar resources.

You Look Like a Thing and I Love You (Goodreads)
Here's a book that I found funny but educational at the same time; the perfect way to explain why machine learning won't steal your job [yet] to your panicked uncle.
⚙ Tips & tricks

Drag to reorder Android RecyclerView items using Kotlin (BetterProgramming)
These development tips will help you build beautiful, customizable lists inside your next Android app.
How to be productive, feel less overwhelmed and get things done (freeCodeCamp)
Looking for some ways to enhance your efficiency? This flexible guide gives fresh ideas without being too prescriptive.
The only playbook you need to maintain high customer engagement (Success by LiveChat)
Customer experience is a top driver of brand loyalty. This post offers advice for successful engagement that will lead to happy customers that will want to stay engaged with your product.
A guide to internal communication (Basecamp)
Whenever I need a reminder of how remote working communication should work I go back and reread the Basecamp guide to how they communicate. It's always an inspiration to me regardless of how many times I read it and it helps me reflect on the communications with my remote team.
👀 Must-sees
🎥 Videos
How to overcome mental health challenges using technology (Netguru)
We spoke with Anneli Bartholdy, CEO of Simply Broken, about how tech can help people to manage their mental health.

Apple CEO Tim Cook speaks to Brussels' International Privacy Day (Reuters)
Cook presented Apple as a strong advocate of user privacy in his address to the annual Brussels event.

Inside the $3.2 billion Air Force One (Tech Vision)
With President Joe Biden now the main passenger, learn all about Air Force One and what he gets for that hefty price tag.
🖼 Design of the issue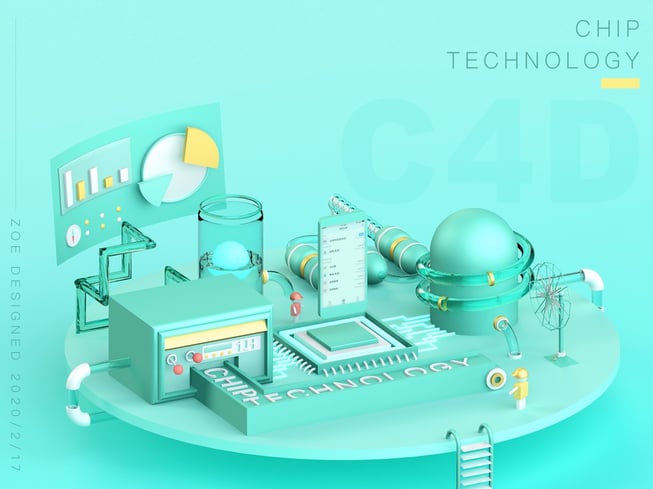 Chip technology by Zoe Tong. See the original here
🎙 Quote of the week
"Our data, our most personal information, has now become the world's most valuable asset."
Brittany Kaiser, the former BD Director at Cambridge Analytica at the Future Human conference.
☕ After hours
More posts by this author