📬 Codestories Newsletter #83: Rethink innovation and get better at doing good

Codestories Newsletter is a regular dose of news, insights, and inspiration for technology enthusiasts, delivered every two weeks. You can subscribe here.

---

I love the fact that nowadays we have such easy access to share knowledge, experiences, and inspire each other.

And here at Netguru we are lucky to

have learned so much recently from a variety of experts. Here are some people I'm inspired by, and I hope you find something inspiring in these articles as well.

🤔 Why are we so bad at doing good?
Layal Marten, Growth Lead at Founders Pledge, approaches this bold question with ideas on how to make charity more impactful and how successful entrepreneurs can solve the world's biggest social problems.

💰 Most of us got used to remote work, shopping and medical consultations, but the idea of taking out a loan without leaving your home seems unlikely to occur in the near future. Well, not anymore: recently we talked to Dr. Jan Weitzel, CEO at CashCape, about the story of a company that completely redefined the way people apply for loans.

🌱How can a delivery app contribute to a sustainable environment? We interviewed Jeff Oatham, Director of Sustainability at Delivery Hero, who shared the company's go-green strategy and the road to achieving carbon neutrality, investing in eco-friendly startups, and partnering up with a Nobel Peace Prize awarded organization.

💡 The pandemic not only changed the way we do business, but also made us rethink innovation strategies. What are the key success factors for innovation in this difficult period? Konrad Jarociński, our Innovation Lab Manager, shares tips on how to stay innovative in the times of new normal.

I hope you'll enjoy this issue of our newsletter. Have a nice read. 📰☕

Agata Porowska
Partnership Specialist
🏆 Weekly Highlights
Fire strikes OVH

data center
Man uses

Apple Watch to summon help

after falling through ice
How to make a

bigger impact with charitable

giving
What does

innovation look like

in our new normal?
Volkswagen unveils the roadmap

to its electric vehicle future
🔥 News
30,000 orgs' email hacked via Microsoft Exchange flaws (The Verge)
Hackers used the vulnerabilities to gain access to email accounts and install malware, creating a major headache for government security.

Flagstar Bank customer data breached through Accellion hack (ZDNet)
The bank is investigating the depth of the breach, which took advantage of an Accellion file-sharing software zero-day vulnerability.

Okta to Buy Rival Auth0 (Dark Reading)
The deal, valued at $6.5 billion, will unite two companies in the identity management space.

Google unveils $25 million in grants aimed at empowering women and girls (TechCrunch)
Google.org's new Impact Challenge was unveiled on International Women's Day. The initiative has a variety of avenues to help women build financial independence and pursue entrepreneurism

Zapier buys no-code-focused Makerpad in its first acquisition (Yahoo!)
The company behind the popular automation tool has purchased a no-code education service to expand its offerings.

Fire destroys OVH data centers (Data Center Knowledge)
The incident took down millions of websites and caused the company to scramble to restore service.

Google launches sigstore, pledging easy code verification for supply chain integrity (Google Security Blog)
The new Linux Foundation project aims to improve software supply chain integrity.
✅ Must-reads
Man who falls through ice uses Apple Watch to summon help (9to5Mac)
A man fell through while ice skating, but was able to call authorities and receive help with minutes to spare, thanks to his Apple Watch.

F5 Networks reports critical flaws in multiple products (The Hacker News)
The critical security flaws should receive a high patching priority to thwart a compromise of the vulnerable systems.

ML Kit graduates from beta (Google Developers Blog)
The ML Kit APIs for Android and iOS have now dropped the beta label. Google also includes new tools for selfie effects amid other improvements.

Want to take a loan without leaving the house? We chat with the CEO of CashCape (Netguru)
CashCape is a fintech mobile-first service that started an era of easy and transparent loans for the German market. Learn why it may change how you get a loan.
🌱 Sustainable Tech

What does it take for a business to go green? (Netguru)
We chat with the director of sustainability to learn more about the company's goal to be carbon neutral.

The biggest announcements from Volkswagen's battery event (The Verge)
VW plots its course to longer range EVs, cheaper batteries, and better charging.
💡 Get inspired
The LinkedIn Incident (Darknet Diaries)
The inside story of a major breach into LinkedIn that occured in 2012.

Women in tech name their heroes in honor of International Women's Day (Malwarebytes Labs)
See who serves as inspiration for a day dedicated to uplifting the voices of women and honoring their achievements.

Eight women kicking butt and taking (domain) names (Google Developers Blog)
Get inspired by eight women who are putting their dev skills to use, building companies and embarking on groundbreaking projects.
⚙ Tips & tricks

Home assistant, pwned passwords and security misconceptions (Troy Hunt)
Why the home network shouldn't really be a trusted environment, and other concepts to ponder in security thinking.

Why are we so bad at doing good? Making charitable giving more impactful (Netguru)
Layal Marten, Growth Lead at Founders Pledge, shares how the most successful entrepreneurs can solve the world's biggest social problems.

Innovating in the times of the new normal (UX Magazine)
How do companies find their way in the midst of our changed world? Learn about this new innovator's dilemma.
👀 Must-sees
🎥 Videos
Top skills, jobs and hacking in 2021 (Brad Bombal)
A former NSA hacker reveals how the ethical hacking game can lead to a good career and worthy public service.

Fintech Disruption – The Secret Ingredients of Innovation (Netguru)
What are the ingredients of innovation in the banking industry? Listen to our talk with Robin Lantz and Marcus Johansson, Klarna senior designers.

Finding your next bug (OWASP London)
Security expert Katie Paxton-Fear shares some of her top bug bounty hunting advice for the Open Web Application Security Project.
🖼 Design of the issue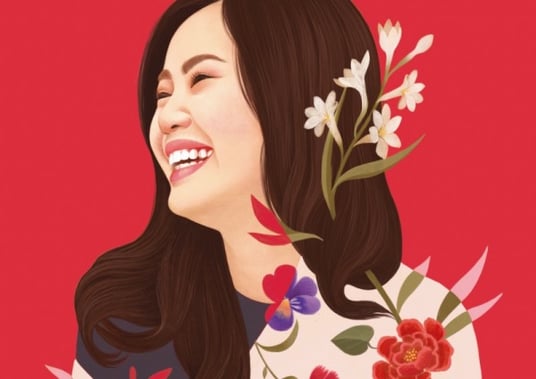 Gorgeous women's portraits by Mercedes deBellard. Check them out here on Behance.
🎙 Quote of the week
"The best entrepreneurs in the world are successful because they solve problems at scale. So if we can harness that collective resource, that brainpower, and turn it towards doing good, that group is probably going to make the most disruptive and most effective change to some of the world's most long-standing, institutionalized problems, such as climate change, healthcare, and education."
Layal Marten, Growth Lead at Founders Pledge, in conversation with Netguru
☕ After hours
More posts by this author