📬 Codestories Newsletter #85: Springing Forward To a New Future

Codestories Newsletter is a regular dose of news, insights, and inspiration for technology enthusiasts, delivered every two weeks. You can subscribe here.

---

Spring has finally arrived and apart from bringing along the hope for longer days and sunny weather, it carries the promise of finally bringing an end to the pandemic thanks to mass vaccinations.

As many of us have been home bound for more than a year already, having a change of perspective is surely refreshing. Though we might find out that the outside world we're excited to revisit is now vastly different. What has changed then?

Sustainability is not a buzz-word anymore and climate-change is treated as one of the biggest threats to humanity. With each month more and more companies share their plans of becoming carbon neutral. Within the last 30 days Ford announced their new carbon footprint targets, Mastercard shared it will link bonuses for its senior executives to environmental, social and corporate-governance initiatives and Wired forged an in-depth report on negative emissions technologies.

At the same time, the tech giants are facing unexpected challenges. Even though Amazon's sales and profits soared during the pandemic, the company is now in the spotlight as its employees in an Alabama warehouse voted against forming the first-ever union despite allegations of notoriously bad working conditions.

As countries are slowly lowering the restrictions, Uber is trying to be clever in bringing back its drivers on the roads. In a recent press release Uber presented new wage brackets, followed by a statement about the temporary nature of such changes.

It's hard not to mention Facebook's April data breach, with 533 million users affected. Turns out, the company isn't going to notify people whose data was leaked and it's causing quite a stir among its users and tech reviewers.

Given all the recent upheaval and attention to social changes, it seems that we might be at a turning point in taking ownership and responsibility over our environment, work conditions and personal data. Let's hope we'll emerge from those challenges wiser and stronger than ever!

Daria Michalska
Lead Product Designer
🏆 Weekly Highlights
Facebook users are on their own to find out if their data was breached
Apple and Epic prepare for a major courtroom battle
Ford is going green
Bill Gates wants to avoid a climate disaster
Having some fun with Figma

🔥 News
Facebook not planning to notify any of the 533 million whose data was leaked (The Verge)
The social network is leaving it to users to find out if their data was among those who had their data exposed online.
Uber entices drivers back post-pandemic with $250 million stimulus (TechCrunch)
The heavy spend is aimed to bring back drivers who had stepped away from the gig work during the COVID-19 pandemic.
Unions face long odds in ongoing battles with Amazon (Reuters)
The union loss in the recent vote at an Amazon plant portends a challenging future against the shopping giant.
Supreme Court rules for Google in dispute with Oracle over Android software (CNBC)
The U.S. high court sided 6-2 with Google in the long-simmering case over 12,000 lines of code.
NHS coronavirus app update blocked for breaking privacy rules (Sky News)
Apple and Google blocked an update to the official NHS app for violation of location tracking rules.
✅ Must-reads
Zoom, Chrome, Microsoft Teams & more among 'owned' software at Pwn2Own (Pwn2Own 2021)
Find out which software was able to withstand the ultimate hacking competition.
India uses facial biometrics to spot COVID vaccination recipients (The Register)
The country's National Health Authority is piloting Aadhaar for a touchless method to verify vaccination among citizens.
Apple and Epic are ready for war (Protocol)
The antitrust trial with potentially far-reaching implications for software is set to kick off.
Big Tech faces new UK regulator (BBC)
As companies face increasing scrutiny worldwide, they'll now be under the eye of a new UK office to ensure fair competition.
🌱 Sustainable Tech

Ford announces new carbon neutral targets (ABC News)
The American auto company seeks to be carbon neutral and make substantial investments in electric vehicles.
Mastercard links executive bonuses to environmental, social and governance goals (Reuters)
The company will link compensations for executive vice presidents and above to helping Mastercard achieve its many equity and justice goals.
Norway's gas car sales are crashing to a crawl (Electrek)
The Nordic nation aims to have all new car sales be electric by 2025. Here's why the rest of the world may mirror this trend.
French lawmakers vote to ban some domestic flights to reduce carbon emissions (The Verge)
If the bill becomes law, it would ban flights on routes that could be taken by train in less than two-and-a-half hours.
💡 Get inspired
A review of How to Avoid a Climate Disaster by Bill Gates – why science isn't enough (The Guardian)
The Microsoft co-founder lays out his vision for reversing decades of catastrophic environmental practices
Making limited work look good on a resume (developer tea)
Even if your resume or LinkedIn profile isn't loaded with tons of experience, there are ways to make it stand out.
How to prevent and cure burnout in your team (Sifted)
Burnout is a huge problem, especially after a year living through a global pandemic. These tips from a startup founder are here to help.
⚙ Tips & tricks

Launching (fun) lists in Figma (Figma blog)
The Figma team made April Fool's Day more fun and useful with some emoji goodness.
Four mental thoughts that motivate me when I code (Better Programming)
Many of the keys to productivity are all in the mind. Get a series of tips from a seasoned programmer.
Nine handy Git commands every developer should know (gitconnected)
Looking for commands to make your work with Git more effective? These commands are a good place to start.
👀 Must-sees
🎥 Videos
Unboxing the hidden politics of SimCity (Polygon)
SimCity is more than just a fun game. Explore the real-world concepts behind the popular simulation and what it means for successfully running a city.
Driving digital transformation in the automotive industry (Netguru)
Find out how the auto industry is undergoing a significant transformation to meet EU sustainability goals.
Getting started with bulleted and numbered lists (Figma)
The Figma team offers a tutorial on putting all of these list capabilities to use.
🖼 Design of the issue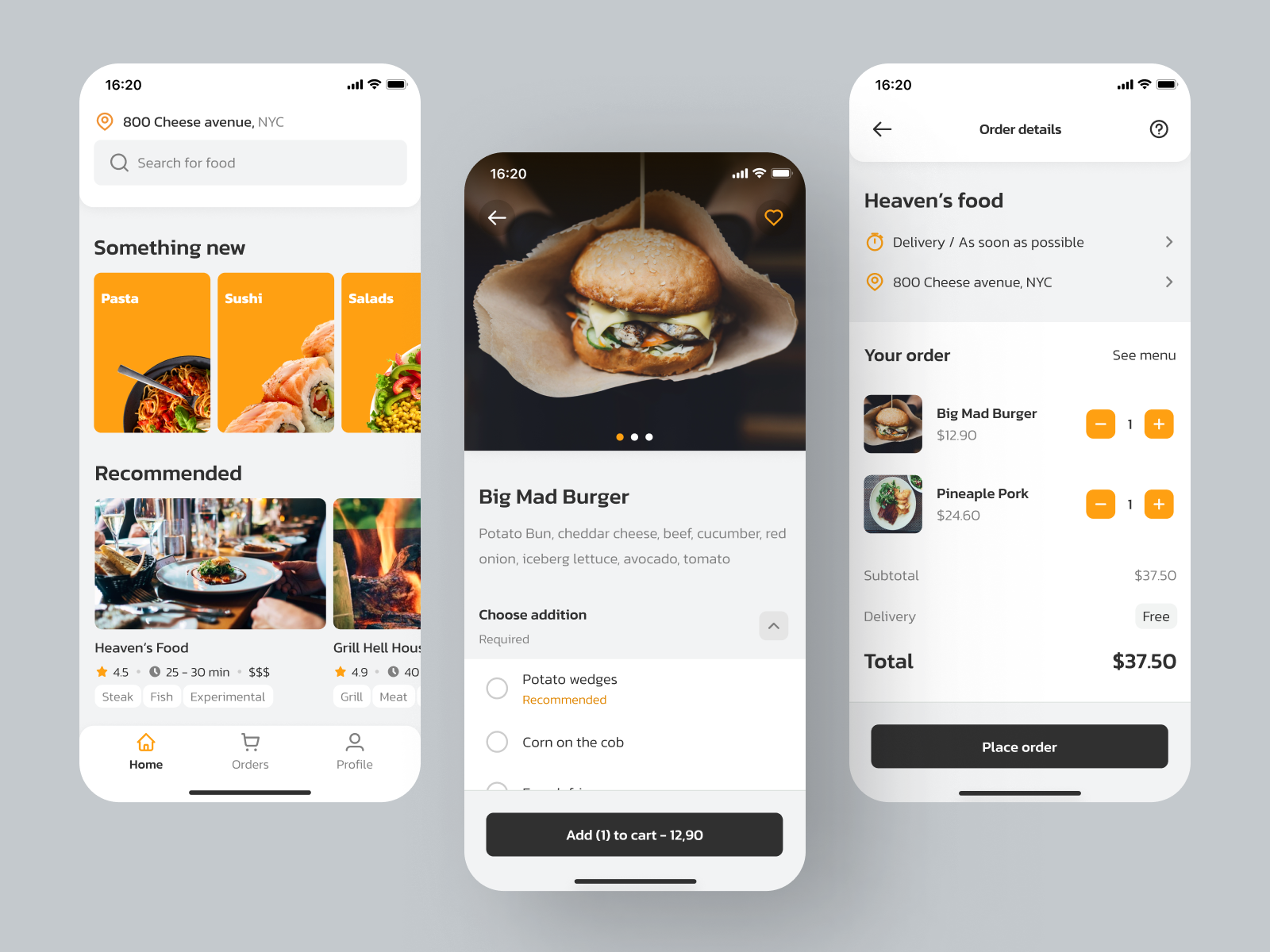 Check out this engaging concept that could make it a breeze to discover your next meal.
🎙 Quote of the week
"AI amplifies and augments human empowerment. Every AI character that we have has a human behind it who gets paid every time the character gets hired."
Natalie Monbiot, Head of Business at Hour One as shared to Netguru in 5 practical benefits of introducing data science and machine learning to your business.
☕ After hours
More posts by this author