Cruise Booking Sector Revolution - Fulfilling Dreams of Sea Lovers

Samuel F. Poirier is a young entrepreneur who founded his first company when he was 14.
At the age of 21, he co-founded Retinad, a world leader in the development of VR analytics that raised more than $2.5M in funding. A few months ago, he altered the course and started a company in a totally different area - the cruise sector. His goal is to revolutionise the old-fashioned industry with top-notch technology and make booking cruises an effortless experience.
Seahub positions itself as the simplest way to find and book cruises online. It targets services at all kinds of sectors and worldwide destinations. Currently, they connect 23 different cruise sites and offer about 16,000 different cruises. The company aims at becoming the world leader in the industry, but there is a long way to go. The sector hasn't evolved in a dozen years or so. With outdated technology and inefficient processes, Seahub has faced multiple challenges on a journey to facilitate the booking process.
As Netguru has recently helped Seahub with crafting fresh designs for their website, I decided to reach out to Samuel and ask about some insights on how the business is doing.
Natalia Chrzanowska: Could you describe in a few words what SeaHub is?
Samuel F. Poirier: We basically allow users to book cruises online, so we're a travel tech company. In a bigger perspective, Seahub is an attempt to rebuild and completely change the cruise sector as it is today. It is a very old industry that hasn't evolved for the last 10-15 years. Our goal is to modernise the way people book their cruises online.
Natalia: What's the business model? Is it a sort of Skyscanner or Booking.com for cruises?
Samuel: It's more similar to Booking.com. Skyscanner is a meta engine which acts more as an advertising company primarily because it isn't given any commission on bookings. We, on the other hand, get the commission on every booking that goes through the platform.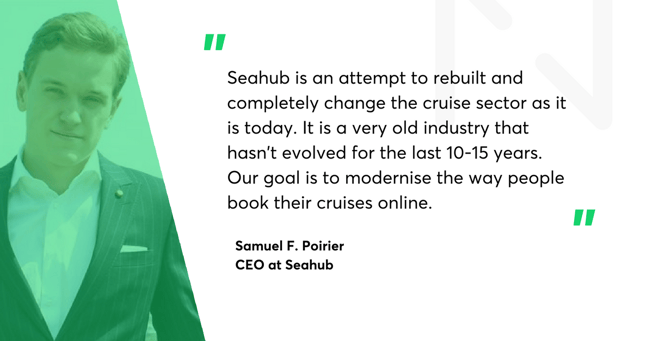 Natalia: How big is the network?
Samuel: We cover about 98% of the whole world's market in terms of supply. We have about 23 different cruise line partnerships, and I think something like 16,000 different possible cruises.
Natalia: How do you market your product? What are your target groups?
Samuel: We target the website at all kinds of markets, starting from cheap cruises to the luxury ones for the high-end customers. In terms of marketing efforts, we mostly do typical web marketing such as SEM, SEO and some meta engines like Kayak, etc. It's a mix of everything. It's a matter of being profitable through every marketing channel.
Natalia: Your last startup, Retinad, is from a totally different category than Seahub. How did you come up with the idea for a cruise booking site?
Samuel: It's a long story. I'm not a cruise person. I've been on one cruise in my life, and I definitely didn't think about that seven months ago. It started with one of my friends and my mentor, Matt Keezer, who is probably one of the best entrepreneurs in Canadian history, and the founder of FlightHub, which is one of the largest flight ticket sites on the planet.
When I left my last company, we both looked at a few different opportunities to build something, because we thought it'd be cool to start a company together. We analysed a few different markets, and the cruise sector turned out to be the most attractive of all. There was the biggest need for transformation, and that's sort of what we're good at - taking old markets and challenging the old players in the space to build something that's much more modern and works much better.
Natalia: How does your previous experience in running startups help you at Seahub?
Samuel: I don't think I could be able to do anything else than what I'm doing now. I've learned a lot by doing mistakes. I really like building companies and can't imagine myself doing anything else. With Seahub, though, I might stay for a very long time as I am sort of in love with this company and the opportunity to build it.
Natalia: What are the major differences in building these two companies?
Samuel: They are two totally different things. My last one was a B2B company in Virtual Reality, so it was as far as it could be from cruising. It was a sort of a niche, almost sci-fi, sector and with less potential for explosive growth than something like Seahub. Whereas Seahub is a B2C company and I find it more fun, frankly. I'm more of an introvert, so I'm not the kind of guy who is very happy going to a bunch of meetings and talk to potential clients. I'd rather be in my office and find ways to increase the number of people on the site, make a better product, etc.
Natalia: So how do you get the traffic on your website?
Samuel: There is a bunch of ways. It's just a matter of optimising your efforts. However, getting traffic is easy, converting traffic is hard. You need to make the right products, specify what works and what doesn't. It's necessary to have a critical and scientific approach to everything you do and rely on data. Decisions should be based on observations and not just assumptions. It seems easy on the surface, but it's actually very complicated to build something that works - especially that it's a super competitive market. Anyone who makes it has done something very well- it's not a coincidence.
Natalia: You found your unique niche with Seahub. Are there any major competitors you need to reckon with?
Samuel: There are a lot of competitors everywhere, but one of the big ones is World Travel Holdings which holds a number of top sites, and there are other big OTAs like Expedia and Priceline that also offer cruises. Besides, there is Orbitz and some other ones. We're really fighting a bunch of other billion dollars companies. Fortunately, we're also backed by a multi-billion dollar company.
Natalia: What are the major challenges in the industry?
Samuel: Frankly, everything! The sector is very old and inefficient. The technology behind how reservations are taken, everything from placing the booking to contacting the cruise line, is nearly catastrophic. For a millennial like me, it's impossible to think this is the way in which this industry has been working for 30 years. It really needs a profound renovation.
Natalia: The beautiful website is up and running now, but I assume you've come a long way to achieve that. What were the major challenges in designing it?
Samuel: All the industry relies on things called GDSs (Global Distribution Systems) which agglomerate all the APIs from the sector into one central port. Then, you're able to connect to GDS and get access to data from the whole industry. The problem is that these companies' GDSs are the worst pieces of technology I've seen in my life. Working with them is extremely complicated and elaborated. On top of that, you pay an insane amount of money for the data.
We get a lot of complaints from users about bugs that are related to the GDS, and that we, unfortunately, can't solve on our side. We would do everything in our capacity to fix them, but we just can't do it. So, it is going to take a while for us to clean up the whole mess.
Natalia: What's next? What are your goals for the next few months?
Samuel: Incrementally improving our platform, getting better at customer support, getting better at optimising and conversion rates. It's all pretty straightforward. There are a lot of big revamps we want to do in the next few months. It's going to be gradual. Hopefully, it ends up being a world domination play.