How to Create a Fintech Product that People Will Use Daily - Learn from Revolut, Monese, Lloyds, Starling Bank and More at Disruption Forum

We're seeing a shift in consumers' financial habits. The world is moving towards fintech products. The companies and traditional banks that don't capitalise on this trend will get left behind.
On top of that, the game is no longer just about creating any fintech product. It's about creating a product that will make a difference. A product that users will use on a daily basis. What's the recipe for a product like this? What aspects should be taken into consideration when creating a fintech product? How will the fintech industry change in the next couple of years? Is it going to disrupt itself? Let's try to find the answers to those questions together during Disruption Forum London Fintech.
During the Disruption Forum London Fintech, which will take place on 23 October at Level39 in London, we will try to find out what determines whether a fintech product will be a success or a failure.
Meet Our Speakers & Panelists
Our special guests will share the lessons learnt by traditional banks and fintech alike. Who will speak at the event?
Tom Eilon, Head of Commercial, Funding Circle
Valentina Kristensen, Director, Growth & Communications, OakNorth
Youssef Darwich, Head of Operations, Tide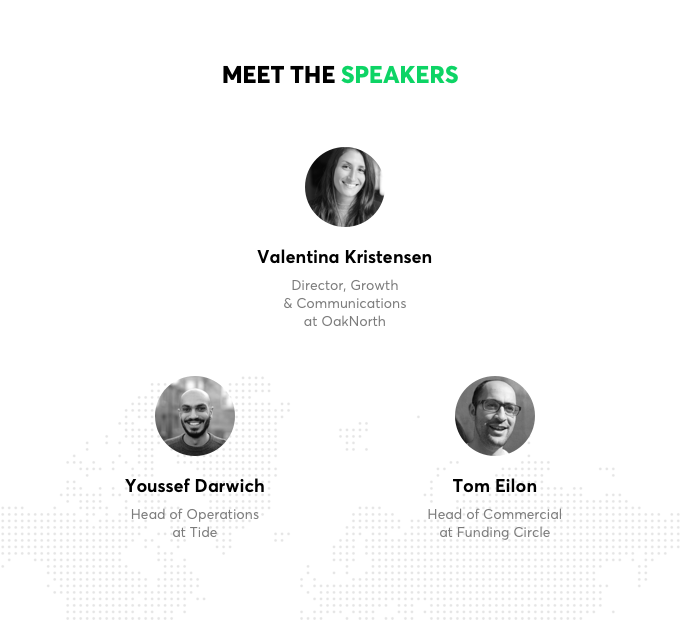 On the top of that our panelist will give tips on how to create a fintech product that people will use daily. Meet our panelists:
Chad West, Head of Marketing and Communications, Revolut
Ben Chisell, Product Director, Starling Bank
Yannis Karagiannidis, Head of Growth, Monese
Martin Dowson, Head of Customer Labs, Lloyds Banking Group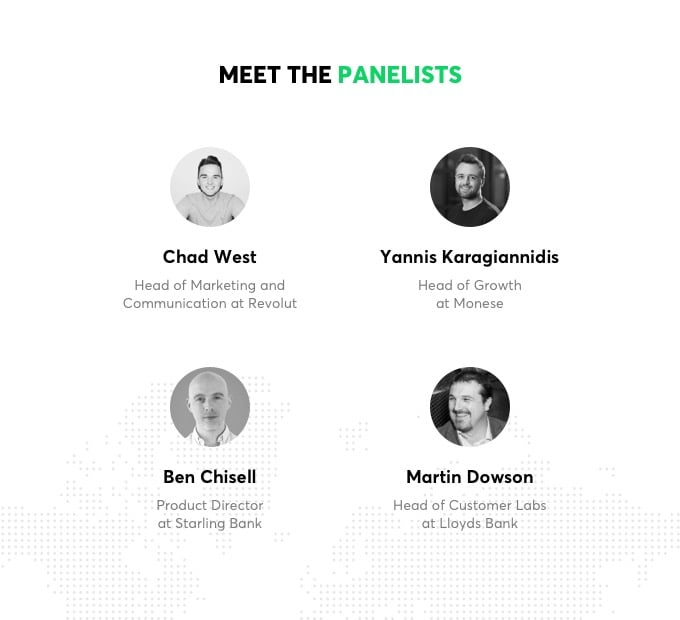 Disruption Forum: the Idea
Our idea behind Disruption Forum London Fintech is to engage experts who actively shape the fintech landscape in a constructive discussion about creating and growing fintech products. Top-level managers from banks, people from fintech startups, industry influencers, and product people will join the debate to find the answers to fintech's most nagging questions:
How to scale a fintech product?
What teams do we need to build and effectively manage a fintech product?
What can fintech learn from banks?
What can banks learn from fintech?
Disruption Forum - previously in Berlin
It will be the second edition of Disruption Forum organised by Netguru. The first one took place in Berlin and was joined by representatives of companies such as solarisBank, N26, figo, Penta and many more.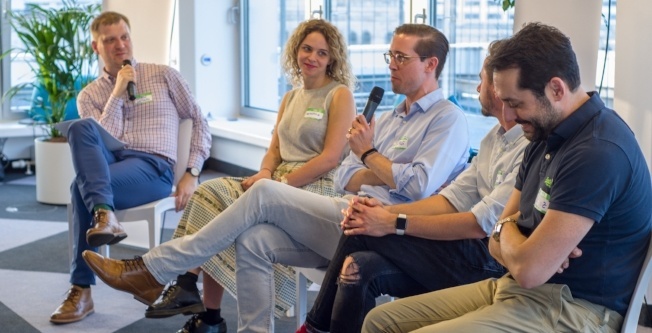 From the left: Tomasz Grynkiewicz (Netguru's Senior Editor), Meaghan Johnson, Jörg Howein, Kuba Filipowski and Lorenz Jüngling.
During the presentations and discussions, our experts talked about UX design being a vital element of fintech products. They also discussed Blockchain's impact on the market and tried to predict how the adoption of machine learning, AI, and IoT would transform financial platforms. On top of that, they also debated what implementing the PSD2 would mean for the industry. Read the key takeaways from the Berlin edition of the Disruption Forum here.
I think it was one of the best panels I was on over the past two years. It turned out to be a great opportunity to discuss the more or less 'contradictory beliefs' of N26 and solarisBank with the help of other smart people – said Jörg Howein, Chief Product Officer of solarisBank.
Disruption Forum is a unique event where we hope to get to know, dazzle, and inspire you. It will take place on 23 October 2018, 6 pm in Level39, London. We want to keep it cosy, so the number of admissions is limited.