Design that Evokes Emotions and Reinforces Decision Making: Herdius Case Study
More companies are deciding to fund their business ideas using ICO tokens, and Herdius is one of them. The Berlin-based startup has chosen to raise capital through an ICO as a promising alternative to traditional venture capital funding. They needed to find a way to attract and convince investors to their idea.
Herdius aims at building a highly performant decentralised financial platform. Using the latest innovations in distributed systems design, they strive to be the next-generation infrastructure for the cryptocurrency and blockchain ecosystem. Herdius will sit between the users and the root blockchains of all relevant cryptocurrencies (or tokens). In blockchain terminology, it is essentially envisioned as a sidechain.
Herdius will be funded as an ICO project. All the details about the platform, development plans, and HER tokens that investors have been able to purchase since December 2017 are thoroughly described in the whitepaper. Although the file included all necessary details for both investors and future users, Herdius needed a smarter and more appealing way of conveying the message.
Balzas Deme, the founder of Herdius, turned to Netguru for help in building a landing page for the upcoming project . The main goal was to transform a lengthy and unwelcoming white paper into a convincing and to-the-point narrative. The Product Design Team leveraged many design elements to evoke emotions and the right feel of the project.
Research
The process started with user and market research. We needed to learn more about the target audience, their behaviour and triggers. We've teamed up with Project:People to conduct a deep market analysis.
User segmentation
We segmented users into two target groups of potential investors: emotional and rational.
Emotional users have most likely just started their exciting journey with digital currencies. They accept the fact that it's nearly impossible for them to get all the necessary knowledge to invest fully consciously. Instead, they tend to rely on their gut, or rather the visceral part of the brain. These guys are buying a vision,  mostly with their eyes  and not data alone.
The other group are experienced players. They dig deeper – most of them have already made their investment. Rational users tend to invest their money based on numbers and facts. They feel comfortable with graphs, timelines, and white papers. These guys are picky, checking the investment very precisely.
We've summarised the analysis with user interviews. We interviewed both newbies and investors. Here's what they agreed on:
They would invest in a cryptocurrency without reading the white paper as long as the site seems trustworthy.

They would rather invest in something visually appealing.
Competitors analysis
The vision of competition appeared quite dull: most ICO websites use the same content pattern:
Team:  who are these guys? Have they already achieved something?

Idea :  why is the cryptocurrency so unique?

How many tokens are we talking about and how can user use tokens?

Roadmap :  where it comes from and where it is heading.

Community gathering the ICO enthusiasts.
We wanted Herdius to stand out from that pattern and provide users with an outstanding experience.
Design that evokes emotions
How to provide all this content and stay out of the common basket? Appeal to the logic? We should, eventually, but who's going to read your 20-page-long white paper without any guarantee you're not just fraud? Since information architecture wasn't exactly an area for creativity to burst, we needed to use other assets to spark the right mood.
Design has many super powers. One of them is the ability to evoke feelings in people. We thought that if people are going to believe in Herdius, we must instil trust and curiosity them. We spent hours discussing the Herdius idea with its founder ,  Balazs Deme. Their core values like decentralised application ecosystem and multi-level blockchain platform didn't strike me as particularly exciting. Instead of trying to force words onto users, we decided to translate these into visuals.
Reflecting memories is often more important than reality. If we have a strongly positive visceral response but disappointing usability problems at the behavioural level, when we reflect back upon the product, the reflective level might very well weight the positive response strongly enough to overlook the severe behavioural difficulties. Donald A. Norman.
A bold style for a bold idea
Time wasn't our ally either,  the page was planned to launch in just 3 weeks. Instead of searching for the right style with sketches, we surfed all over the net looking for the right benchmarks. Since most of the competitors use a combination of white and light blue, we figured out that Herdius must showcase a bolder style.
Dark interface followed by futuristic illustrations
Colour palette
Herdius is based on cutting-edge technology. To most of the users, it sits right next to the rocket science. What could have evoked the right mood better than space references?
One might say: Warm it up, make it feel less robotic. Use white.  Lots of white! Cool, but robotic is exactly what Herdius is. MTM backend technology is not really a human thing. The right balance of deep purple, navy blue and indigo got the job done.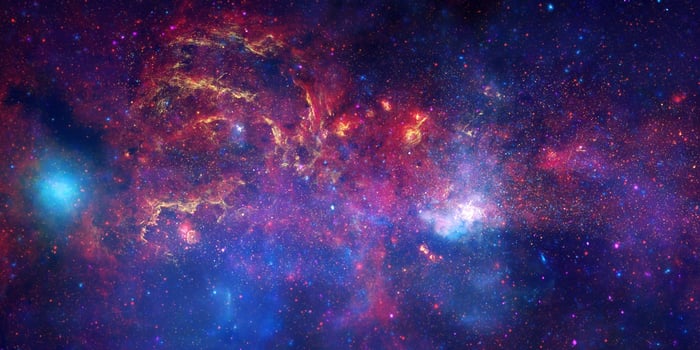 Galactic centre region, ® NASA 2009
Typography
In most cases, making typography invisible is what you want to do. Herdius was an exception. Since we were building a site that was supposed to evoke strong feelings, emotions needed to come first. We applied wide spacing between letters (1.3 kerning) and lines (200% of the line height). This, combined with azure copy set up against the navy blue background, made the text seem to hover in space. Robotic SourceCodePro font used for labels makes the feeling even stronger.
Illustrations
We needed to showcase nodes, connections, energy flow, and some hardware. Isometry is the direction we chose, because it's precise and looks techy. Sketching core concepts such as platforms and transactions resulted with some basic shapes.
Adding values one by one  –  cryptocurrency, decentralisation, scalability  –  brought complex illustrations to life. It was possible only by understanding the complexity of the system and its constituent parts. Placed next to headings, illustrations make the message and the verbal descriptions clearer.
We agreed that illustrations can only picture the ideas. It's nearly impossible to illustrate a scalable backend infrastructure. What we could do instead was to showcase something the user would know and understand  – a  multilayer object combined with some analytic-looking charts. Easy. It doesn't exactly cover the field, but it evokes a mood, and this is what we wanted.
Content
As long as the visceral parts of users' brains were satisfied, we still had to feed the rational parts with something. We gave them what we thought they came here for:  facts supported by some descriptive infographics.
Roadmap. An interactive roadmap describes what has already happened and what the plans are.
Distribution. Token distribution must be fully transparent. Since percentages are hardly descriptive, we supported it with a simple infographic.
Advisors. The Herdius Token is backed up by technology disruptors. Having professionals vouch for it builds an additional layer of trust.
Results
Thanks to the cooperation between two designers and one front-end developer, we managed to launch the website in 3 intense weeks. ICO is now live, and you can check it out at Herdius.com.
Take a look at the Behance presentation to get a better visual insight.
If you liked this case study, why don't you get in touch? We're available for new projects! Drop us a line at ux@netguru.co.
If you want to see more design by us, visit our Behance profile or find us on Dribbble.