Somewhere between creating another commit, reviewing peer's code and deploying to production, **Dominika** found some spare minutes to fill out our questioner and finally get profiled on the blog. Read about her passions and inspirations, and make sure you've clicked all the links she recommends. Really worth it;)

Somewhere between creating another commit, reviewing peer's code and deploying to production, Dominika found some spare minutes to fill out our questioner and finally get profiled on the blog. Read about her passions and inspirations, and make sure you've clicked all the links she recommends. Really worth it;) Somewhere between creating another commit, reviewing peer's code and deploying to production, Dominika found some spare minutes to fill out our questioner and finally get profiled on the blog. Read about her passions and inspirations, and make sure you've clicked all the links she recommends. Really worth it;)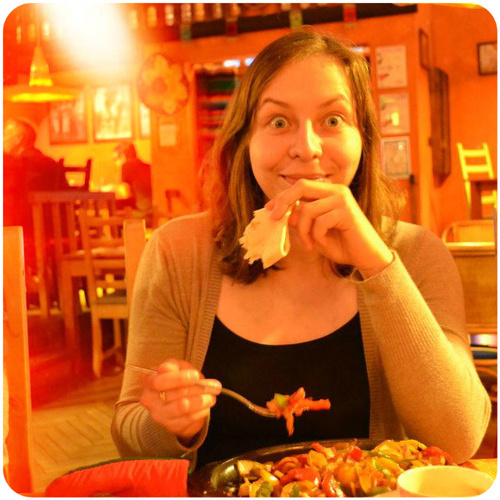 The girl is a coding master, secretly in love with 8-bit architecture. As if playing with Amiga, Commodore and Pegasus wasn't enough, from time to time she tinkers with her assembler for m6800. Outside of the office she likes to dive into nature and make use of her favorite instrument - a guitar. Or to get dirty with watercolors, or ink. Officially she confesses to 2 addictions - constant experimenting (which Dominika is actively developing) and coffee (which she managed to effectively reduce lately).
An Early Bird or a Night Owl?
That depends on the season! When it is warm enough I love going for a swim at 6.00. In the summertime I can even be seen getting up at 4, transporting myself few km's away, where I can admire the sunrise as well as the morning fog in all it's glory. When the autumn and winter come, I tend to stay up really late and sleep in.
What is your greatest extravagance?
I wanted to say that I don't have one, but just to be sure I've asked someone who knows me for quite some time now.
"Weren't you browsing for *another* amp just three days ago?"
Ugh. So I guess my answer is: guitars & music equipment…
What was the last thing that have surprised you?
Yesterday I was walking down the street when some guy came up to me and thanked me for doing workshops some time ago. Totally unexpected, I was flabbergasted: to meet a participant here in Poznan and that he has actually recognized me on a street.
Most used gadget?
That is a hard one. I will be forced to say my phone. I don't use anything more than that and my computer, when it comes to gadgets.
…unless you count vim as a gadget, could I? :P
Which words or phrases do you most overuse?
There are quite a few. that depends would be one of them, but I'm trying really hard to stop this.
What is your most treasured possession?
My very first guitar, every one of the many many scratches, tiny dents in varnish, back of the neck wiped out and countless memories in one package. I almost cried when one of my tuning keys buttons split in two last week.
Priceless, would never sell it.
Who are your heroes in real life?
People with passion. People that have enough motivation, persistence to repeatedly do something, practice and perfect something, dedicate themselves and not give up. There's no one that I admire more.
Who is your technological guru?
If I take technology in rather general terms I would say that some of the ideas which Jacque Fresco proclaims are great, therefore I would give his name.
A bike or a beer?
I don't have a taste for beer actually and do not really have a bike, unless you count my unicycle as one :D
but going to the idea behind this question I'd have to say 50-50 anyway and cite Terence for that.
What do to value in your co-workers most?
Attitude to be open to ideas and suggestions inside-out.
What have you found truly inspiring lately?
In general, changes (as in the results of decisions we make or observe) are most inspirational for me, negative ones as well, or even more so.
Lately the aforementioned conversation with that guy — the fact of making any kind of impact at all on his life by such a small and effortless thing.
Ruby, Python, Java… ?
If I have a choice, Java is the last on my list and unfortunately, I didn't do anything in Python at all. Most of my personal projects are done in C++ which I immensely enjoy having fun with.
For writing something up quickly I'd go with Ruby.
Developing or building up from scratches?
That depends where the bigger challenge lies. If the idea is quite the thing I'd say building up, but when the fixing up is quite tricky I'd go with developing.
What fictional character would you like to be?
Normally, I wouldn't give a single thought to even consider this, BUT…
…if it meant having a dragon all to myself then what the hell, I would like to be literally any character with such possibility.
Any at all.
Seriously.
(I would even settle with some strange exterior like manatees or sth queer.)
(on second thought it would be quite difficult to control a dragon underwater. HM! Unless it could fly AND swim! OR! if I, as a manatee, would have some super-ultra-omni-dragon-mind-controlling powers.)
UPDATE: I have took my time and asked http://en.akinator.com/ what would I like to be, by giving him my imagined profile. Turns out I would be destined to end up as http://screencast.com/t/1sqdvPBVtS
The dark side has no boundaries, I hope.
Which website do you visit everyday?
every morning:
http://youtu.be/8410qUT4QtA
(yes, it is an alarm)
everyday:
http://qwantz.com/
http://www.nature.com/news/
http://iiiiiiii.com/
not everyday but definitely too often:
http://www.virtualdrumming.com/drums/windows/drums-free-drumming.html
http://audiomap.tuneglue.net/
http://chasingdelicious.com/
http://www.sevenspoons.net/
about every hour:
:h :P I KNOW, technically not a website