Meet Marek - born in 1983 in Poznań, lived here ever since. Theoretically a chemist and a linguist. Practically, a Ph.D. student in biophysics, a computer...

Meet Marek - born in 1983 in Poznań, lived here ever since. Theoretically a chemist and a linguist. Practically, a Ph.D. student in biophysics, a computer...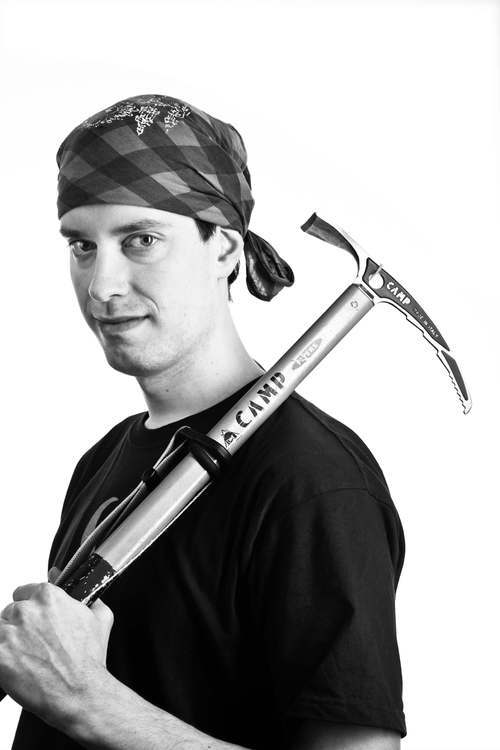 Meet Marek - born in 1983 in Poznań, lived here ever since. Theoretically a chemist and a linguist. Practically, a Ph.D. student in biophysics, a computer enthusiast and a part-time teacher. Started his programming adventure with BASIC on his first Atari in 1990 and continued later on as one of his hobbies. In private life - a backpacker, an audiophile, a music maker, a mountain addict and a fresh father. Loves discovering new things and believes in the power of spontaneity.
An Early Bird or a Night Owl?
Well, if I like going to sleep early and waking up late, what kind of bird does it make me? But if I was to choose between the two, I suppose it would be the former - I'm more productive in the morning than in the afternoon, and I'm not really keen on using the "snooze" option when my alarm is ringing.
What is your greatest extravagance?
I think I'm not too extravagant on a daily basis, but I love improvising, and I'm always fond of spontaneous ideas on how to spend some free time. I remember one time we came up with an idea to go down a river but we didn't have time nor money to organize a decent canoeing trip, so we just bought a $30 inflatable boat and set out with it on the next day. There were a few details that went not exactly as planned, like
we forgot to take enough food
we lost lost over 3 hours by going into the wrong arm of a lake
three out of four plastic paddles that we bought broke during the first hour of rowing (to be subsequently fixed with tree branches)
and our boat got a puncture in the middle of the journey, so we ended up rowing half-submerged
Still, I think these "little adventures" only added to the fun, making the trip truly unforgettable!
What was the last thing that have surprised you?
Oh, life can be really full of surprises every day when you have a rampant one-year-old toddler at home. And as for a more universal solution, I think it's good practice not to be scared of talking to strangers. Say, some time ago my friend and I took my daughter to a stroll combined with some geocaching in the forest, where we encountered a tall, ghastly man dressed in black, taking pictures of a decrepit old tower. As it turned out, not only was he very well versed in the history of the terrain we were visiting (along with the whole von Treskow family tree), but we also got a free photo session in the ruins!
Most used gadget?
I don't really use many gadgets; unless you count things like a bike or a laptop, I think the top hit would be my Kindle_ e-book reader_, which I think is a great invention.
Which words or phrases do you most overuse?
In general, I think I abuse the word "generally" :)
What is your most treasured possession?
I don't really get very emotionally attached to objects, but I guess my cachirulo (headscarf) would be one of the exceptions. I bought it from some black guy in the street during a scholarship in Zaragoza, Spain, over 7 years ago, and it's been with me on almost every mountain trip since then, even though it's already been ripped so badly that it is hard to put on your head.
Who is your technological guru?
Hard to say, really, but I must say I admire all the Open Source movement guys who are ready to spend their free time on doing something useful to everybody.
*A bike or a beer? *
Definitely a bike, although I must admit it's also nice to grab a beer after a long ride!
What have you found truly inspiring lately?
I have recently read a relation of a couple who took six months off to do a car trip with their little child around the Black Sea. It was engrossing to watch how the kid developed as they were driving through Moldova, Bulgaria, and all the way through Caucasian countries, meeting a multitude of different places and cultures, and people to make friends with. I always find such stories very comforting, as they remind me that at their hearts, people are in fact the same anywhere you go.
Developing or building up from scratches?
It doesn't really matter to me, as I think both have their pros and cons. Building from scratch might seem easier for many people but in fact it requires a lot of insight to get it right, as otherwise you end up fixing your own work.
Most used app?
RealLife is quite a nice app… And more seriously, being able to access GoogleMaps from your phone makes such a great difference that it is probably still number one for me. As for applications on my computer, VIM is something that you can have a lot fun both learning and using.
Which website do you visit everyday?
I guess it wouldn't be very original if I said "google search engine", so I'll link to a site that helps you learn and help others at the same time: freerice.com (it's a shame that I can't visit it on a daily basis, but still it's one of my favourite websites whenever I have some free time in front of my laptop).
For meeting more people from our team go to Enquire Inspire