One Demographics that Almost Everyone in the Fintech Industry is Trying to Reach

"It won't be the big banks that change the way people do banking." That's the mantra that keeps being repeated by many fintech neobanks and startups.
In this case, the quote is by Maximilian Tayenthal, co-founder of N26, one of the fastest-growing fintech companies in Europe.
Yet, with the VC money that keeps fuelling the fintech and insurtech disruption wave, space is getting tight, and everyone is looking for as many growth opportunities as possible.
Four recipes for growth in the fintech industry
In the beginning, the fuel for the early growth came from improving user experience, lowering fees, and removing friction. It was, as summarized by Netguru's Chief Strategy Officer Kuba Filipowski during Disruption Forum Berlin, the era of unbundling products and services.
Then collaboration path came along. Fintechs started building out their APIs, and it is no accident that APIs are one of the hottest strategies around the fintech industry at the moment.
The next point on the growth list is geographical expansion. European leaders, the likes of N26, Revolut, TransferWise or Currencycloud, are trying their luck on the US ground. US-based companies are moving to Europe, with Lemonade as the most recent example.
Yet, it's a safe bet to assume that nobody in the industry believes these three paths guarantee success in the overcrowded market.
So, what's the fourth option?
Targeting underserved population
But how do you find underserved populations?
The core vision of Tamaz Georgadze, CEO and co-founder of Raisin, is to cater to the needs of a "€15-trillion market not properly taken care of by banks". Berlin-based Moonfare targets wealthy clients with a minimum of 100k euros to invest in top-tier private equity funds.
Kindur, founded by Rhian Horgan, a former managing director at JPMorgan Asset Management, sees its fortune bound with advising the baby-boomer generation on their retirement money.
Yet, there is one new demographics that has recently started popping up in the news. The reason: industry unicorns are rushing to expand their customer base with youth and kids.
Fintech for kids
Take Revolut, led by Nikolay Storonsky. One of the latest moves of the London-based startup is to promote financial literacy amongst kids and teens.
The company is about to launch an app for kids and youth with one version for kids over 7 years old, and another for teens over 16 years of age. Children will have their own card, yet the account will be, obviously, supervised by the parents.
We believe that taking control over your finances is a lifetime of work, and starting to learn about financial literacy and how to manage your money is vital from a young age, Revolut stated.
Another fintech leader that is not willing to lose sight of these demographics is Stripe. The US-based company recently led a round raised by Step, a fintech startup that is developing mobile-based banking services for teenagers.
The startup hasn't launched yet, however, there are over half a million users signed up on the waiting list.
Schools don't teach kids about money. We want to be their first bank accounts with spending cards, but we also want to teach financial literacy and responsibility, said CJ MacDonald, the CEO and co-founder at Step, in an interview with TechCrunch.
At the first look, neither Step nor Revolut's new apps are hitting the uncharted market. For years banks, and card providers like MasterCard or Visa offered parent-friendly accounts and debit cards.
There is a slew of startups getting into this market.
For instance, there is Greenlight, which launched two years ago with its payment card with store-level allowances. Essentially, it allowed parents to decide how much money from the account could be spent at particular stores, eg. Amazon.com, Starbucks, etc.
There is Hibbo, a startup that connects Mastercard payment cards with an IoT piggy bank (built upon a Raspberry Pi 3), and includes Pokemon-style money transfers using QR and AR.
Or Current, an app and debit card provider for teenagers, which launched two years ago.
Yet, there is no one in the market who would share a belief that all of the cards have been dealt and that the level of services provided by banks is tailored enough to parents and kids.
The banks alone seem not to take this bet.
It's hard for parents to teach their children how to use money wisely when they often don't know exactly how to do so themselves, since there's no public education about it. With simple visual metaphors to make money more relatable, for example, we can start to set up the next generation to be better with money than we are, said Dan Makoski, the first Chief Design Officer at Lloyds Banking Group, in an interview with Netguru.
Inspired by this interview, Netguru came out with Pockee, a proof-of-concept app for family banking. We also authored "The State of Banking for Families" report, based on third-party research and data from our own internal study with UK families.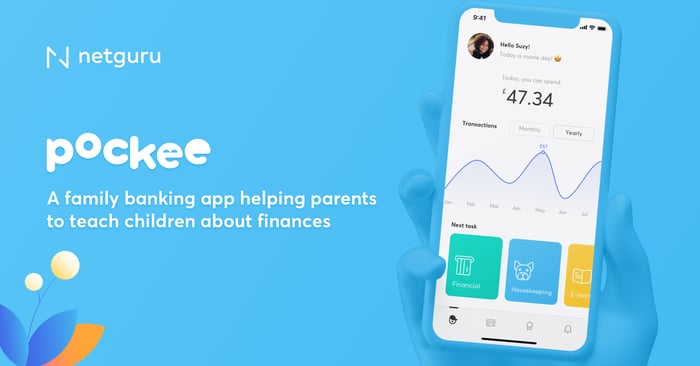 One of the findings was that only 31% of parents talk to their children about money to help them understand how to save more. The full report can be downloaded here.
Raising new customer base
Apart from educational reasons, targeting kids is a much more strategic move. It's not only about growth but also about becoming or staying relevant for as long as possible.
Companies like Stripe know this, hence Step's investment.
Companies like Revolut know this, hence the new app.
MasterCard or VISA know this, hence their efforts to collaborate and experiment with many new players.
As teens grow up, we want to grow with them, MacDonald stated in an interview for TechCrunch.
This translates to the promise that the brand that succeeds in getting the attention and trust of the youth generation, may enjoy the privilege of being the top-of-mind provider of loan, credit, or any other financial products.
As simple as that.
Hungry for more? Stay up to date with fintech news, finest case studies, interviews, Disruption Forum events and workshops. Subscribe to Pocket Change.