German Fintech Fixing the Loans – Key Moments of Building the App
Whenever you aim to completely change the way the industry operates, expect the road to be bumpy.
That is especially true for any fintech app or service. At Netguru, we are proud to have the opportunity to work with those founders who are aware but not stymied by these challenges ahead.
One of such cases is CashCape, a German-born iOS and Android app that aims to redefine the way people apply for quick-term loans.
Fixing the financing problem in Germany
The problem, as seen by CashCape's founders Jan Weitzel and Matthias Lange, was that a vast number of German citizens could not apply for fair, short-term financing. Either they were too young, had too little credit history, or their credit rating wasn't good enough.
Double-digit interest rates, hefty additional fees, credit decisions based on the old-fashioned Schufa system - that reality cut off many individuals from having a decent financial offer.
CashCape's founders decided to fix this by opening up capital - cheap short-term loans - to the underserved population. They were quickly joined by Tim Strietzel as a CTO. Then they turned to Netguru to build their app from scratch (both for iOS and Android) and help the German fintech team battle-test it, as well as close any loopholes in the credit approval process.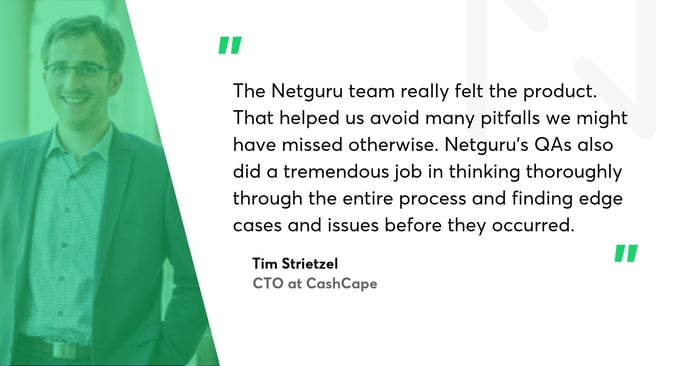 Decision engine to predict the future behaviour
Both founders and CashCape's CTO believed in transparency (no hidden fees) as well as in technological excellence. Instead of using Schufa ratings, their app relied on a data-driven model, powered by a very elaborate decision engine.
CashCape's engine is able - within seconds - to predict the future behaviour of the person applying for a loan and thus determine the probability of the loan getting repaid.
The German company doesn't disclose the exact nature of the algorithms in use, but the analyses are based on the customers' account data (e.g. account activity) and socio-demographic factors.
The app also allows customers to identify themselves on a video call and sign the loan agreement paperlessly.
CashCape came out of beta October 2017, attracting many interested users in Germany. So far, its engine has calculated several thousand loan requests. And the CashCape team is working on adding brand new features to the app.
Netguru mobile and QA skills - what we brought to the project
The CashCape project was challenging for our mobile development team. Apart from building the app from scratch, we were to ensure smooth integrations with:
an agency verifying the customers' data,
a private German bank providing loans,
a partner providing identity verification.
We were tasked with synchronizing data from all of the databases to ensure that nothing could disturb the CashCape engine's performance. Moreover, we went beyond standard data protection to protect the data of users at every step:
as the banking data were being imported;
as the users' data were being verified;
as the users' identities were being verified;
as the identity documents were being sent and the credit was approved (or denied).
We did not just support CashCape with our mobile and backend development skills. An essential part of Netguru's involvement was the Quality Assurance's team support in designing the digital credit processes.
Our QA team - as CashCape's CTO put it - "found issues before they occurred". Netguru played an important role not only in coding, but thinking through many edge cases. - That helped us avoid a lot of problems - added Tim Strietzel.
Asked about assets and values which Netguru brought to the project, Tim Strietzel, CashCape's CTO, is quick to highlight our QA process, friendly collaboration, and direct feedback.
The Netguru team - both backend developers and QAs - really felt the product. Your approach to CashCape app went far beyond the coding tickets we put in Jira. That helped us avoid many pitfalls we might have missed otherwise. Netguru's QAs also did a tremendous job in thinking thoroughly through the entire process and finding edge cases and issues before they occurred - said Tim Strietzel.

- It really helped to knit together the team, I felt like everybody was committed to getting the thing done not only before the deadline, but also correctly - CashCape's CTO added.