The Gensler 2013 US Workplace Survey revealed that employees who have a choice in when, where and how they work rank their performance and satisfaction higher than employees who don't. The survey was based on the responses from 2035 knowledge workers across the US, with tech employees shown to be happier and more satisfied than the average employee.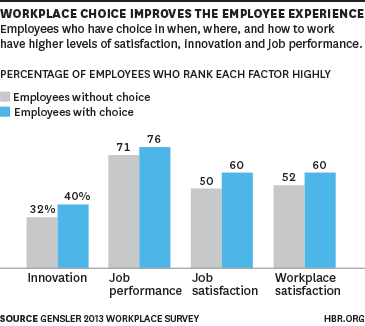 One reason for this is that those in the tech industry, particularly startups and web developers, usually nurture a more inclusive workplace culture, while not shying away from non-traditional forms of workplace layout and employee expectations. Flexible hours and a larger percentage of remote workers is much more common within certain sectors of the tech industry. Prominent brands and platforms with largely remote teams include KISSmetrics, Automattic and Buffer, with Automattic stating:
Because of the geographic variance, we're active pretty much 24/7. We care about the work you produce, not just the hours you put in.
This highlights the benefit of remote work not only for the employee, but also for the employer. Output is not limited to what can be done during regular, fixed office hours.
Naturally there are many factors that dictate the overall success of remote teams within an organization, not least of all the spread and expectations of your client base. If your client base, and their use of your products, is concentrated within a single time zone, a team of remote workers spread across the globe is probably not ideal. But remote work is not defined only by having employees in different countries, or even different cities and towns. Even organizations with a single location/office and all local employees can benefit from allowing the employees to work remotely.
This article, however, is about employees and not employers. What can you do, as an employee who works remotely, to always deliver the best in performance and results? This ultimately comes down to having the correct environment, equipment and software, supported by a strong work ethic. The work ethic is what drives everything else, without it nothing else matters.
Setting Up Your Office
Perhaps the biggest perk of working remotely is that you are in full control of your working space. You decide everything from where your office is located, through to how it is furnished and equipped. If you are thinking of working remotely, or have just started to, here are some essentials to consider for your office setup:
Location. It is extremely important to have a dedicated office space, even if you live alone. Ideally it should be a separate room, but if space is limited then chose an area that is free from distractions. Possible distractions include everything from your TV and gaming console, to family rooms and noisy spaces. If you have a family, or live in a shared space, being able to close a door is essential.
Furniture. A sturdy, comfortable chair is by far the most important piece of furniture to invest in. You are going to be seated for long periods of time so look for something that is both comfortable and offers fantastic support. Aside from your desk, all other furniture is incidental. Good lighting is also important for when you have to work late, or on days when there isn't much natural light.
Internet connection. Having a reliable cable/DSL Internet connection is a given for any form of remote work, but for anyone involved in remote web development, having a backup in place is just as important. A mobile plan and smartphone that support tethering is one of the simplest backup connections, and it is accessible to most developers.
Headset. Not only for listening to music as you code. A good, wired headset is a necessary accessory for any remote developer. Working remotely means you will be making and receiving calls in the middle of your workflow, and many of these calls will be over the Internet, either through Skype or dedicated VOIP software. Using a headset keeps your hands free, while also offering clearer communication. Although pricey, the Plantronics C720 connects to your computer via USB, and via Bluetooth to your cellphone, while the Plantronics Savi W720 can be connected to multiple devices, including a desk phone.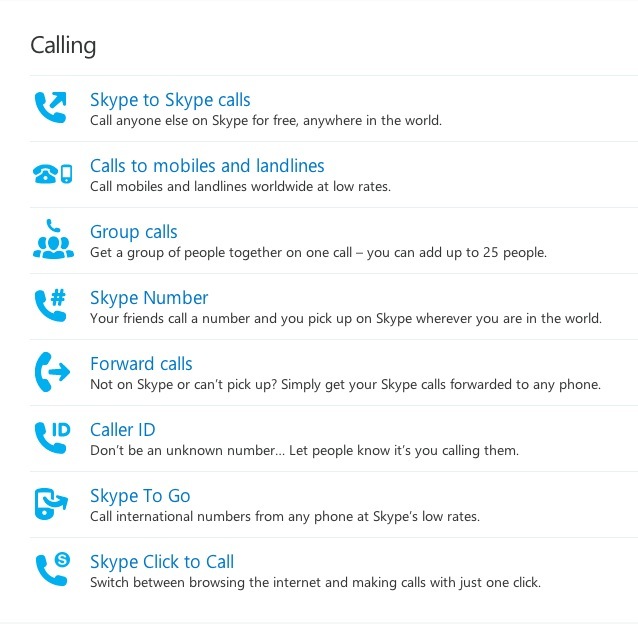 Skype. With an ever expanding set of features, Skype is a must have, allowing you to make and receive calls even if you aren't in your office. How is this different to just using your cellphone? Aside from offering better rates to some international numbers (even when dialed from your cellphone), you are even able to call Skype contacts from your cellphone.
People who work remotely are usually advised to have fixed office hours to allow for easier separation between work and personal time. This is not feasible when your work involves web development and you occasionally need to work very long hours, so you should be finding other methods to balance your personal time with your work commitments.
Using the Right Tools and Apps
Every client and organization will have their own preference in terms of software used, both in-house/proprietary and licensed. Irrespective of whether you work permanently for one organization, or freelance for multiple clients, you will need to use the same software in order to do the work and communicate effectively while working remotely. But what about other software tools that could help you and your efficiency?
Learning a New Way of Communicating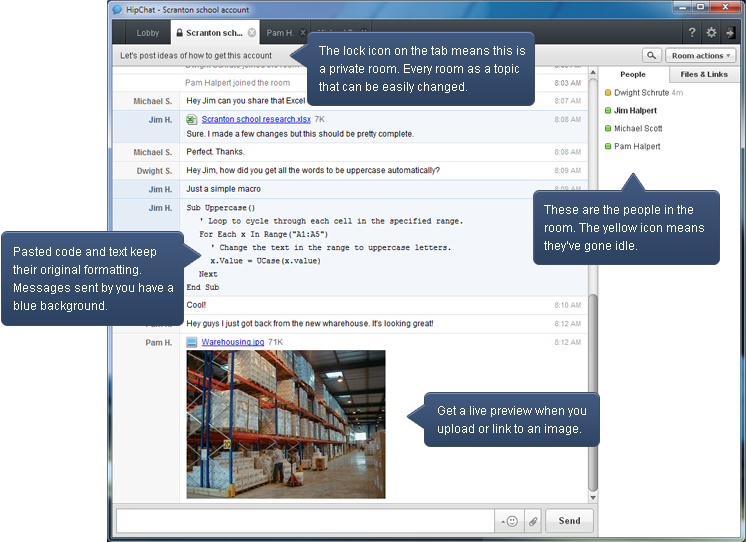 If you have been working as a remote developer for some time, you would have adjusted quite comfortably to a new way of communicating with fellow team members, management and external clients. If, however, you have never worked remotely before, it can take some getting used to, even for people who consider themselves an introvert. So what are some best practices to prevent you from becoming a hermit?
Communicate regularly. Develop a habit of checking in on any group chats at the start of your workday, and regularly throughout the day. Let your fellow team members know whenever you are going to be away from your desk for an extended time, or when you are signing off for the day. The easiest way to be forgotten is to make yourself invisible, and this is never a good idea when working remotely.
Always attend meetings and conference calls. All organizations with remote teams will have regular meetings and conference calls scheduled. Make sure you are always able to attend any that you are invited to, and that you actively participate regardless of whether they are voice or video calls. Just as you don't want to become invisible to other team members, you don't want management forgetting who you are and what you do.
Don't be afraid to try out new tools, or to use existing tools in innovative ways. HipChat is an extremely popular chat program in businesses of all sizes, not only because of its extensive features, but also its security. HipChat has an impressive list of external apps and services that it can easily integrate with, making it even more powerful. And not forgetting the ability to easily, and securely, allow clients and vendors access to controlled group chats, which is particularly useful with remote teams and clients.
Pair up with a different team member each week. Another practice employed by Buffer is to have team members pair up with someone new each week. During that week they each get to know a bit more about each other personally, and in relation to work projects.
Staying visible and relevant in an office environment is quite easy, especially if the layout is quite communal and encourages interaction. Doing so when working remotely requires constant effort, and innovative approaches. Don't always stick to the tried and tested; read up on how other companies with remote teams work and suggest some of their best practices within your current organization.
Keeping Up with the Deliverables
Regular communication is important not only to prevent yourself from becoming invisible, but as a way to deliver status updates and to communicate on deliverables. Although these would also be tracked via project management and bug tracking apps, audio or text chats and meetings allow you to go into more detail, especially if you have encountered any problems, or uncovered a new bug.
Stand-up meetings can be a very effective way to do this, and are very simple in structure. Scheduled stand-up meetings can take place between team members working on the same project twice a week or daily, depending on the size of the project and team. Only three items are addressed by each team member: what they worked on the previous day, what they intend working on today, and what obstacles are hindering their progress. If the project is for an external client, having stand-up meetings can help shape any communication that needs to be sent through to the client, especially when addressing technical issues with non-technical departments and users.
Conclusion
While there are many benefits to working remotely, both for the client/employer and the developer/employee, it does require a considerable adjustment when implemented for the first time. While this article has addressed several best practices, it is impossible to cover all areas, or to expect any of the suggestions to work for all organizations. Find what works best for you, without ever forgetting to try new methods. If you are lucky you will discover these quickly, and begin to see results in a very short time, but this is also dependent on the size of your team and projects.
Enjoy the sense of freedom that comes with working remotely, while being fully prepared for trying to balance your work and personal life when working from home. Exiting work mode is much easier when you have an office or workspace that you can leave behind you, effectively closing the door at the end of the day.
Feel free to join the discussion on reddit.com/r/startups