Many entrepreneurs and product strategists make the same mistake. They either focus on the technical part of the planning (what programming language they'd like to use) or the business goals they want to achieve. These are definitely crucial elements of creating a successful product. However, the risk is that they will drag your team away from a human-centered perspective, which has been proven to be the best method for building products people love to use. In this post, I will explain to you how design thinking will make your design sprints deliver outstanding results on time.
What is a design sprint
Sprints are short chunks of time spent working on a project; the concept is key to the agile product development cycle. A design sprint usually lasts one week (from Monday to Friday) and has five phases. The goal is to understand the users' needs and find the best solution to their problems. A good design sprint can save a lot of product development time and vastly increase the odds of market success.
During the five-phase sprint the team needs to:
understand the problem (the business opportunity, the needs of the users, as well as the value added with the new product, service or feature set),
explore possible solutions (identify the challenges and come up with both the most evident and out-of-the-box answers),
decide which solutions fit the next product development cycle best,
prepare prototypes that can be tested with real users,
run tests of the prototyped solutions among the target audience.
As you can see, there are lots of both creative and analytical things to do during a single design sprint. There is a risk of getting lost. Design thinking is a key element of running a successful product design sprint and will help your team stay on track.
What is design thinking
If you Google "design thinking" you will find that it's often described as a five-step process that is quite similar to the sprint process described above and includes:
empathizing - understanding the needs of the users
defining the problems they have in getting what they want
ideating - coming up with as many possible solutions as possible
prototyping - creating simplified tools for the users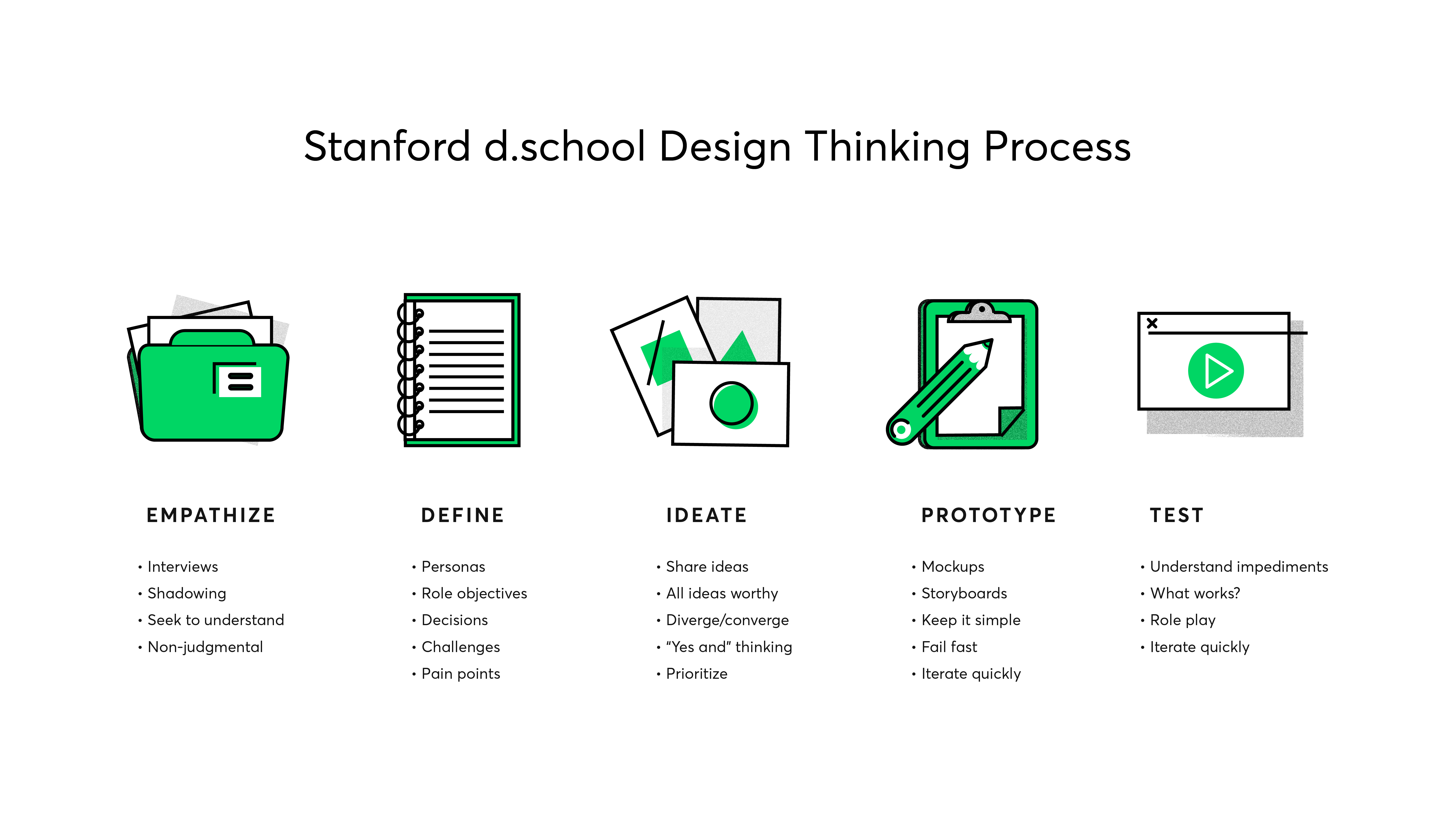 Although usually defined as a process, at Netguru we consider design thinking more of a state of mind than a step-by-step walkthrough. It's a concept that evolved over the decades since it was introduced in the late 1950s in the field of creative engineering.
The idea is to keep a human in the very center of the design – hence human-centered design. That's why empathizing is so essential. Design thinking is all about understanding the experiences and motivations of the people who will be using the product. Keeping this perspective in mind is critical since business goals can often dominate and obscure it. Instead of wondering "how do I attract 100 new users every month", design thinking brings a more empathetic approach and different questions. Keep in mind that this does not imply that business thinking is not important, though, as providing solutions that will fit users' needs are the very ones that will boost the business results anyway.
Here are some phrases that may appear during design sprints run by a team that embraces design thinking:
"We want to help those guys."
"...so let's think about what they need..."
"... we should come up with an idea of how we can help them in..."
"...then we should ask them what we can do to help them..."
"... ok, now let's think if we can still make it easier for them..."
Keeping the right perspective will improve your design
As you may have noticed, design sprints and design thinking are closely linked together. That's why you should remember to keep the right perspective when you run design sprint workshops.
Make sure you look at challenges from a human point of view, and only then make all the effort to find human-centered solutions that are technologically feasible and economically viable.
Here are four rules that help us stick to design thinking at Netguru:
Goals are user-oriented (not only organization-oriented).
Every plan includes the people in your organization, with their capabilities and limitations.
We sincerely want to help the users and give them a valuable solution.
Focus on business aspects (costs and income) is inevitable, but these are the rules of the product design game, not the goal. The goal is to make the user happy.
Do meaningful exercises
Exercises are a vital piece of the first stages of the design sprint. They should be useful (help you make progress in the process) and easy to perform (understandable and approachable). The tricky part about exercises is to keep them unbiased - the result should not be suggested by the workshop facilitator nor any other member of the team.
Here are some examples of the exercises we perform during our product design workshops.
Product box - imagine how your product would sell itself if it were a box on a shelf among other products. What should be visible from the very beginning so that you would take it from the shelf to read more about it?
Mind mapping – participants of a workshop try to continue the thought presented by a colleague. There are many possible formats of this exercise; experiment with them and allow the team to unleash their creative thinking.
Empathy maps enable your team to quickly assess what people see, think, say and do in particular situations. The method is to imagine how the users would respond to the status quo and tell what kind of solution they might need.
Value proposition canvas is more oriented at the features than the stimulus action process of a user.
Role play is where one of the workshop participants, or a person that would join the workshop just for a moment, would play the role of a potential user; the need to work around the requirements of this person may lead to further ideas.
Product design is a complex, highly-creative process, in which you want to stimulate unconventional ideas. At the same time, you want your team to keep the business goals and technical limitations in the back of their minds. Navigating every iteration of a design sprint is quite a challenge, however internalizing the design thinking within your team will help everyone stay focused on what's the most important - making the user happy while bringing profit to your organization.