His Application Brings Transparency to the Kuwaiti Politics

Abdullah Alkhonaini is a co-founder of Raqib50, an online non-profit website that holds Kuwaiti members of parliament (MPs) accountable by making their voting records and other work accessible to the public (parliament watch).
The app is powered by Ruby on Rails, and tracks MP activities: suggestions, committee reports, votes. Raqib50 is run by a non-profit initiative. We spoke with Abdullah to learn more about his experiences with buidling a startup.
Bartek Ciszewski: What is the idea behind Raqib50?
Abdullah Alkhonaini: The name means "Watch50", because the National Assembly in Kuwait has up to 50 Members of Parliament. We want politics to be more transparent, that's why we want to make all important MP's activities accessible to everyone. The application presents it in a form of colorful infographics. Information is easy to navigate, and connects voters to the MPs. Voters may follow them, check what they do, and hold them accountable for their acts.
We researched similar solutions in several African countries, the UK, and Sweden, to design a parliament watch application suitable to the Kuwaiti political system.
Bartek: Why did you decide to hire a remote team from Poland?
Abdullah: The first version of the application was built five years ago. We designed it together with my tech co-founder and built it with the help of a Swedish software development company. While it worked, it was not easy to navigate, and often confusing.
The main problem was the Arabic. European developers had big difficulties working with the design because of the language barrier.
In Kuwait, software development is very expensive, especially if you want high quality services. We are a non-profit organization, and have no sustainable funding.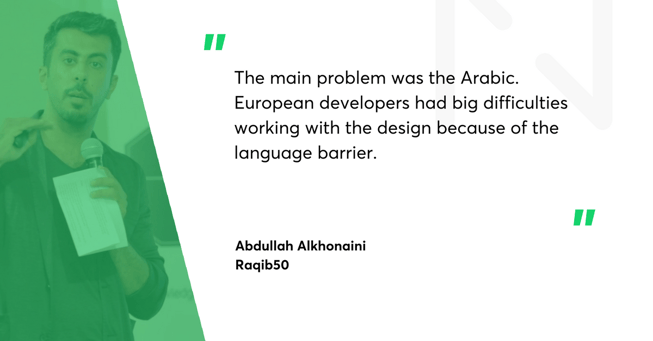 Bartek: What was your experience working with Netguru?
: Very positive. With our previous software developer, it was a one task project. We designed the application, sent them the design, they programmed it, and gave back the final product with little opportunity to improve it. We hardly cooperated at all.
With Netguru, the situation is completely different. We started with a scoping session, where we could get to know the team and make sure we are all on the same page. Since then, we are constantly in touch and know all about the project progress and possible issues. This made working together very efficient.
The developers and PM were always accessible on Slack, had regular weekly Google Hangouts to talk things over, used Toggl to measure the time spent working on tasks, and used Jira for project management.
The developers were great, and had no major issues with the exotic language. Moreover, they even made some translations on their own using automatic translators. My biggest concern - miscommunication with a remote team - proved to be groundless. Apart from weekly calls, we kept in touch to solve all the language issues.
Bartek: How are you doing with the project now?
Abdullah: We released the new application on the 11th of November, and averaged 1,400 visitors a day. The popularity exceeded our expectations, and proved that such a service was much needed in Kuwait. Most of the traffic is on mobile devices, and the mobile version of Raqib50 is the part of the project Netguru built from scratch.
As for the development, we are finishing the first phase of the project. We had some delays, but that is understandable. We wanted the website to be perfect.
The original deadline was February 2017, but then Emir of Kuwait dissolved the parliament, which meant call for early elections in November instead of the original date in August 2017. We had to adjust quickly. Together with Netguru we decided to postpone two features, and the website was ready three weeks before elections. Five days before the election date we added one of the two functionalities. It was a great success.
Also take a look at: The case study of the project.