Challenging the Fashion and Tech Industry with the Most Advanced and Immersive Sneakers Ever
ShiftWear, an up-and-coming tech startup, is about to launch a unique and one-of-a-kind sneaker that can be customized in real-time using a slick mobile app.

Available in high, medium and low tops and with a waterproof and walk-to-charge design, these groundbreaking sneakers have image designers from all over the world able to create and design animations for their sneakers.

ShiftWear is a crowdfunded company from New York, and was created by a team of futurists, entrepreneurs and engineers to ch

Challenge the fashion and tech industry with "the most advanced and immersive sneakers ever". The concept revolved around bringing to market shoes that could dynamically display images and animations created by remote designers; those who owned ShiftWear sneakers themselves. By the end of 2015, ShiftWear had raised $927,077 in a highly successful crowdfunded Indiegogo campaign, which was 3088% of the initial goal.

The Shiftwear app is being built by the Netguru development team, and will be released on Android, iOS and Windows by the end of Winter 2016. We interviewed Nick Johnson, the Lead Hardware Engineer at ShiftWear, to find out more about this unique product.
Bartek Ciszewski: What's the idea behind ShiftWear?
Nick Johnson: We're developing a platform for people to express themselves using fashion. The ShiftWear app will control the designs displayed on the shoe, and app users will be able to change shoe displays at any time on their own, or by purchasing somebody else's design in the marketplace.
We saw a gap and an opportunity in the current technology to create such a product. To take advantage, we developed a crowdfunded company and raised almost a million dollars on Indiegogo in 2015.
Bartek: Why did you decide to work with a remote development team?
Nick: Our preference was to hire our own in-house team here in New York. But this turned out to be impossible with our budget and the deadline for releasing the beta. That's why we decided to look for a remote team. I had worked with Netguru before on another project and knew they were the right choice for us.
Bartek: What were the biggest challenges in building the ShiftWear app?
Nick: Firstly, working remotely. Although a rising trend, working remotely is something that still hasn't been perfected as a skill. However, we overcame any potential challenges to create a successful product launch.
Secondly, we don't have a product in our hands, and yet we needed to develop the software to control the image design on the shoes. The technology behind our product is innovative; big fashion companies haven't done it yet. Many try to figure out the best way to introduce customizable products and it's a new and risky market, but if it works out ShiftWear may become the market leader.
Third, creating the footwear. The technology already exists but now we have to actually use it on the shoe.
Finally, the content marketplace. We want to get app users and designers involved. While it is intuitive to put content on apparel, we need to provide a means and the inspiration to do so in a way that creates a great and beautiful product.
Bartek: Did you have any doubts partnering with a team from Europe?
Nick: There's always some hesitation to working with an agency overseas. In particular, the language barrier. You put lots of credibility and trust in the agency you choose. This is especially true in a project like ShiftWear, where you are working on a product that other fashion companies are very interested in.
Bartek: How did it work out in practice?
Nick: A lot better than I had anticipated. Netguru fits in perfectly with the way we work. We like to have tight communication within the team to brainstorm new ideas together. With the Netguru team, we have a weekly call to discuss these things. Everybody knows their part in the project and is fully committed to their role. We wanted to build our own team, but Netguru's remote team has worked much better than we first expected.
A big part of what made the project work was the scoping session Netguru organized before the start. This was huge for us and we discussed every possible solution. The session was comprehensive, and the estimation of time and cost was really reasonable.
Partnering with Netguru improved the management of the whole project, as our New York team is rarely together in the same place. Communicating through Slack channels with the Netguru team improved the communication between all of us and we can reach each other immediately.
Netguru's project management has been fantastic. Agnieszka, the PM, was great at reducing the scope creep, which is essential when working on an MVP.
In the seven weeks since the scoping session, we are already halfway through the project. To speed up development, we decided to expand the number of devs from one to two.
Bartek: Looking back, was partnering with Netguru the right choice?
Nick: Definitely. One key benefit has been the speed. Getting to the market fast is crucial for ShiftWear. Without Netguru, it would have been impossible to hire experienced engineers and designers so quickly.
I came from a product dev company, where I knew a lot of designers and engineers. There are good ones and bad ones, and you can always tell if they are reluctant to get the job done fast. These Netguru guys working on ShiftWear [Agnieszka (the PM), Sergey (the designer) and Grzegorz (the developer)], have been great at getting to the point. You give them a task to do, and they approach it with no personal agenda. They made it exactly as we wanted them to, and stayed on schedule. From my perspective, that is great.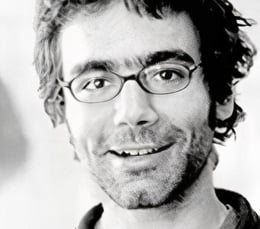 More posts by this author