How to Increase My Chances for Joining Netguru as a Designer – Recruitment Guide

Out of 349 applications we received in the first half of 2018, we hired only 12 designers. It makes the recruitment process very competitive. Not only we want to attract the best talent, but we're also looking for people who would be the right fit for our team. What does it mean? I spoke to some of our designers and the recruitment team to get some insights on what we expect from our potential designers. Here are some tips on how you can increase the chances of joining the world-class Product Design Team at Netguru.
Your application plays a key part
The application you send to us is a crucial factor in determining whether you will get to the next stage or not. As a designer, what matters is not only the content but also the form. Your experience and skills with a proven track record from previous jobs is what we look at in the first place.
Build a strong portfolio
Your previous work experience is a crucial thing we take into consideration when reviewing your application. As the first step, we evaluate the projects in your portfolio in reference to their usability and visual execution. We want to know what kind of projects you were part of and what your contribution was. Our designers work in close cooperation with clients – not only do they execute clients' ideas, but also act as advisors. It's worth mentioning it in your CV if you've got experience in consulting and also describing what impact your work had on the business.
Show who you are, not who you were
You should include projects that you're most proud of, but don't go too far back in time. Product Design is a dynamic industry, and we expect our designers to constantly broaden their knowledge and develop their skills. If you send us work you created more than 2-3 years ago but none you've done recently, this won't be to your advantage. We encourage candidates to include the best projects in their portfolio, which show a spectrum of their skills: from early UX to high-end UI – but we also encourage them to keep their portfolios up-to-date.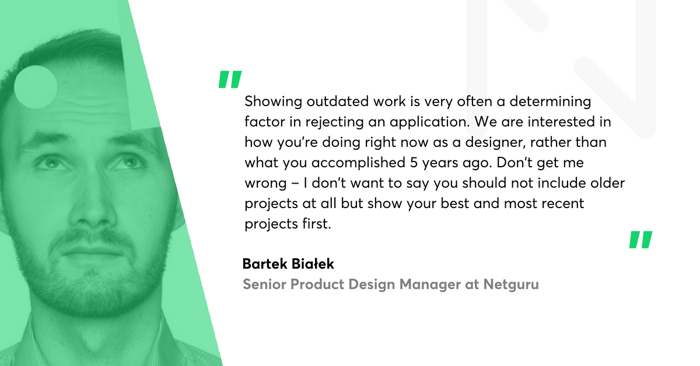 Take care of the form
The form is as important as the content, especially in design. A poor presentation of your work will speak against you. If you can't spare much time to put together a good application that would be in line with the industry's guidelines and best practices, how can we be sure you won't do the same when working on commercial projects? Spend a little bit more time attention on polishing the form. Your portfolio should also be thoroughly described. Provide explanations for your work so that we can learn about the background too. However, keep in mind that function is always superior to form. Sometimes less is more, and a pretty application will not make up for your experience.
Don't write your biography
We receive a massive number of applications every month – the competition is fierce. Our designers spent most of their time working on commercial projects and going through hundreds of applications is time-consuming. That's why eye-catching applications with only the crucial info about a candidate's skills and experience have an edge. On top of that, being able to pick your best work is a skill we appreciate. Select the top five projects that will prove the wide range of your skills as a designer.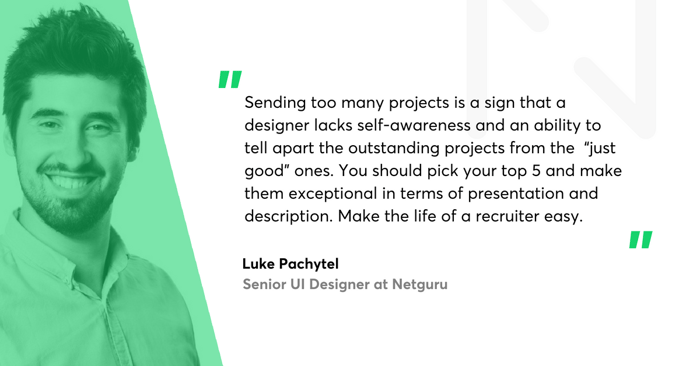 Know your field
Product Design is a very wide field. Nowadays, the term includes UI or UX design, illustrations, interaction design, and many more. They all have quite a lot in common, but each area is unique at its core. Whatever position you're applying for, you should know the differences between them. You don't have to be a specialist in illustrations if you want to become a UX designer, but not knowing the key characteristics of other fields is a big disadvantage. On top of that, if you're still unsure which path you'd like to go, Netguru will give you a lot of opportunities to discover your best sides and develop the skills in the area that fits your preferences and abilities best.
The right culture fit is a must
Having thousands of followers on Behance and Dribbble and an amazing portfolio with top-notch brands might not be enough to land yourself a job as a designer. Being a good designer is not all about outstanding skills and the knowledge of tools. Product design is a team sport. You won't get too far if you can't communicate and cooperate with your teammates effectively.
We're not looking for superstars. Your skills and experience are important. With high expectations from our clients, we need to provide the best talent available out there. That said, without the right team fit, you won't make a good designer.
Communicate clearly
At Netguru, we believe that communication is key to making projects work. That's why we value the communication skills of our future candidates. During the interview, you ought to speak clearly and coherently when conveying your message. Don't give the interviewer dismissing answers. We also want to make sure that when working on a project with a client, you will be able to communicate well with them too. Don't use jargon and, finally, NEVER lie about your skills or experience – we'll learn the truth sooner or later. It's better if you ask us whenever you don't understand or know something.
Showcase your potential
As we've mentioned before, we value great talent, but we're also aware that designers that apply to Netguru are at different stages of their career. Your experience and portfolio are the first factors we take into consideration. However, we can also spot the potential for further development in our candidates even when their experience is much smaller. We hire designers from junior to senior levels, and the ability to learn and grow your skills continuously is something we can spot and appreciate.
Prepare for the interview
You need to prepare for the interview, and this applies to all vacancies at Netguru, not only in Product Design. Do your homework before the first conversation with a potential employer. You should learn at least a little bit about the projects we do and the expectations we and our clients have. It's also good to have a look at our profiles on Dribbble and Behance (both the company's and our designers') to get to know our style, clients, and expectations.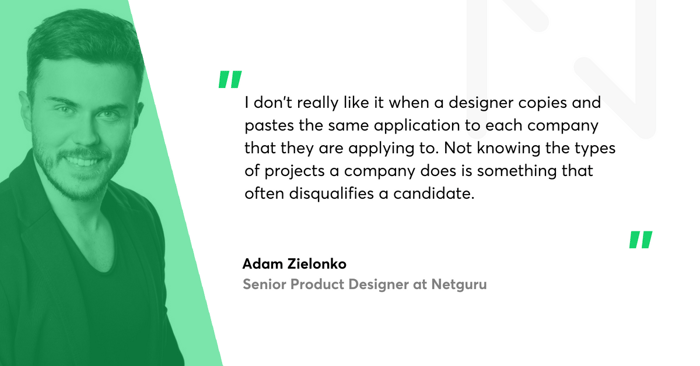 Prove your soft skills
Designers at Netguru frequently switch between projects. They work on tight schedules and with demanding clients. That's why you should be able to handle stressful situations and deal with problems effectively. On top of that, you should present your ability to collaborate with other teammates and clients. As a designer at Netguru, not only will you have to design interfaces and experiences, but you will also have to convince the stakeholders that your ideas and work are good. Finally, we really value constructive feedback in our team as well as being open to what other people think. Before the interview, think of a few situations from your own experience that prove the above skills. Speaking about them will definitely increase your chances of being hired.
Be human
Finally, we're looking for team players, not superstars. We want you to show the best of your skills, but bragging about how amazing a designer you are won't take you far. Show a little bit of humility. You should be aware of your advantages, but you need to know your weak spots too. We're looking for a personal touch and a human factor in our employees.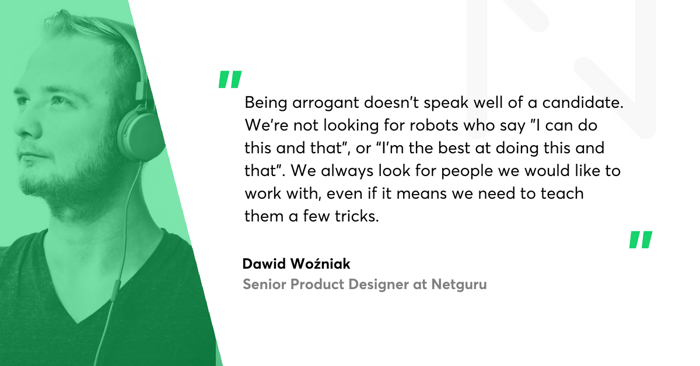 English skills are important as well
We work with clients from all over the world, and the language we communicate in on our project is English. We require that your command of English is at least upper-intermediate (CEFR B2+), and we take it seriously. The vast majority of our clients come from outside Poland, and they feel much more comfortable when working with teams who can communicate smoothly. We'll check your English fluency during the interview and a poor performance will work to your great disadvantage.
That notwithstanding, we've recently created an option for highly-skilled designers whose English isn't yet sufficient. If the whole recruitment process goes well – we would like to cooperate with such an exceptional designer in a way that's somewhat exceptional for Netguru. The trial period will include 3 online lessons per week after hours (general English, native speaker, professional vocabulary) in a group of 2 or 3 people. Your progress in language proficiency will be crucial during the first three months of the trial period.
Are you ready to apply?
We hope that the tips provided in the article will help you prepare for applying to Netguru as a product designer. If you have further questions, don't hesitate to drop us a message. And if you're ready to apply, check our career pages.