How to Create a Culture of Innovation & The Impact of Covid – Insights From Akshay Chopra

It starts from the top.
Akshay Chopra believes that if you want to be an innovative and disruptive company, it all starts with the leaders of your company.
Chopra's opinion should be considered.
As the Head of Innovation and Product Design for Central and Eastern Europe, the Middle East, and Africa (CEMEA) at Visa, he's seen and led some cutting-edge projects for one of the largest financial institutions in the world. Over the past five years, he's overseen the innovation and design function for over 90 countries in Visa's fastest-growing region, and also runs Visa's Innovation Center in Dubai and the Innovation Studio in Moscow.
His team helps Visa stay relevant and ahead of the competition with cutting-edge technology, software, and products.
Not to mention ahead of today's sophisticated hackers.
According to Chopra, Visa processes up to 65,000 transactions a second, and helped to prevent $25 billion in fraudulent transactions in 2019 alone.
The weight of Visa's responsibility to keep innovating is tremendous, because it's Chopra's and Visa's responsibility to protect companies' and people's livelihoods.
However, whether you're a small start-up or a corporate giant, if the leaders of your company are not on board and giving you all the tools you need to be innovative, you'll fail.
Chopra recently sat down with Netguru to discuss the topic of innovation and his thoughts on creating an innovative culture.
Three varieties of innovation function
Before one can become innovative, they must first understand what the innovation function is.
"There is no cookie-cutter definition of the innovation function, right?" Chopra says.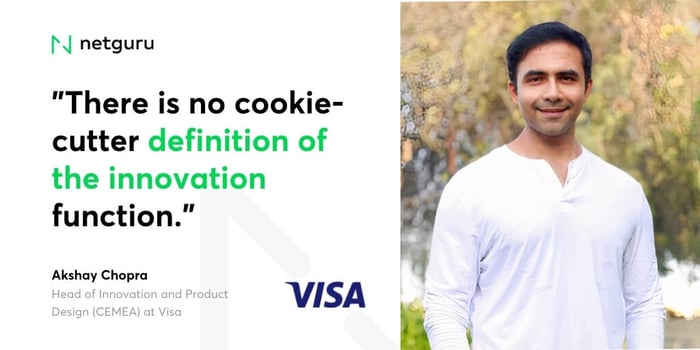 According to Chopra, there are generally three different varieties to an innovation center that a company may employ.
The first?
"One is definitely a PR stunt," Chopra says. "You want to look like you're innovative, you want to sell more products, so you start this innovation function, you do a few press releases, congratulations. I've seen a lot of those, and many innovation functions when they started were actually window dressing. But then within a year–two, maximum three, people realize this is not the highest ROI way of marketing, and most of them shut down.
Without much surprise, Chopra admits he doesn't see much of these types of companies around anymore and that this is not something that Visa has explored themselves in the past.
The second variety involves getting a bit more into the trenches.
"What is a lot more common these days is, again, this is not something that Visa does, but it's almost like an internal R&D function," Chopra says. "And the difference with the regular R&D is that it's not doing laboratories and lab coats, it's doing design thinking and agile approaches, but it's still very much focused on that company's own innovative products and services."
Companies that tend to explore this method are looking for ways to build a business that disrupts their existing business and explore how to incubate different ideas. This method is a lot more inward focused.
And lastly, the final approach is something that hits a little closer to home.
"The third one, which I think is the closest to where we are is, and this is not just because it's a better thing, it's just the nature of our business," Chopra says. "We're a network business, and so our innovation function, like the bulk of our business, is network focused."
About 70 percent of what Chopra's teams do is to work with clients, partners, governments, and internet companies all over the world.
The other remaining 30 percent is focused on Visa's own customer-centric solutions and internal product development. This hybrid approach allows Visa to be open to innovation co-creation, but there's also an element to keep enhancing their own company and products.
On top of that, Chopra points out that when you're innovating products, you shouldn't choose between large or small innovations. Rather, you should be working on innovations of all scales, with yields that show returns in the short and long term.
"You can't make a binary choice for one or the other," Chopra says. "You have to do both. And not just because of the pandemic, but overall."
Innovating during Covid
Last year was something no one could have predicted.
In 2020, the world went on lockdown due to the Covid-19 pandemic, sending companies into a scramble, including Visa.
However, for Chopra's team, they were in higher demand than ever.
According to Chopra, the pipeline of their projects rose 20-30 percent last year, and it was a trend that he saw among his peers elsewhere as well. With the emergence of Covid, it forced companies to shift more digitally in almost every aspect, whether they liked it or not.
Speed was the name of the game with Covid, and Chopra's team was asked to lead the race for new and old clients, as well as internal teams.
Not only were they trying to learn to function as a unit through the pandemic, but they also had to do it with an increased workload.
"Covid hit us really, really fast and required us to build our response really quickly as well," Chopra says.
Good innovation teams are agile.
They're able to adapt and take an incremental approach to launching products and services, instead of taking two years until a release.
Visa has one of the good ones. However, it didn't mean they were without any moments of learning, growth, or evolution.
"Number one, our demand certainly went up," Chopra says. "And as a result our impact on the network certainly did as well. Secondly, I think where a lot of innovation teams and digital transformation teams generally benefitted is, there's been such a push to digital. whether you like it or not. Whether you're a small business or Fortune 100 company, digital has accelerated."
With innovation teams comprised of developers, designers, product builders, and other digital veterans, it was fairly easy for them to adapt. Even better, the pandemic put them in a position to lead others into this new world of work.
Their skillset had become more valuable during the pandemic.
"So, both from a cultural perspective, as well as a skillset perspective, and certainly from a pipeline perspective, we've seen a spike in the impact that we can have through Covid," Chopra says.
Building a culture of innovation & digital transformation
Creating a culture of innovation isn't easy.
Neither is putting your company through a digital transformation.
Chopra has seen companies fail time and time again, especially as a consultant prior to his time with Visa.
A company can say all the right things, hire all the right people, and it still doesn't happen.
However, at Visa, Chopra adds that it feels like innovation has been embedded into the DNA of the fintech company. That despite being over 60 years old as a company, they are still innovating and they're still relevant in the marketplace.
This is no accident.
They're still relevant because they've put in the work.
So when he's asked, what does it take for a company of that size to build a successful digital transformation? How do you create a culture of innovation?
He always leads with the same statement.
"Before anything I'd say, tone at the top, right?" Chopra says. "If your highest level of leadership does not really believe that they need to do a digital transformation, if they really don't invest and take risks in this space, anything you do is not going to work."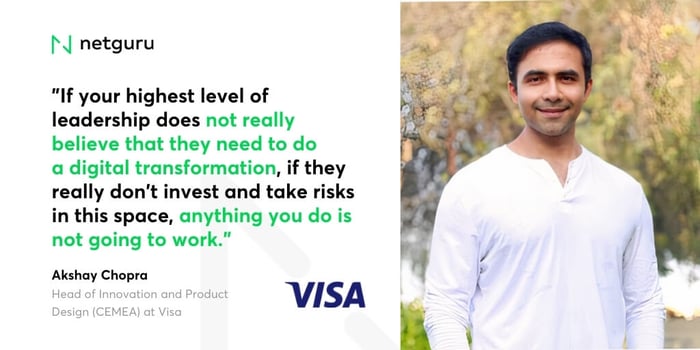 To build further on that, he feels having a culture that embraces new ideas and a new way of thinking is equally important and can accelerate the process.
When Chopra first arrived at Visa, he was a bit concerned with how well received he would be at the company. He was new to the payments industry and was surrounded by colleagues who had spent decades in the space.
Why should they listen to this person who doesn't have the experience?
However, it was the very thing that made him different that his new coworkers embraced.
"In fact, very quickly folks like myself who came from diverse backgrounds and digital-first ways of doing things, we actually became subject matter experts," Chopra says. "Our council was really well-valued and very seamlessly integrated into this position."
The ability to offer a fresh set of eyes, a different perspective in solving problems, and even just a different approach to the work is something that is crucial to nurturing innovation.
"Diversity is also absolutely important," Chopra says. "You can't expect to hire exactly the kind of people like you always did and ask them to work on the exact same kind of projects as you always did and expect innovation to happen."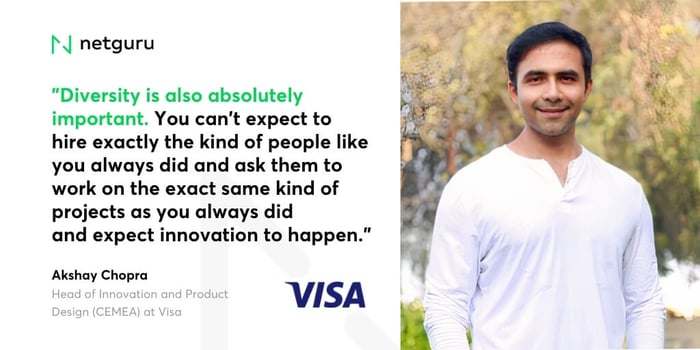 No matter your approach to disrupting an industry or leading innovation, it's important to look at the process through a positive lens. Change is not always embraced by everyone in the beginning, and sometimes it's not until well after there is success that people will accept it.
So if you're going to try to make a difference, have fun along the way.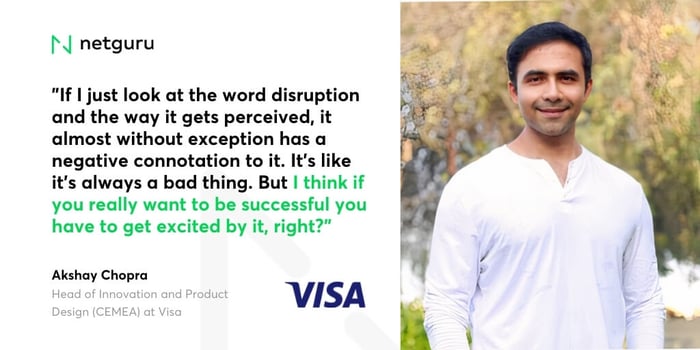 "If I just look at the word disruption and the way it gets perceived, it almost without exception has a negative connotation to it," Chopra says. "It's like it's always a bad thing. But I think if you really want to be successful you have to get excited by it, right? What's the fun in coming to work every day if nothing changes and you're not pushed to innovate yourself? What you perceive negatively as disruptors might actually hold the keys to help you innovate."