How to Get Millennials to Invest - This Startup Might Know the Answer

Have you ever thought about putting your life's savings in an investment fund?
How about doing it without the extensive advice of a professional investment advisor? For many, this kind of prospect sounds intimidating if not scary.
It shouldn't.
We've spoken with Donald Philp, one of the founders at FundCo, a South African investment-fund comparison tool. FundCo was created with the aim of becoming the Booking.com of investment funds. It is a service that displays the performance of chosen funds. It is so easy-to-use and visually attractive that anyone can understand the nuances of each of the funds' performance metrics. Donald, a specialist with nearly ten years of practical experience in the investment business, shared with us not only the project's insights, but also his vision for changing the common misperceptions about investing.
Breaking Through the Stereotypes
"Through our platform, we want to concentrate not only on the comparison and investing in funds, but most importantly, on education. People, especially young, often fear risking their savings and are overwhelmed by the amount of data they need to go through in order to understand the performance of a given fund. We want to change that."
The numbers confirm Donald's statement. According to a study conducted in the US by Ally Invest, nearly 70% of millennials don't invest in the stock market. The main reasons are the fear of losing money, insufficient funds, and the lack of knowledge about how to invest.
A similar poll, conducted by Harris, revealed another, an even greater, problem related to personal investments: a gender gap. Women were more sceptical about investing than men: 75% of millennial women (versus 60% of men) said that investing was confusing, and 60% of young women said they believe the typical investor is an "old white man." Donald and his business partner Johan want to change this as well.
"30% of our current beta users are women. We want to expand this number – it's really important for us and for the community. Through education, we want to make a change, have a real impact."
Netguru worked with FundCo on the entire development process. For more details, see our case study.
---
Karolina Kurstak:

Tell me more about FundCo.

Could you describe the value that you bring to the market?
Donald Philp: We are trying to compare all investable funds, enabling users to view the performance free of charge. Almost what Booking.com did to hotels, or Hippo.co.za did to the South African insurance industry. At the same time, we want to make the whole experience of investing in funds as frictionless, non-threatening and seamless as possible. Investment products have always been incredibly difficult to understand. Furthermore, we see a lot of growth in this sector.
How did you come up with the idea for your business?
Donald: It was a process, and there were several reasons behind our decision. First of all, we saw an opportunity in the digitalisation of the investment process. The investment management world has massive legacy systems that haven't changed over the last 15 years. People are still investing by filling in a 17-page-long application form, which is completely unnecessary and incredibly difficult to understand. We won't be able to change the current systems, but we want FundCo to be the first in line when those investment management systems will be forced to go online. Secondly, we aim at reducing investment costs. Financial products are generally sold by Independent Financial Advisors (IFA). Hardly ever did the public buy them without the assistance of an advisor. We want to change this mindset and facilitate investing online, without any paperwork.

How are you planning to do so?
Donald: Our platform educates users, enabling them to compare and invest directly in funds without the help of an IFA. It's similar to what Booking.com did: they allowed people to search hotels without having to go through a travel agent who asks for a commission and books your stay on your behalf. We want to equip our customers with enough tools and understanding to invest without an intermediary.
What makes you think that your solution is unique and you have a chance of disrupting the market?
Donald: Firstly, there are too many investment products out there. Some products allow you to invest in listed companies directly, and this can be incredibly risky if you don't know what you're doing. The risks are not explained very well, and people just jump at an opportunity without thinking through the long-term implications. It's very short-term. One of the hot topics at the moment is Bitcoin, yet very few people understand its risks. Investment funds, however, have a much longer time horizon and that helps to mitigate some of the short-term risks. It's not completely risk-free, but a much better option in the long run. We believe investment funds are the best option for any individual starting to invest in their future. Secondly, the distribution model for purchasing funds needs to be overhauled. The percentage of people investing directly without an IFA is still incredibly low. Furthermore, very few companies offer online fund investment options. We feel there is a lot of growth potential out there. Thirdly, FundCo is a friendly, frictionless and open platform that will provide the best user experience. If you combine this with the right education channels, it can really be a unique product.
We feel that combining these three items makes for a compelling case for FundCo.
Could you describe your individual user? Who is your customer persona?
Donald: Our general persona is someone between 25 and 45 years of age, a working professional or an entrepreneur, who wants to start saving for his or her retirement, family, a child's education, etc. Our customer usually doesn't have enough time or knowledge to comfortably invest in the market directly. By buying shares in companies such as Apple, Google or Coca-Cola, he or she wants to get the best results by investing in funds that have performed well in the past. For this, he or she has all the details easily available on the FundCo platform. Our individual user can check his or her investments and target goals daily.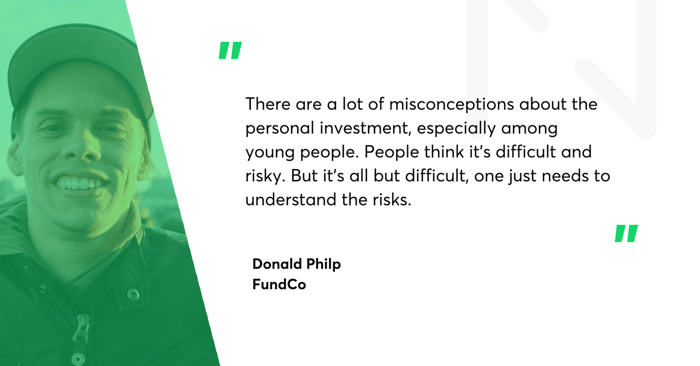 Your customer personas are relatively young people. My intuition tells me that the so-called millennial cohort might pose a challenge when it comes to the investment business. The economy is still relatively volatile, and people are afraid of investing. How are you planning to tackle this problem? How are you planning to reach your customers?
Donald: You're right. There are a lot of misconceptions about the personal investment, especially among young people. People think it's difficult and risky. But it's all but difficult, one just needs to understand the risks. As I mentioned previously, we want to educate our users. We are investing in beautifully designed informative materials that will help us and our customers achieve this goal. This could really help the user understand each fund much better along with the risks involved. Additionally, we have approached a digital marketing strategist to help us gain our first 1000 active users. They are putting together a process to have us implement this with third-party freelancers.
What about your business model? The platform is free of charge. What sources of revenue are on your roadmap?
Donald: Currently, the service is free of charge. We will only start making money once we have implemented our platform on the fund-manager side so that the customer can invest directly in funds. We will negotiate a distribution fee with funds, just like Booking.com does with the hotels. The business model would consist in that the user will pay the same amount through the platform as he or she would pay going directly to the fund manager.
When are you planning to be profitable?
Donald: We're planning to achieve this in around 4 years from now.
What are the major challenges in the industry that could influence your business?
Donald: One of the main risks is that some management companies won't be able to integrate their systems with ours because of legacy issues. Another major challenge is the increase in the amount of regulation within the investment business, which is making the sign-on process very hard for the public. Apart from that, we see a great challenge in the fact that fund investment might be an old way of investing. Thus, it might not be attractive enough for the newer generations – money doesn't grow as quickly in funds, and it's difficult to convince the newer generations to be patient and have a much longer term view.
What are your plans for the upcoming months? Do you plan to expand outside of South Africa?
Donald: First, we want to expand our active user base here in South Africa. We know the market and regulations well. We know what funds are available. We've been in this business for almost a decade now.
Expanding our dataset outside of South Africa is quite a straightforward process. We use a third-party data provider: Morningstar. As we don't sell funds on our website, there is no need for specific legal permissions. And this data is country-specific. If we want to display or compare funds in the UK, the EU or the US, it is only a matter of paying for this data.
Last but not least, how did you find Netguru? What are your impressions?
Donald: From the very beginning, we were decided on a software consulting agency from outside of South Africa, so we were prepared to work with a remote team. Your development and design portfolios made a great impression on us. So did the fact that you were constantly uploading and sharing new project insights on your site. We're extremely happy about our cooperation. You guys have done a great job – and we're still partners, which speaks for itself.