The next Mark Zuckerberg of Fintech may be Living in France. Get key Takeaways from Disruption Forum Paris
Different tactics for scaling of companies, the best use cases of machine learning in financial services, the pros and cons of corporate ventures, embedded insurance - these are just a few of the things we discussed during Disruption Forum Paris #DFParis2019.
After Berlin, London, and NY, Netguru teamed up with astorya.vc to organize the event in Paris at Station F, the world's largest startup hub.
Why France? While French financial companies seemed to be a little bit behind their UK or German competitors, there had been a couple of success stories in France that made both investors and entrepreneurs believe that you don't need to be Mark Zuckerberg or set up a company in the US to do something big.
For our Disruption Forum in Paris, we gathered 15 top French experts: CEOs, founders, VC investors, machine learning specialists, alongside banking and insurance executives.
Disruption Forum Paris 2019 in a Nutshell
We'll be publishing a detailed recap of each panel discussion in the coming days. For now, see some of the key insights below:
Panel #1: Scaling Strategies & Founder's Mind
From the left: Tomasz Grynkiewicz (Netguru), Stephane Guinet (Kamet Ventures), Alex Prot (Qonto), Caroline Lamaud (Anaxago), Rodolphe Ardant (Spendesk).
Both Spendesk and Qonto raised Series B funding to grow their companies. On the other hand, Anaxago, which is now one of the largest equity crowdfunding platforms in Europe, proved that it is possible to build a company with "zero money".
Culture is one of the key pillars for growth, toughest calls for founders are around humans.
Brexit poses a clear opportunity for French companies to win talents and deals over UK competitors. But it's also a challenge, as it creates a lot of legal and compliance uncertainty for companies that are expanding to the UK.
Kamet Ventures was founded by AXA with EUR 100m to invest. But what the insurance startup studio is doing is far from traditional funding - Kamet has already mapped market opportunities and is looking for founding teams to build disruptive companies from the ground up.
Panel #2: Innovation & Venture Building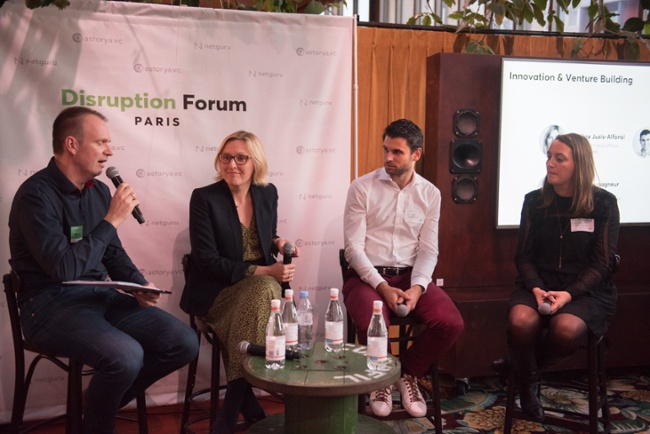 From the left: Tomasz Marszał (Netguru), Paulina Jusis-Alfonsi (Euler Hermes), Jonathan Denais (Open CNP Assurances), Virginie Augagneur (platform58).
Culture is one of the biggest assets for any company to drive innovation and build new projects - people need to be involved and be a part of the innovation.
Lessons learned over the years of connecting corporations with startups: you need to be very selective when it comes to partnerships that you try to set up.
The Culture Mapping methodology provides a solid framework for corporates to help them build new ventures and reinvent their ways of working
There's a lot of opportunities to collaborate - think of Open CNP Assurances, which is embedded in CNP's transformation strategy and has strong support from top management (eg. investments in Alan or October) or platform58, launched by La Banque Postale to support and mentor fintech & insurtech entrepreneurs.
Panel #3: Machine Learning Disrupting Insurance
From the left: Konrad Pabiańczyk (Netguru), Patrick Tsao (Getsafe), Damien Philippon (Zelros AI), Eric Sibony (Shift Technology), Paola Fedou (AXA Climate).
Don't do AI just for the sake of doing AI. Focus on solving a problem. Remember that machine learning, AI or statistical algorithms, whatever you call it, is just a tool.
An evident challenge for insurance apps: how to make customers rely on the application for more than just filing a claim.
With parametric insurance, AXA Climate proves it possible to have insurance without traditional claim filing. They structure the coverage with a relevant index and pre-defined thresholds and payout amounts. Once the climate index gets above/below the threshold, the payout is wired.
There's a clear shortage of AI skills on the market. Yet one of the big risks about educating the industry about what AI can do is that there is so much b*****it on the market about AI.
Panel #4: Cracking Insurance Distribution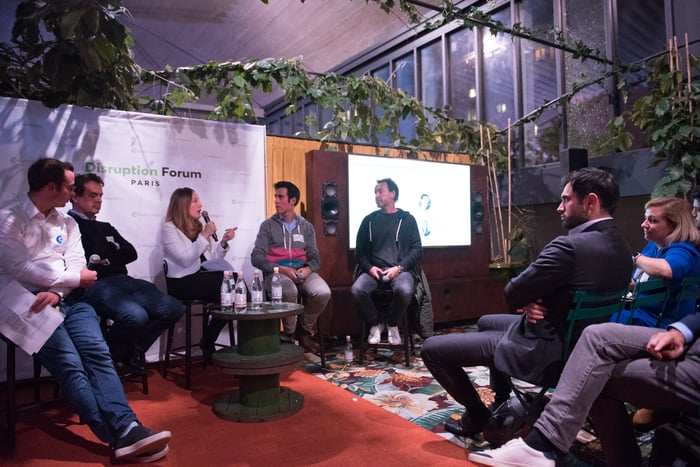 From the left: Jan Kastory (astorya.vc), Eric Mignot (Simple+), Macha La Hausse de Lalouvière (Crédit Mutuel ARKEA), Louis Carbonnier (Hokodo), Olivier Jaillon (La Parisienne Assurances).
It is the technology that is pushing the limit of insurability. Yet insurers in general are still at year zero of transformation.
We're moving from an economy of ownership to an economy of usage. And insurance products should follow - eg. with usage-based insurance for electric scooters. Sensors installed detect movements and provide insurance based on the real usage - be it per minute, per hour or per km.
Buying insurance is one of the most boring things in your life. Unless you don't think about it at all, since insurance is embedded.
Stay tuned - we'll be publishing a detailed recap of each panel discussion with market context and stats in the coming days.
In the meantime, feel free to subscribe to newsletter to avoid missing our next events.
See our previous editions of Disruption Forum:
NYC 2019: NYC and US Fintech Scene From the Backstage. Learn Key Takeaways from Our Disruption Forum Fintech
London 2018: The Future Landscape of Fintech. 5 Key Takeaways from Disruption Forum London
Berlin 2018: In the Bank of Future, UX Beats AI. Key Fintech Tips from Netguru Disruption Forum with N26 and solarisBank