Useful QA Tools - Part 1 - 9 Free Screenshot Tools for Mac OSX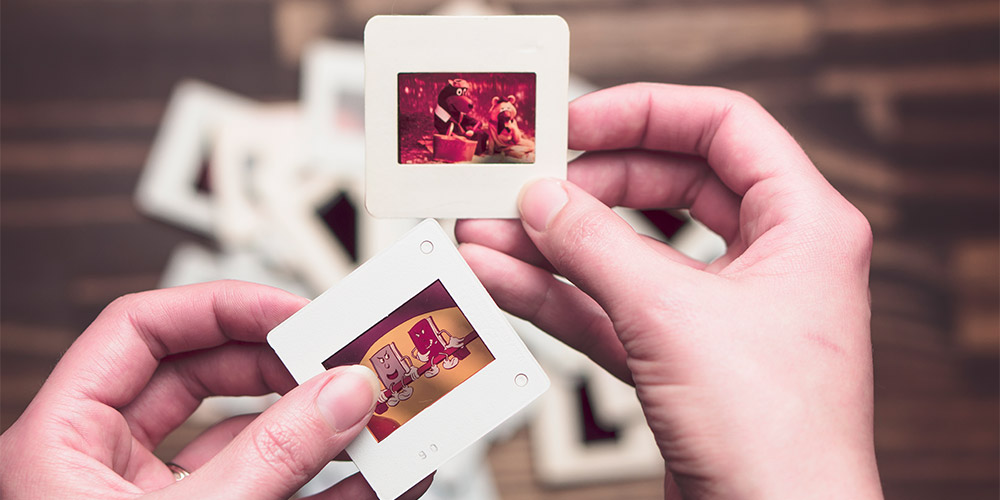 A perfect screenshot is worth a thousand words. It saves time and guarantees that everyone is on the same page.
Developers, PMs, QAs and clients use image captures on a daily basis, but which screenshot app can give you what you really need? Is it an entire website capture? A great image editor? Or maybe the sharing feature? Let's have a look at our list of free screen-cap tools for Mac OSX.
The best free screenshot tools
A great screen capture & image annotation add-on for Chrome, Firefox, Safari and Opera. It allows you to capture either part of the screen or the whole page. A unique feature of this app is its ability to take a screenshot with a delay (3 or 5 seconds). Moreover, the application also has some rare features, such as the ability to blur certain sections to redact information, horizontal scrolling when capturing, and Google Drive support. Its photo editor is quite powerful, yet easy to use. Users can choose between two file formats (.jpg/.png) and download their screenshot in HD or upload it to the awesomescreenshot page. These features make this application one of the best screen capture tools available for Mac. Unfortunately, the free version only allows you to have one project, holding up to 30 images.
Good:
available for many browsers
supports horizontal scrolling when capturing
fast and reliable
Bad:
Captur is a simple graphical user interface for the Mac OSX screencapture command. It adds a camera icon to the menu bar with which you can use OSX's in-built screencapture app, without needing to use the keyboard shortcuts. Captur allows you to take a screenshot in several ways, so you can easily grab a single window, a single widget, the full screen (immediately or after 5 sec) or a selected part of the screen. All screenshots can be saved only to the HDD in one of five formats (.jpg, .png, .tif, .gif, .bmp). The Captur app does not have a built-in image editor - it uses the editor in the preview app, which is somewhat limited.
Good:
five different image formats
easy to use
five different screen capture modes
Bad:
lack of annotations
screenshots can be saved only locally
GrabBox is a free tool that lets you share your screenshots via URL. You can use the standard in-built Mac shortcuts to take screenshots (cmd + shift + 3 or cmd + shift + 4), and your image is copied to the clipboard and ready to use. GrabBox is connected to Dropbox, where the screenshots are stored. The tool is very quick and easy to use, but lacks an image editor.
Good:
simplicity
large storage due to connection to Dropbox
Bad:
Jing is quite an advanced, yet relatively easy to use, screen recording and screen capturing tool. All screenshots can be saved in .png format and screen recordings in flash format (.swf). It includes a simple image editor, so users can add boxes, text and arrows in different colors, and highlight the important components. Unfortunately there is no video editor. Files can be stored locally on disk or sent to the screencast server. In the latter case, you need to have a free account on screencast. Moreover, the free account has a storage limit of 2GB, so from time to time you'll need to delete older files from the server. Uploading screenshots/videos to Screencast.com is quite simple, but rather slow.
Good:
also available for Windows
allows you to both capture screenshots and record the screen (up to 5 min.)
very easy to use
You can select the entire screen/window with one click
Bad:
image editor has very few options
app is unstable and freezes sometimes
you can only share your files to screencast.com, which has a storage limit

Lightshot comes as both a standalone desktop app and as a browser add-on for Chrome and Firefox. It's up to you which version you choose - both are the same. Lightshot is one of the best free screen capture tools. It's fast, reliable and very easy to use. Screenshots can be saved to a hard drive as a .png or can be shared to the Lightshot server, Twitter, Facebook or Pinterest. The photo editor is easy to use, but also quite extensive. So, for example, you can draw circles, squares, arrows or simple straight lines. You can also add text or draw using a "pencil" tool. What's interesting is that this app also has a built-in Google image search function. There is no storage limit and images are kept on the server for at least one year after their last access. Also notable is the ability to edit photos directly on the image hosting server.
Good:
also available for Windows
browser add-on or standalone app
you can share your files on a dedicated image hosting server, Facebook, Twitter and so on.
very fast and easy to use
Bad:
you can't select the entire screen/window with one click
Monosnap is a great, underappreciated app with huge potential. It allows both screenshot capture and screen recording (you can record both your computer screen and yourself on webcam at the same time). The screen can be selected with accuracy almost to the pixel, thanks to an 8x magnifier. Its built-in image editor is varied and ambitious. It even allows adding arrows with associated text fields, or the blurring of selected portions of a screenshot, which is very convenient and rarely implemented in such applications. It is also very easy to adjust the thickness of the drawn elements (squares, circles), which is not very common either. Video recording can catch mouse activity (clicking), which is very useful and lets you draw arrows or rectangles during recording. It does not work perfectly, but it does the job. Screenshots can be saved in two formats (.png or .jpg), video clips also have two options to choose from (.mp4 or .gif). Files can be shared across multiple websites, but not all are available in the free version of the app. The great advantage of this app is its unlimited storage size and time. This is my personal favourite.
Good:
available on multiple platforms (Windows, iOS, OSX)
great annotations
allows screenshot capture and screen recording
video files can be saved as a .gif
allows you to share your files on multiple websites, but...
Bad:
...not free. Unlocking all features costs 4.99€.
sometimes freezes or crashes

Paparazzi is a free Mac-only app. Although the interface of the app is not very attractive, Paparazzi is great because it has the ability to take a full webpage screenshot. The screenshots can be saved to your hard drive in a variety of file formats (.jpg, .pdf, .png and .tiff) - it is also possible to simply drag and drop a screenshot in order to save it as a file. Unfortunately, there is no image editor.
Good:
Bad:
no image editor
no export to URL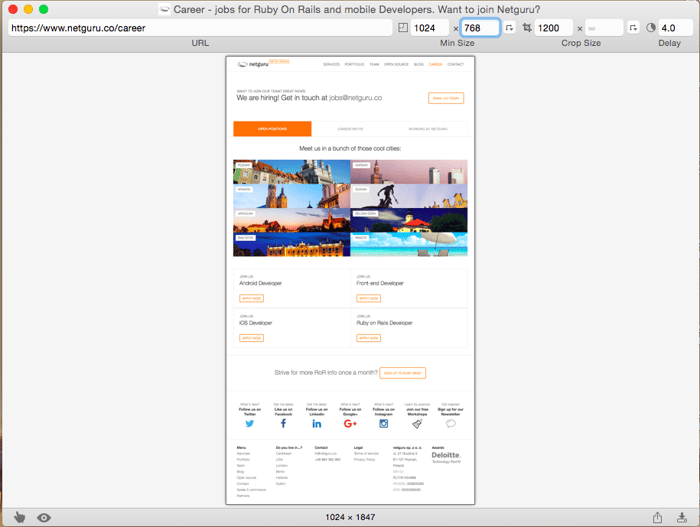 Skitch is an awesome screenshot app (owned by Evernote) that has a whole bunch of features that everyone should be pleased with. Its simple interface lets you take a screenshot of the entire screen or just a specific area you are interested in. The built-in image editor allows you to make your screenshots as informative as you want. There is annotation functionality, arrows, highlighters, resizing and cropping. You can also draw on your picture and add fancy stamps. It also has the valuable blurring tool - letting you redact sensitive data. Skitch also lets you use its fantastic image editor on pictures not taken through the app. Furthermore, the number of file formats in which the screenshot can be saved is quite impressive (.gif, .pdf, .bmp, .jpg, .tiff, .png). Those file formats can be also saved via a 'Drag Me' tool - you can drag your screenshot and simply drop it anywhere on your Mac. You can share via an URL or send pictures directly by e-mail, Twitter or Facebook. All of these features are available in a free version of the app, although the monthly storage is only 60 MB.
Good:
impressive image editor
export to URL
saves to 6 file formats
easy to use
Bad:
60 MB per month storage in the free version of the app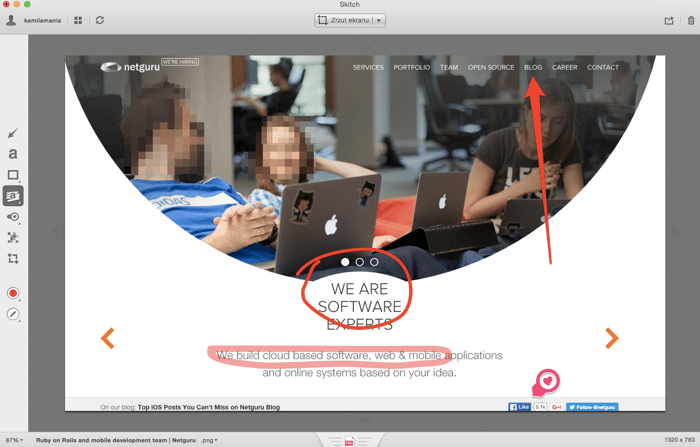 Webpage Screenshot is a Chrome extension for taking screenshots of web pages. This plugin allows you to take a screenshot of the visible area, a selected area or the entire page. After taking a screenshot the image is displayed in a new tab in the browser, with features displayed in the visible navbar. Webpage Screenshot doesn't have a typical image editor, but there is a drawing tool that lets you add some basic markups to the screenshot. If you use this simple tool to take a screenshot of an entire page then the app allows you to download it as .png file or… share it via a screenshot.co URL to your friends and collaborators. Unfortunately, the URL is only valid for 7 days.
Good:
URL sharing
full page screenshots
Bad:
Chrome add-on only
URLs are only valid for a week
Have you already tested any of these tools, or maybe you want to recommend another one? Let us know in the comments below!