Real-Time Communication Technology Will Soon Significantly Reduce the Stress That Accompanies Our Time

With COVID-19 bringing significant changes to our economy and the way we work, it's no secret that while some industries will suffer, others will have their time to thrive.
The development of some of the tools accelerated significantly since our needs to use them have shifted so rapidly. Tech solutions used for remote work, online education, or home delivery are just a few examples.
Various industries are looking for new ways to digitize their initiatives and business operations, tackle the upcoming challenges, and use the opportunities to accelerate their growth. We've had a chance to talk about all that with Christopher Milkowski, a co-owner of LiveWebinar.
I have been developing real-time applications solutions for over 16 years now. My team and I have over 20 years of experience in coordinating big IT projects. LiveWebinar is our newest creation developed from scratch and based on our own backend solutions. Our infrastructure is fully automated and auto-scalable – proven in battle. says Christopher.
LiveWebinar's system generates new resources when needed and meets very strict security rules. The tool is trusted by many large-scale organizations like Kaplan, PPI2Pass, Sanofi, inCruises, Merck – plus a few white-labeled platforms that offer their own plans independently but are based on the platform on the backend like Freshmail, Pracuj.pl, Vectra, Netia, T-Mobile, or ORPEG.
Christopher was kind enough to share his insights on how all the current changes will affect the video conferencing industry – along with some predictions of what it will look like in the years to come.
Tomek Stolarczyk, Netguru: How is the COVID-19 affecting your industry? And what are the major changes in your business?
Christopher Milkowski, a co-owner of LiveWebinar: The COVID-19 pandemic has affected virtually all areas of our lives. However, while it means negative consequences for most branches of business, for some, it has become a catalyst for development. The real-time-communication solutions market has faced a great opportunity and dynamically rising interest from many sides.
Despite many discussions in previous years supporting the need to digitize education, only COVID-19 forced this type of teaching to be provided to almost all age groups.
We have been observing a growing demand for our product at LiveWebinar, which has helped with audio/video communication online from the beginning of the lockdown. The sudden demand for this type of solutions results from the need that emerged in many sectors: to quickly switch to remote work (supporting the #StayAtHome movement).
During the general quarantine, for instance, we noticed an increase in the number of clients providing services in the education industry. Despite many discussions in previous years supporting the need to digitize education, only COVID-19 forced this type of teaching to be provided to almost all age groups.
The current situation means a big boost to the development of LiveWebinar in many areas, but also a responsibility in providing a software that enables many businesses to continue operating around the world.
How is your business preparing for the shift in the economy we're facing right now?
In the current situation, it is difficult to forecast the shape of the post-epidemic economy, but the whole world will certainly have to face an economic recession.
On the other hand, every crisis brings significant changes. It forces you to adapt and discover new paths. With great curiosity and hope, we look forward to the next stages of digitization taking place in business and public spaces.
The increased demand for our LiveWebinar solution has resulted in a greater than usual need for technical support. We predict this state to continue in the coming months, and due to the increase in our user base – it will be even greater. We work hard to meet these specific customer expectations.
We are carefully observing media reports and situations in various sectors so that the services we provide can positively stimulate other companies and contribute to a faster recovery from the economic slump.
What are the trends that you think will affect video conferencing and your approach to business, mid-term and in the future?
Some trends are very visible even now. First of all, the role of remote work will increase, and hence we will notice an increasing interest in real-time-communication platforms. This will entail the need to keep up with the needs of business processes that had previously taken place offline.
Our experienced team already knows how to help people seeking solutions for online lessons or project and team meetings. We are waiting for the next challenges with great curiosity and openness, which will help in the safe and effective running of enterprises in this new reality.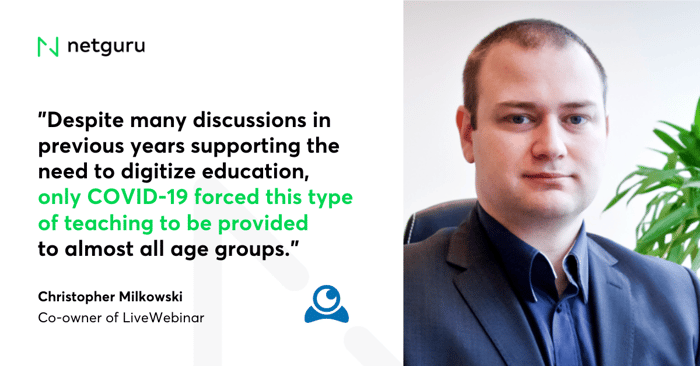 The greater acceptance and adaptation of companies to remote work will also have the effect of making it easier to employ and develop talents among employees. Companies will not have to rely only on the local market, but it will be much easier for them to hire specialists even from the other end of the world.
It will be important from the point of view of video conferencing to make users aware of a responsible approach to leading secure meetings. The entire market will have to take care of issues related to data protection and the privacy of users using real time communication solutions and implement actions to educate users in this field.
The LiveWebinar team believes that real-time-communication technology will soon bring more freedom to work and life, and significantly reduce the stress that accompanies our time.
If you were to predict the future – what will Video Conferencing look like in 5 years' time?
For sure, Cloud-based video conferencing software will dominate the software category in the video conferencing market. There will be more virtual reality elements in video conferencing than there are now.
I think it could create a more realistic and engaging experience. Considering recent events, there will certainly be an increased focus on fixing and preventing security issues regarding real-time-communication solutions.
Expected Trends:
Education moving online
Increased role of remote work
Cloud-based solutions
More realistic and engaging experience in video conferencing
More emphasis on security issues
Virtual reality elements in video conferencing
I also predict that most enterprise meetings will be run by software like ours, because after the pandemic, more companies will operate through online channels. The video conferencing market is growing, and it doesn't look like it's going to stop. I've seen the latest research that estimates its value will double by 2027.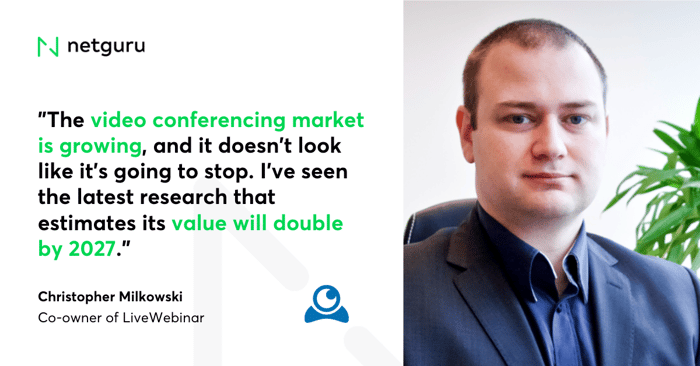 Could you tell us more about virtual reality elements in video conferencing? Do you foresee any emerging trends related to VR in video conferencing?
I'm mainly talking about sharing and interacting with different types of 3D models, as well as modifying the environment of the virtual meeting room. We are already seeing these 3D elements in the video conferencing software market, for example, in the form of popular changeable room backgrounds. I think we'll be seeing more of this type of things.
However, we mostly interact with technology through displays that are 2D. Not to mention that in most cases, we don't even need all the features offered by VR. We can see each other, we can talk, everything works well, and we are all happy with it.
Sounds impressive. Could you share some examples?
If you want to empower your brand, you can use VR to show to your customers and partners that your company is so innovative that it already uses the newest technology to organize its events; VR gives you full spatial perception. If you want to discuss a 3D model of a vehicle or building, if you want to modify the design of your product altogether, or you want to showcase a house to your customers, doing it over standard video meetings could be not satisfactory.
You've also mentioned "more realistic and engaging experience in video conferencing" when listing expected trends in the industry. What will it change for the users and for the companies providing video conferencing tools?
By this, I mostly mean the skyrocketing standards of quality in the video conferencing industry and increasing role of customization. There is still a growing demand for services that are personalized.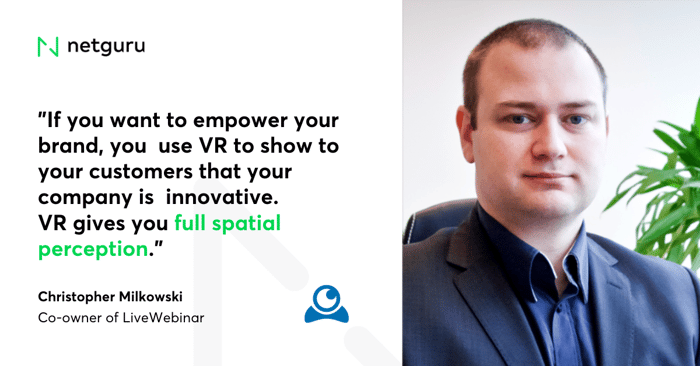 But this also includes virtual reality elements that create a dynamic learning tool that helps people feel focused and present while immersed. Cognitively, our brains process virtual communication differently than other forms of digital interaction. When we are immersed in a virtual environment, we are free from some of the more mundane distractions and annoyances of our physical world.
Speaking of dynamic learning tools. Do you see any particular trends of what remote education is going to look like in the future? What role in this process will video conferencing tools have?
Tectonic shifts in business and society, such as coronavirus, always change our perception. Often irreversibly. The same can happen with education. We are currently conducting one major global experiment in remote learning.
First of all, the use of technology can put into question the set time frame of education. While primary level education is rightly adapted to the development of children, secondary and higher education can be significantly accelerated. Once prepared, audiovisual materials may be available at the request of pupils and students. This will help learners freely choose their classes and optimize their learning time.
The greater availability of remote education also offers students greater choices and opportunities in terms of available courses, regardless of where they live, allowing them to take advantage of the educational offer of the best institutions in the world.
Such improvements have the potential to change the face of education. First of all, teachers and lecturers will be more accessible to their students and will be able to devote more time to individual consultations. In addition, it will allow researchers to be more involved in R&D projects.
It is worth mentioning that the greater availability of remote education also offers students greater choices and opportunities in terms of available courses, regardless of where they live, allowing them to take advantage of the educational offer of the best institutions in the world. This can result in a significant boost to the development of talents for the future labor market.
Do you have any predictions with regards to other industries where video conferencing will disrupt soon?
In my opinion, we are one step away from great changes in many industries. The economic crisis that is starting and the unusual circumstances caused by regulations intending to prevent the spread of the pandemic will force companies to remodel their processes and search for more economic financial solutions. This situation will be an opportunity for video conferencing tools to show their worth.
First of all, long-distance travel will be limited. On one hand, these limitations will be about ensuring employee safety, and on the other, cost cutting. If companies have video conferencing platforms, why should they organize business travel to the other end of the globe?
The situation is similar with sales departments. Sales representatives who have so far got in the car and visited their customers can now prepare an online meeting in seconds and talk about their offer. No fuel costs, no time lost in traffic, all at a convenient time and place for both parties.
Such scenarios can be cited for virtually every industry and department. HR departments are already successfully recruiting and onboarding employees online.
More and more exchanges are introducing rules that enable remote General Meetings of Shareholders... and this is just the beginning!