How to Find a Niche in the Highly Saturated Market of Mobile Payments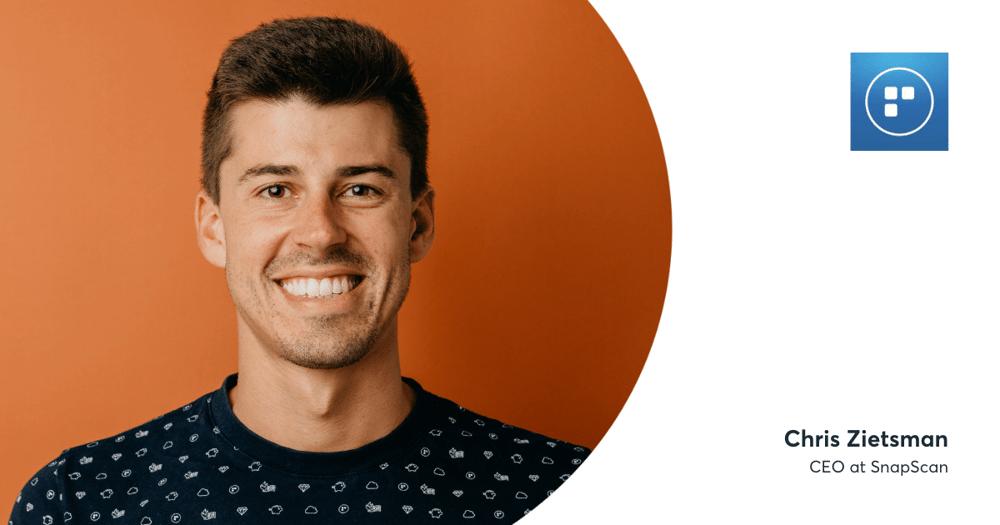 There's a good chance that if you log into your bank account right now, you'll see a few credit card or smartphone payments there.
They may even outnumber the times you've paid with cash.
As we head towards a cashless society, credit card and mobile payments are the new normal. The mobile payments market has grown over the past few years, accelerated by a pandemic and increased trust in mobile and contactless payments.
According to a study by Mastercard, 82% of respondents view contactless payments as a cleaner and safer way to pay. A study from Visa showed that since the pandemic, 35% of respondents now prefer mobile payments.
As a result, new fintechs and incumbent banks are eager to cash in on this trend. For new or smaller payment providers, competing in such a saturated market is tough.
The CEO of SnapScan, Chris Zietsman, joined Disruption Talks to talk all about it. SnapScan is a mobile payment solution provider in South Africa. It can be used with most bank cards, and it's supported by Standard Bank, a major bank in South Africa.
The challenges of being a mobile payment provider
Any mobile payment provider needs to keep a close eye on where the industry is headed. We've already seen how quickly things can change, and so to be in the competition, you need to keep a watchful eye over the industry.
Chris notes that there have been many new entrants into the mobile payments market, both using QR codes and more general Guardrail-type solutions. As a result, ScapScan decided to focus on the client experience and seek new opportunities to grow.
"My mission is to best position our company going forward and pick good opportunities for us where we can differentiate the client experience and maintain that like a moat that we have around our product."
As SnapScan focuses on two customer bases – consumer and merchant accounts, there are two avenues that Chris and his team need to keep an eye on.
On the business side, SnapScan offers a way for smaller businesses to accept card payments without having to fork out for expensive card machines.
This helps to remove the barrier between many smaller companies and their customers, allowing them to compete more with the larger businesses.
Chris explains: "All you need is to register for a SnapScan merchant account, you can do that remotely. And then, once you've registered, you can generate QR codes generate a link. So, you can send the link to people that want to pay you."
From a consumer standpoint, the competitors are well known, particularly Apple Pay. Apple, of course, has the money to compete, and that's hard to beat, so smaller players need to find another way to carve a niche out.
One way SnapScan competes is by having a very low barrier to entry. There are low costs, no monthly fees, and no need for hardware on the merchant's side.
Fraud detection and trust
Many places in the world now prefer card payments to cash, but not everywhere has followed this trend. In places that still typically favor cash payments, mobile payment providers have a tough job convincing people to become users.
One of the biggest problems with digital payments is down to a lack of trust. Some people still don't like the idea of not having physical money because it's perceived as riskier.
Fraud has always been a concern when it comes to digital payments. However, newer fintechs have become smarter with their approach to fraud detection. With SnapScan, they have put smart limits on spending.
"Once a consumer or merchants start hitting limits or are loading three to four new cards sporadically, or they fail to authenticate the card load with their bank, we tend to remove those users until our operations team can have a look at them," Chris explains.
Having this limit means users can block transactions and investigate them before going any further. Features like this can have a great effect on building trust with customers.
The COVID effect on mobile payments
It comes as no surprise in the fintech world that COVID has accelerated digitalization, especially when it comes to mobile and other online payments. Companies in this space have hit the accelerator on their roadmaps and plans, having no choice but to step things up.
Those who moved quickly got ahead, those that didn't fell behind. For smaller, newer fintechs, changing fast wasn't necessarily a problem. Smaller and newer companies are more nimble than older organizations and could adapt quickly.
However, the big names in the space had the money to invest in changing their entire systems. While banks and older payment providers may not have moved as quickly, they implemented big changes in a short period of time.
The advantage that smaller fintech companies had is quickly evaporating as the incumbents catch up.
"Apple Pay was not something I would have expected to happen in South Africa in the year 2021, had it not been for COVID and the need for banks in South Africa to offer that kind of experience to consumers," Chris adds.
If competition is fiercer than ever, what can smaller payment providers do next?
For SnapScan, Chris explained that they're focusing on helping their customers solve a real problem.
"We believe we're solving a customer problem, and we're doing it in a unique way. That's why we can compete in that segment."
SnapScan focuses on having a good, reliable product and relies on good word-of-mouth as well as digital marketing to spread the word.
Building credibility and partnerships
One thing that has steered SnapScan to success has been its bank sponsorship. After launching in 2014, it partnered with Standard Bank. This was at a time when accepting card payments was still a little alien in the payment industry.
Chris explains that launching with a bank, one of the biggest in South Africa, gave them a lot of credibility. This allowed them to start negotiating with other banks, so their cards weren't going to be blocked.
"Launching with the biggest bank on the African continent gave us that credence from day one," says Chris.
"I think it did a lot of good and added a lot of value to the mobile payments industry as a whole."
How to displace cash?
Cash is already on its way to being displaced in many parts of the world. Mobile and digital payments are preferred for their ease of use, especially for younger people.
However, we are still far from a completely cashless society. Chris explains that cash in Africa is still the norm for most.
Currently, 53% of point-of-sale purchases are made in cash in South Africa, and yet 95% of South Africans have mobile devices they could use instead
"There are a number of reasons why we haven't displaced cash in Africa or within your less formal trading environments. One of them is that cash itself is a very good technology. It's been around for thousands of years."
According to Chris, a few things need to happen to move towards a cashless world.
Reducing the barrier to entry
Accepting mobile payments has to become the easier option if you ever want to displace cash. Part of this will be down to the wider industry and regulations. For example, the Payments Association and the Banking Association of South Africa would need to approve certain payments below a threshold without the need to take ID into the bank.
Lowering the cost
Chris believes we need to get the right payment rails that don't necessarily rely on card. By doing so, we could cut the Visa and MasterCard share of the market that takes huge chunks off transaction revenues.
Cash is free and simple, and that's the main competition in some ways. There's no need to download an app or set up an account, or use expensive hardware to take payments. Cash is free, and so mobile payments need to be just as free and easy as cash.
The right products delivering payments
Finally, Chris says that we need the right products to easily deliver mobile payments between consumers and merchants. That's the area that fintech companies are trying to solve, and it's probably the easiest starting point. Once the infrastructure is there, companies can work on trying to make it easier for users.
Chris adds: "I think I'm perhaps a little less optimistic as to the extent to which we've been able to displace cash. But I'm optimistic that we can, if all the stakeholders within the South African environment played together and we look at the problem, and we try to solve that without any specific agendas."
This discussion is part of our Disruption Talks recordings, where we invite experts to share their insights on winning innovation strategies, the next generation of disruptors, and scaling digital products. To get unlimited access to this interview and many more insights from industry experts, sign up here.