Spare Time Startup - How to Launch a Startup While Still Working Full-Time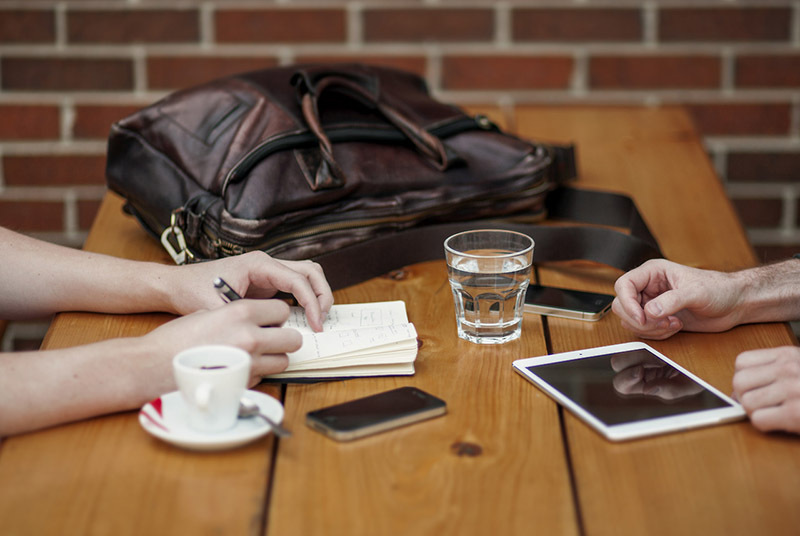 Congratulations, you have just launched a startup; you have finally taken the first step of transforming that seed of an idea you had into a business.
Maybe you're a part-time web developer looking to turn your hobby into a new career, or maybe you have found a way to take the best of Facebook, Twitter and Tumblr and combine it into an exciting product that will have even the most seasoned Tech journalist giddy with excitement.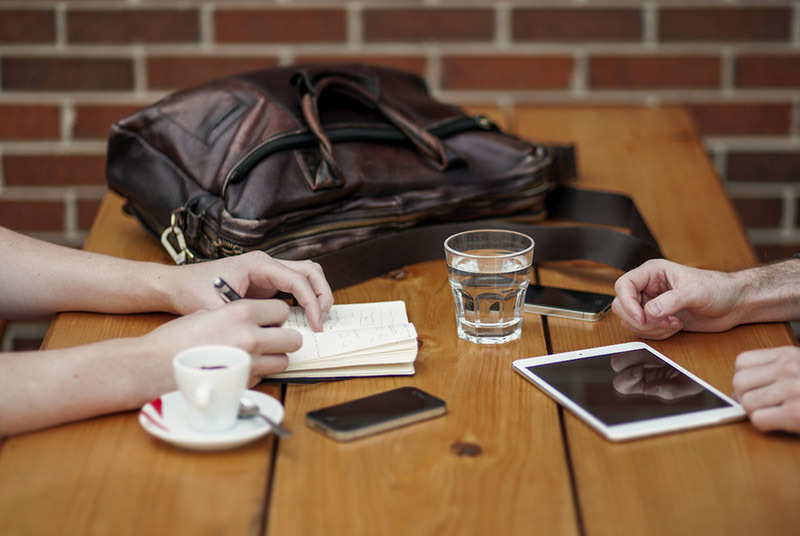 It always starts small, and unless you have been extremely lucky, you're doing this with very limited finances, and in your spare time. A bootstrapped startup with your savings depleted, credit cards maxed out and a nightmarish overdraft.
The odds of your startup being successful vary considerably depending on the sector it falls within, the concept and the amount of effort you put in. The fact that about 40 percent of startups fail within their first three years (and only 35 percent make it to 10 years) should not serve as a deterrent, but rather as a motivator to continue working full-time as you incubate your startup in your spare time. Following this route can be challenging, especially if you don't plan carefully or adjust your strategy as needed - but it does lower many of the associated risks. Attending a Startup Weekend event early in your planning stage can give you valuable exposure to other entrepreneurs and ideas, while also serving as an excellent opportunity to learn new skills and refine your strategy.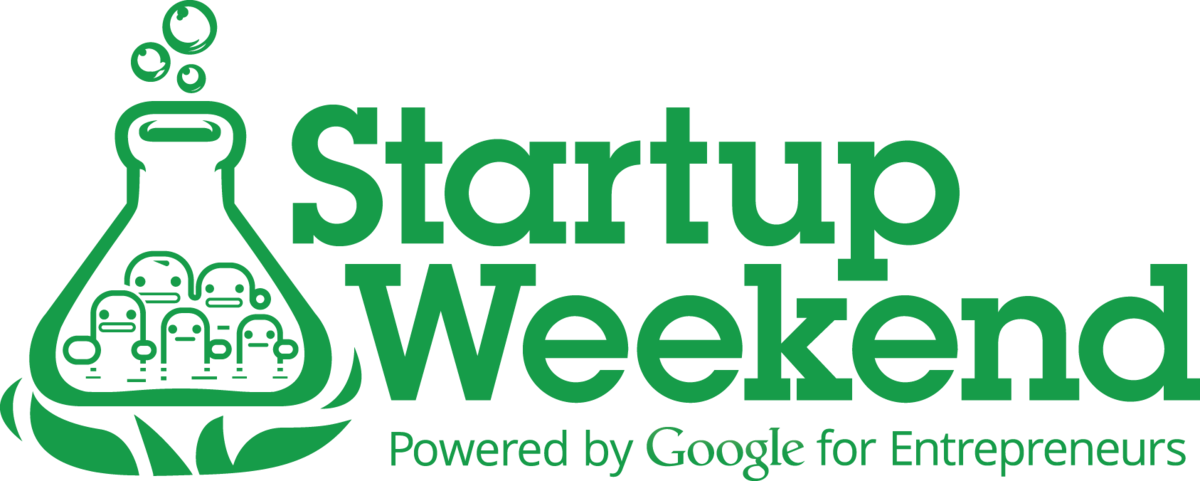 Pre-Launch and Planning
Once you have made the decision to launch a startup you will need to address a few basic, but crucial points:
Business Plan
Compile an informal business plan, even if you are self-financing the startup. Look at your business plan as a blueprint for your business idea, outlining the basic idea or concept, what needs to be done before you launch and once you have launched, how the day-to-day operations will work, and future development and growth plans. It should be a working document, something that you refer to constantly (to keep you focused) and are not afraid to modify as needed.
Registration
Register your business and business name as soon as possible, in accordance with the applicable laws of your country. Investigate the different types of business entities available, along with the benefits and risks of each in terms of legal issues, financial risk and tax requirements.
Bank Account
Once you have registered your business you will need to open a business bank account. Never mix your personal finances with that of your startup, even if you are the sole owner doing this in your spare time.
Notify Your Employer
Although not common, it still isn't unusual to find employment contracts that either prohibit employees from starting their own business (even from home, and in their own free time), or that claim ownership of any projects you start at home. Read through your employment contract again, paying careful attention to the wording relating to personal projects. Regardless of what your employment contract states, you should still make an appointment to discuss your personal project with your employer.
Keep the discussion simple and focus on the following:
refer to it as a hobby, not a business
point out that it does not conflict with your work in anyway (assuming that it does not)
point out that you only work on this at home, and in your own time
confirm that it does not conflict with your employment contract by highlighting the relevant parts of your employment contract. confirm that there is a possibility that it may generate an additional income for you
This can all be done with your immediate manager, but it is advisable to also discuss this with someone at a very senior level who is authorized to act or speak on behalf of the company.
Employer Resources
No matter how generous or understanding your employer is you should never use company time or resources for anything relating to your startup. Using your personal cellphone during your lunch break to make a few urgent calls is fine, but don't even think about using your employers computers, Internet access or telephone for anything other than what you were hired to do.
Even on those odd quiet days where you have nothing to do for 2-3 hours.
Finally, avoid any behavior that could be seen as promotional, including discussing your project with fellow employees or your employer's clients and suppliers.
Time Management
Two of the biggest challenges you will face with incubating a startup in your spare time are managing customer and tech support, and managing your own time. Any startup, whether managed full-time or part-time, requires a lot of time, especially in the beginning when you are doing everything yourself, or only have a very small team working with you. Launching it in your spare time sees you losing 8 working hours each day, and that's without taking into account sleep, commuting time and various other time-consuming incidentals. This leaves you having to manage the remaining hours very carefully and strictly.
Well done if you're a time management ninja and able to account for all your time, per activity, every day. For everyone else in the early stages of launching a startup now would be the time to take a careful and critical look at time management apps and tools. Ideally you are looking for something that is:
Easy to use,
Cross platform, and
Able to scale as your startup and team grows.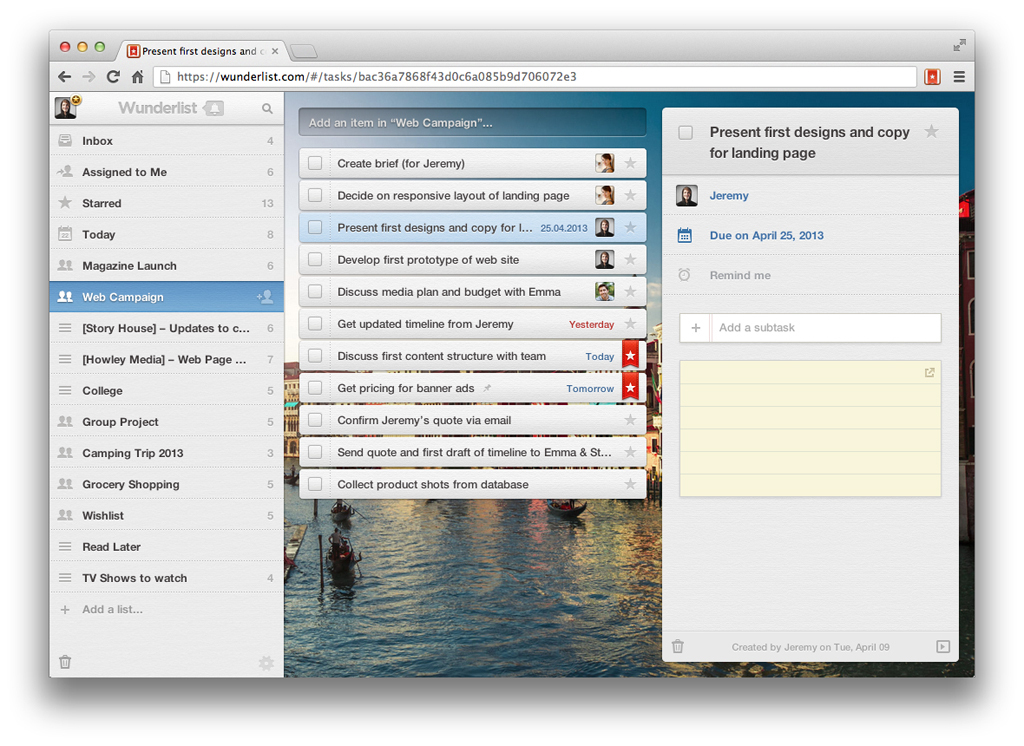 Photo by Wunderlist.
Wunderlist is one of many tools available, but it stands out because it meets all of the criteria listed above, moving from a free plan when you're still solo, through to a paid business plan as you add new team members. Wunderlist is great for managing your to-do list, giving you an overview of pending and upcoming tasks, but what about managing your time spent on each task?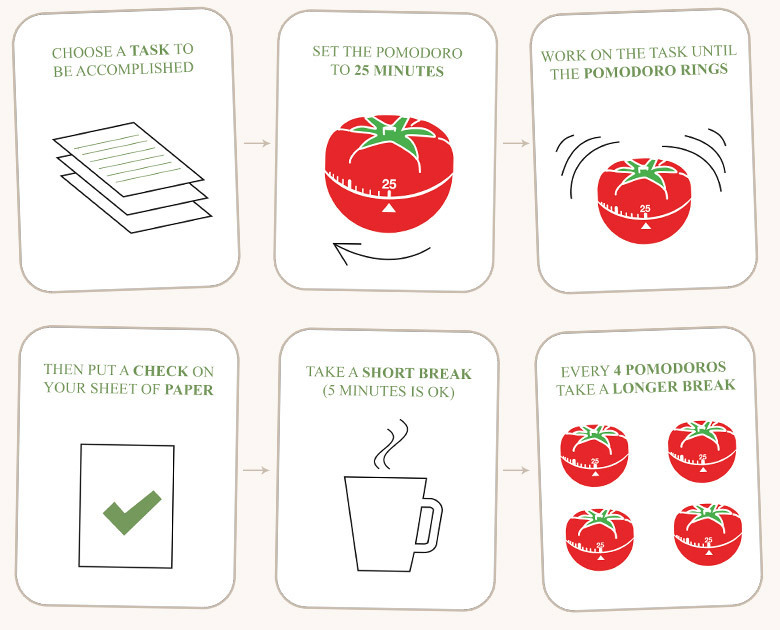 Photo by Pomodoro Technique website.
The pomodoro technique is a great way to rediscover disciplined time management through segmented time scheduling. Using this technique, you break all tasks down into 25-minute sessions, with a 5-minute break between each session. During each session you work on nothing other than the assigned task - no social media, email, phone calls or other distractions. Personal social media interactions, email messages and phone calls can be taken care of during your 5-minute break, with business related email and phone calls given their own periodic 25-minute session. Some people might find the pomodoro technique too rigid, but it is especially useful if you find yourself regularly jumping between several different tasks and never actually finishing anything.
When adding tasks and scheduling your time, don't forget to work in some social and networking time. Networking events are important not only in terms of maintaining your social skills, but also in terms of marketing your startup - exposing you to potential clients, investors and even future employees.
Tech and Customer Support
The use of company time and resources for anything relating to your startup has already been discussed, limiting you to only being able to manage any tech and customer related issues is your own free time. If there is no chance of you being able to afford to pay someone to cover this for you the rest of the time, you are going to have to work very creatively to ensure that your startup can still succeed and grow with very limited support.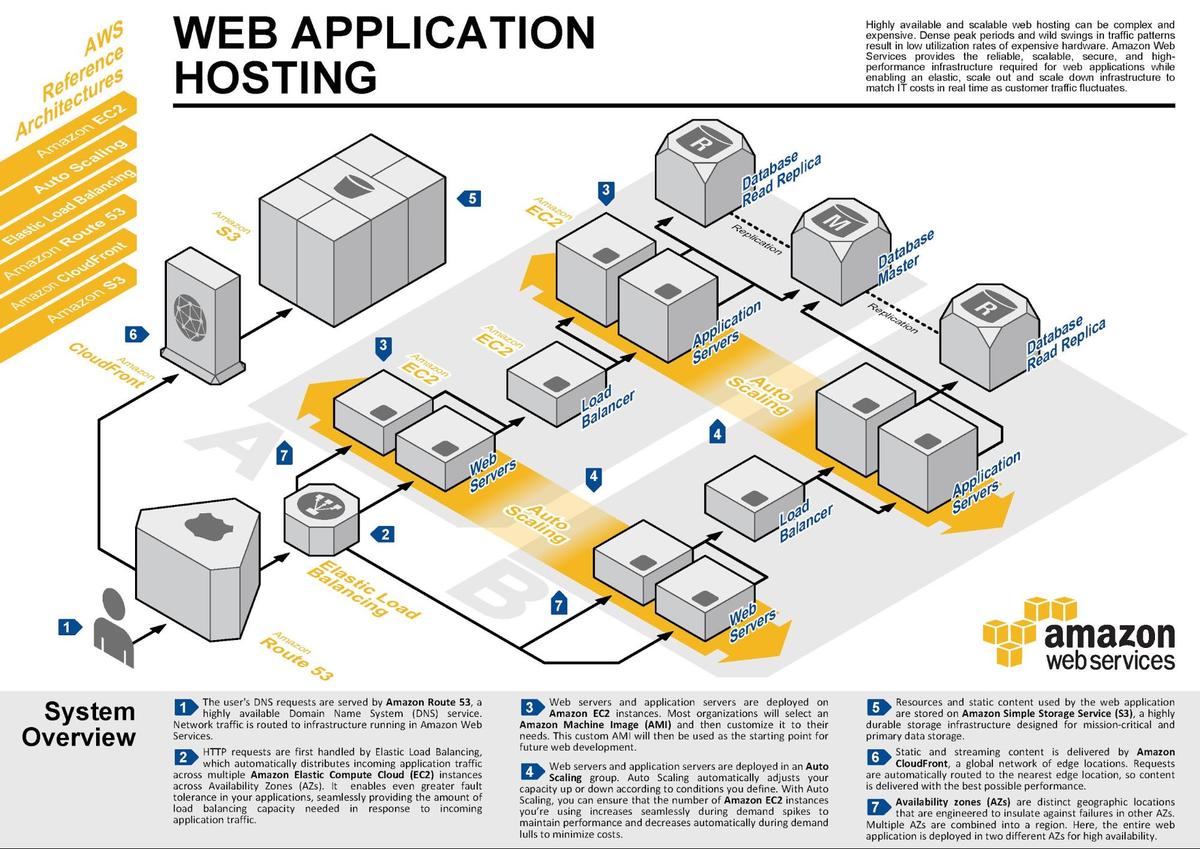 Photo by Amazon Web Services.
Using a service such as Amazon Web Services (AWS) to host your website and applications allows you to spend more of your limited time on actual development, instead of worrying too much about server capacity, speed and resources. For customer support, consider SnapEngage for live chat support integrated directly into your website, or ZenDesk for a more rounded approach that offers support ticketing, knowledge base and FAQ features along with apps for all major smartphone operating systems.
Soft Launch and Beyond
It is quite possible to do all of the planning, and most of the development, for your startup on your own, but at some point you are going to need to bring in extra help. AngelList should be bookmarked by all startup founders, ready for once you start considering the idea of outside investment, or when you start hiring employees. Co-founders and hires can be:
business partners with specific skills who invest their time, and maybe money, in return for future payment or percentage ownership of the startup,
paid freelancers or contract workers, only as needed, to take care of particular tasks, or
full-time employees
Whichever route you follow, you will need to find ways to properly communicate project ideas and tasks. The global nature of business and the marketplace means there is a strong possibility that your partners or hires won't always be based in the same country as you, let alone the same city. Even if they are, their schedule won't always be in sync with yours.
Luckily there is an abundance of apps and tools that make managing remote work as easy as managing a single office.
Project and Task Management
The collaborative features of Wunderlist, Asana and Trello (along with the low cost), make them ideally suited to general task and project management. For managing all web or app development aspects of your startup you will need to consider something more robust and specifically aimed at developers, such as PivotalTracker. PivotalTracker is designed to simplify the process of breaking all development projects into smaller tasks that can be assigned, tracked and discussed in great detail. PivotalTracker is favored by both early and late stage startups, and organizations with 1 to 100+ employees. Use PivotalTracker in conjunction with GitHub to manage almost all aspects of your development projects from the planning stage through to coding, bug tracking and more.
Communication
Communicating with your team, and with customers, is hardly challenging regardless of where they are based. Over and above using tools such as PivotalTracker and Wunderlist to assign and monitor tasks, you should be using Skype, HipChat and email to remain in regular, if not constant, contact with each other. Video and voice calls might sometimes seem easier, but written communication, be it a detailed email or a lengthy chat, is more reliable in that
you can check that you have covered all the points you want to communicate,
they can be tracked,
they can be referred back to constantly.
Daily communication with your team is essential, but try to also schedule a weekly meeting that focuses more precisely on everyone's progress, obstacles encountered, and to discuss and assign tasks for the coming week. Strategic meetings between co-founders and partners can be scheduled as necessary, but never less than quarterly.
When it comes to communicating with your customers, very little beats traditional email, especially when you're still doing everything on your own and in your spare time. Make sure your email address is highly visible and use an auto-responder to notify your customers of when they can expect a response. You will also want to establish a presence on social networks that are relevant to both your industry and your target market, and explore using a CRM such as Nimble. A CRM is good not only for managing leads, but also for managing your contacts and certain aspects of your customer service.
The final piece of your communication strategy will obviously be both your website and blog. Both should clearly communicate who you are, what you do, and what the benefits of your product or service are. Keep your blog updated with news about developments within your startup, new and existing features, planned changes or enhancements, and industry news that would be of interest to your audience.
Conclusion
Formulating and launching a startup in your spare time can be extremely challenging, but remember that very few startups are profitable within the first year. The benefit of still having a primary income allows you to not only continue supporting yourself, but to also focus on getting your startup to the stage where the revenue it generates covers all operating costs and further growth investment.
The tools and apps highlighted in this article all offer either a free basic plan, or are very affordable for early stage startups. Furthermore, they all offer additional plans that can still accommodate your startup as it grows. You want to spend as much of your available time on development and implementation, so use whatever is available to simplify your life, especially in areas not directly related to development.