Having a company blog that is regularly populated with fresh content has become a very important factor in online discovery and audience attraction. This is especially true for small businesses and startups that don't have large marketing budgets to spend on high visibility campaigns. Company blogs have made top-of-mind-marketing accessible to all business owners, startups and entrepreneurs, but while this type of marketing is now very affordable it hasn't diminished the effort required.

Having a company blog that is regularly populated with fresh content has become a very important factor in online discovery and audience attraction. This is especially true for small businesses and startups that don't have large marketing budgets to spend on high visibility campaigns. Company blogs have made top-of-mind-marketing accessible to all business owners, startups and entrepreneurs, but while this type of marketing is now very affordable it hasn't diminished the effort required. In July 2013 Neil Patel wrote the following:
Writing content is only half the battle. The other half is promoting your content. You should spend as much time promoting your content as you do writing it.
This statement is as true today as it was then. You can spend as much time as you want writing great content, but it will mean nothing without the same effort going into promoting it. You should be writing great content not only for your existing audience but also to attract new readers, and new readers will only discover your site if you are promoting your content effectively. Good SEO practices play an important role in promotion, but what Neil is referring to in his statement are the steps you need to take to put your article in front of as many readers as possible in a very short time.
Many of these steps can be automated through plugins if you use a system such as WordPress, though the results can be a lot better if you don't automate them. Best practices and audience expectation vary considerably from one blog to the next, and across the primary social networks, and it is important for you to take this into consideration each time you promote a post. Once you have published a new post you need to follow these steps, customizing each to your specific needs and your audience expectations:
Formatting, Spelling & Grammar
The first thing to do after publishing a blog post is to do one final formatting, spelling and grammar check. Even though you should be proofreading your articles before publishing, doing it again once published allows you see it differently. This final check should be done on your actual website, not within your content management system, so that you can see if all your formatting is correct.
This involves looking at all your headings, sub-headings, images, lists, text formatting and links, regardless of whether you write your posts in HTML or using a WYSIWIG editor. Rereading your post on your website gives you a slightly fresher view of the content, sometimes making it easier to spot spelling and grammar mistakes you missed previously. Pay careful attention to common errors such as to and too, there and their and where and were. If the language you are writing in is not your native language, ask someone else to do a final grammar check for you.
Share via Twitter
You can begin promoting your latest post once you are completely satisfied that there are no formatting or language errors. The first few steps in promotion involve the various social networks, starting with Twitter.
While you are encouraged not to duplicate posts on other social networks, the way in which Twitter operates makes it ideal for multiple shares. Here's how to approach it: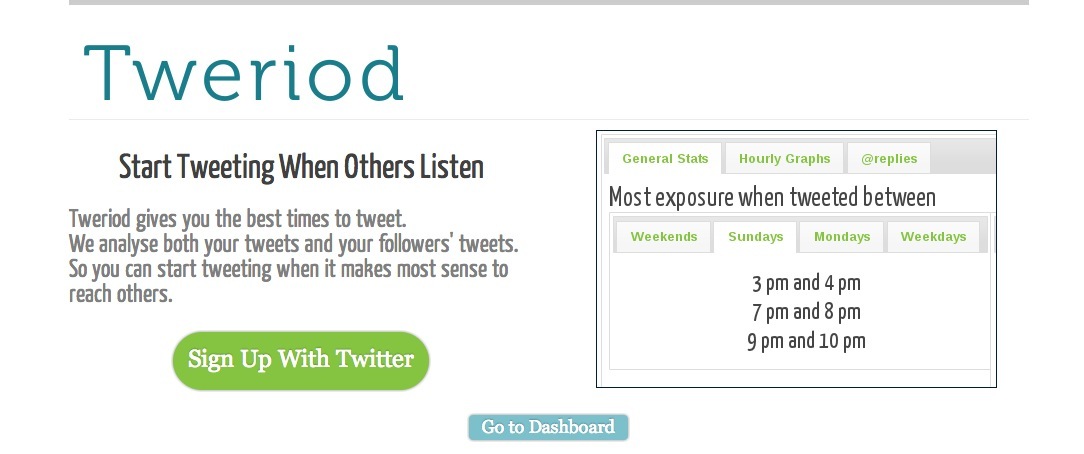 Use Tweriod or Followerwonk to establish what the best times are to tweet to your network.
Promote your latest published post in four separate tweets over a 24-hour period. Use your Tweriod or Followerwonk report to schedule these tweets roughly six hours apart. This ensures you reach as wide an audience as possible, regardless of their time zone.
Don't use the same text in each tweet; change the headline or include a quote from the post. The key is for each tweet to be different so it doesn't come across as spammy, while also allowing you to test what sort of message generates the most responses.
Use Promoted Tweets occasionally, especially for very strong posts that could appeal to a far larger audience. Careful use of Promoted Tweets can be quite beneficial to a new website or business still trying to build its audience.
Share on Other Social Networks
After you have scheduled your four tweets as detailed above you can then share the post across your other social networks. Facebook, Google+ and Pinterest round out the four biggest social networks and you should always be sharing across them. Depending on your site and audience, LinkedIn could also be included, especially if you are a startup or involved in any professional field.
It is important to understand that the audience on each network has different expectations and you should always tailor your message to appeal to each audience. Peak activity also varies considerably across each of the major social networks, which is why plugins that automatically share your latest post across multiple networks are not recommended.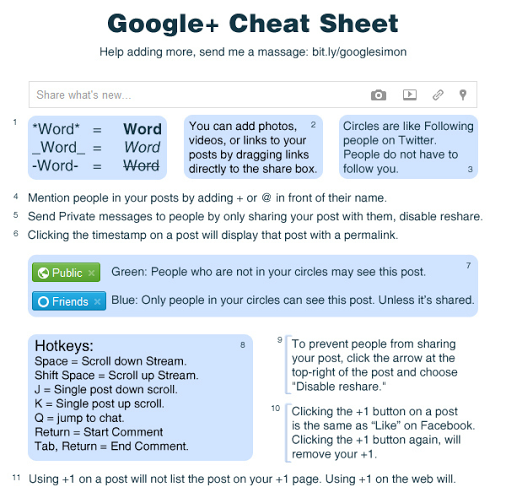 Encourage your readers to share your content by implementing social sharing buttons on each post. These allow readers to immediately share your content to their own networks without having to leave the page. For WordPress users the free DiggDigg plugin is incredibly easy to implement and even allows users to send your posts to their Buffer queue.
Google+ When posting to Google+, do the following:
Start the post with a headline, either the article headline or a new one.
Include a short write-up about the post, using formatting as required.
Include the link to the article, but delete the meta-summary that Google+ automatically generates.
Add an image, preferably the featured image you used in the actual post.
Share it publicly or to specific circles, and then share it within any relevant communities that you are a member of.
Pinterest
Pinterest is largely visual so you should select the best image from your post to use on this social network. Remembering the visual aspect, don't include too much text in your description. Use the article's headline or a short description of the content. Hashtags are not necessary unless you are using this IFTTT recipe to share your pins to Twitter. Curalate published an in-depth analysis on the perfect Pinterest image, and though you won't want to have all your images follow their suggestions exactly, it can help you to fine-tune your images for maximum interest.
LinkedIn
Before sharing a post to your LinkedIn network you should ask yourself whether it is something that would add value to this specific audience. LinkedIn is slightly different to other social networks in that the audience is almost exclusively aligned to careers and entrepreneurism, and that is the benefit they expect from their network. Share your post on your own profile and on any groups that it is relevant to. Don't just share the link, include your own comment or ask questions you would like your audience to answer after reading the post.
Add Your Post to Social Bookmarking Sites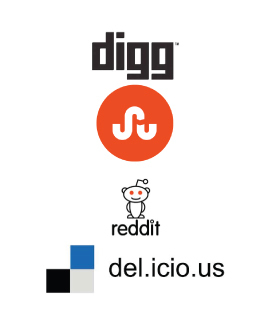 Social bookmarking sites such as Digg, StumbleUpon, Reddit and Delicious predate most social networks, and although their popularity has diminished somewhat, they should still form part of your post publishing promotion. As with all social sites they are not simply about promoting yourself, so you should always be bookmarking a combination of your own posts and those of others. Taking time to engage with other users will help increase your visibility and grow your audience. Newer variations on social bookmarking include Scoop.it, Swayy and Prismatic, with Scoop.it already quite popular among social media professionals. Although the newer entries are quite different to older social bookmarking sites in terms of functionality, the need to create your own audience and share content other than your own is still unchanged.
Use Rich Site Summary
Google may have shut down their Reader app, but RSS remains a very popular method for receiving updates to blogs and news sites. Ensure that you have RSS set up for your site and submit the feed URL to AllTop, Google and Technorati.
Respond to Comments
Engaging with your audience is extremely important, not only on social networks but also on your website. You should be continuously monitoring your website's comment system and responding to as many comments as possible. Some comments might require no more than a simple thank you, while others will require a more detailed response. Set aside some time each day to address both, taking care to avoid any arguments or heated debates that may harm your brand image. Moderate comments lightly, deleting only those that constitute spam, are abusive or violate your comment policy. Unnecessarily deleting comments, especially negative feedback, can do more harm than simply ignoring them.
Respond to Shares

Monitor your social networks and respond to any comments there, and spend time thanking users who have reshared your post with their own audience. It reminds your audience that they are interacting with an actual person and shows too that you are appreciative of them. One of the easiest ways to do this is to use a service such as SocialMention, which allows you to search for mentions across blogs, microblogs, bookmarks and more.
Comment on Other Blogs
This is more closely linked to relationship building than outright promotion, and as such is often overlooked. Identify a handful of blogs, no more than 20, that either directly relate to your own field, or that appeal to your likely audience. Begin commenting on these blogs, either by adding your own thoughts on a specific post, or by answering any questions posted. It is very important to remember that this step is about networking, not outright promotion, so don't link directly to any of your own posts.
Alert Your Email Subscriber List
The final bit of promotion would be to notify your database of email subscribers that you have just published a new post. How you do this depends largely on the relationship you have built with your subscribers. If you have always sent out a weekly digest summarizing the latest posts on your website, keep doing so because that is what your audience expects. Only send out individual emails after publishing a new post if that is what your audience expects. If you do regular A/B testing on your email database you should know exactly how to structure the subject of your email, and what message to include in the body to boost the open rate.
Blogging Communities
This is not a required step in promoting your published posts but is included here because it is worth investigating and could be of benefit to certain industries. Blogging communities include Triberr, Social Buzz Club and Viral Content Buzz, amongst others. Each operates differently but usually require you to join "tribes" and share the content of others. Depending on your status, or the number of points you have, you can then share your own content with your "tribe" who can then amplify it out to their own audience.
Final Thoughts
Many people forget about the social in social networking and social bookmarks. Building the right audience takes time and your efforts should be focused on attracting followers who are interested in what you do and are not afraid to interact with you, or to share your posts. If you are involved in startup development your audience could consist of potential investors, your likely users and even other startups in a similar field as yours. Doing this involves:
Following the right people yourself
Sharing the articles of others, not just your own. Make sure these articles would be of interest to your audience.
Interacting with your followers by asking engaging questions and retweeting and commenting on their posts
The easiest way to alienate your audience is to focus purely on yourself and to push for immediate results.
Build your audience and follow the steps outlined above, and as long as you are consistent in your efforts and your output, you will eventually see results. It might take six months, maybe even twelve months, but your audience will begin to grow as you also start to see your content being shared far wider than when you first started.