NeedEnergy: Meeting Africa's Need for Sustainable & Intelligent Energy Solutions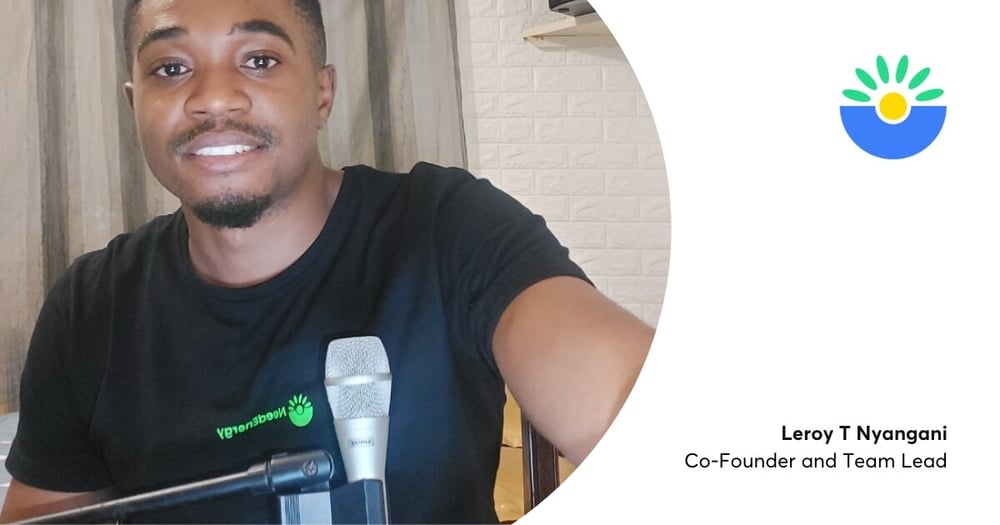 Something that not only Zimbabwe but the continent of Africa as a whole continues to suffer are the age-old problems of a lack of infrastructure and limited supplies of reliable energy.
Within the next 25 years, the population of Africa is expected to exceed two billion — with an average age of 19 years old. As its emerging generation of young workers and entrepreneurs continues to grow, the continent requires effective, intelligent, and sustainable solutions to its growing energy demands.
I recently spoke with Leroy T Nyangani, a chemical engineering graduate of Zimbabwe's National University of Science and Technology, and a successful young entrepreneur in his own right. From humble beginnings in the fast-food industry, Leroy is now Co-Founder and Team Lead of an organization dedicated to the science of Big Data Intelligence in renewable energy.
From its base of operations in Bulawayo, Zimbabwe, NeedEnergy is an energy-tech start-up that harnesses the power of data, innovation, and relevant modern technologies, to provide sustainable and clean energy solutions. In a full and lively discussion, we considered these aims and other aspects of NeedEnergy's operations.
Dominika Błaszak: On your LinkedIn profile you wrote, "Learn to work on your DREAM with courage." What do you think was the decision that needed the biggest courage from your side, regarding the NeedEnergy project?
Leroy T Nyangani: It was during my second year at university that I experienced an event that was pretty much the starting point of my search for sustainable and reliable energy solutions. We had a string of 18-hour blackouts that forced people into using Liquefied Petroleum Gas (LPG) as their only power source for heating and cooking. This situation is typical of Zimbabwe and many parts of Africa, where 600 million people have no access to regular electricity.
Fulfilling this need was the inspiration for NeedEnergy, whose first project was an online application that enabled users to order gas online, for home delivery. The company has since been providing data analytics for solar energy solutions for its clients and smart building initiatives for two of Zimbabwe's major cities.
You describe NeedEnergy as the future of intelligent energy. What does intelligent energy mean to you?
Energy delivering infrastructure in Zimbabwe is largely outdated and unreliable. NeedEnergy looks to turn current off-the-shelf commodities and transition fuels like LPG into clean utilities that will become widely available to all consumers. NeedEnergy enables energy consumers to use Big Data Analytics, Machine Learning, and AI in designing an energy solution tailor-made for them.
To make this viable, the company is looking to innovative platforms like Pay As You Go, and digital consumption monitoring via prepaid meters. Data collected from these devices enables NeedEnergy to project a consumer's future energy demand based on their consumption patterns, and combine it with information from external sources (weather data, socio-economic factors, etc.) to manage their own infrastructure and capacity.
How did it happen that you thought about implementing AI to your product — making use of Big Data — and what does it give to consumers?
With 600 million people in Africa lacking access to reliable energy, the task of serving such a large consumer base with viable solutions and keeping track of them all is huge — and beyond the capacity of generic infrastructure. Big Data, AI, and Machine Learning provide a platform that's capable of scaling to meet this demand.
Incorporating data into the customer's energy supply profile enables NeedEnergy to keep its consumers informed of their existing consumption patterns, future energy requirement, and how much they will need to budget to meet this demand.
NeedEnergy's intelligent systems and analytics provide these insights directly to the user, via their application platform memeza.ai. The systems also monitor building energy usage in real-time (how much electricity a particular appliance is consuming, etc.), and can construct profiles for designing solar energy alternatives to the client's existing setup.
What was the biggest struggle for your AI implementation, and how did you manage to solve this challenge?
Within Africa, smart hubs for energy management are limited to South Africa and Kenya — just two countries out of around 46 in Sub-Saharan Africa. So getting access to sufficient amounts of relevant data for NeedEnergy's AI implementation has been a big challenge.
Besides information from these two leading smart energy nations, the company has been calling on data gleaned from its two pilot smart building projects in Zimbabwe, and six data points from its ongoing gas projects. Open-source information and some two decade's worth of consumption data from South Africa have also been of help in training Machine Learning models.
While utilities in Africa can provide a rich source of data for smart energy project development, navigating the bureaucracy required to gain access to this information presents another major hurdle.
Beyond the challenges of data sourcing, there are also obstacles to be met in terms of infrastructure — encouraging utility companies and energy users to adopt more intelligent ways of monitoring their usage, such as smart meters, energy monitors, etc.
This requires NeedEnergy to approach its operations from two angles. On the one hand, there are energy data analytics, Machine Learning, and AI. And on the other, there is smart infrastructure, facilitated by Edge computing and Internet of Things (IoT) deployments.
Imagine it is 2005, the beginning of the Internet we know, there is no Big Data, ML, and AI. How would your product look back then?
NeedEnergy would simply consist of a pool of technicians, installing solar energy panels or delivering gas cylinders on demand. Last mile logistics and collecting payment in a secure and reliable manner would be the major challenges.
What next big thing in AI are you waiting for to elevate your business to the next level?
I see three key areas.
Number one is accelerated processing via GPUs. NeedEnergy is currently part of an accelerator program, the NVIDIA Inception Program, that is providing next generation hardware and advanced algorithms to promote efficiency.
Number two is quantum computing. This is a technology step up that may be capable of providing the power and capacity to develop workable solutions for Africa's expanding population in terms of nuclear power, solar energy, and infrastructure grids based on battery power and renewable sources. I can see a quantum computing cloud emerging as the platform for running such processes, within the next five to ten years.
The third avenue for future growth will be through Edge computing and the IoT. These technologies will enable automated and robotic systems powered by Machine Learning to assimilate information and act upon it locally, solving problems of remote connectivity that currently hamper cloud applications on the African continent.
More generally, with extensive mobile phone penetration into Africa, in the near future we may see the development of combined apps based on Financial Technology (FinTech) lines, including energy and infrastructure ordering, monitoring, and payment options. NeedEnergy is already piloting such a scheme.
What would you advise to companies, that are just about to start their adventure with AI?
For anyone in Africa or beyond looking to harness the potential and benefits of AI, it's critical to have access to abundant and relevant data, for developing intelligent systems appropriate to the end-user, and for training the related Machine Learning models.
You need a concrete plan for how you're going to get that data and use it. In addition, you require a strong team of data scientists, developers, and technicians to build your technology and platform. For us, thanks to ecosystems like Omdena and the Good AI, we are able to access the best talent. And of course, courage and persistence.