Tech for Good - Sektor 3.0 Initiative Flashback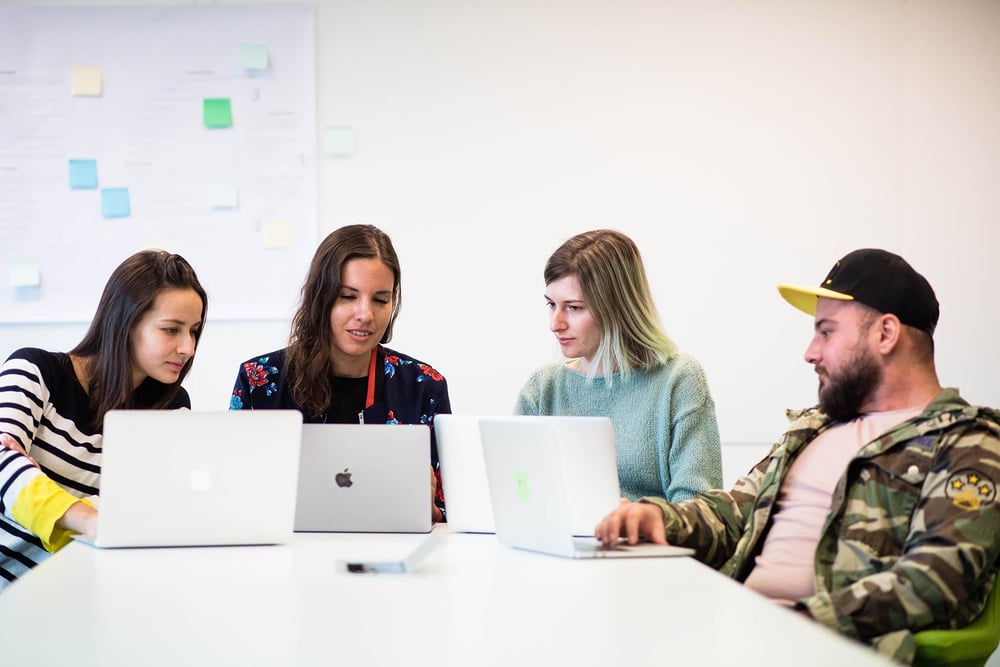 If I ask you to give 5 reasons to participate in an IT project - what would they be?
If the project were commercial - probably money and fame. The technology stack and industry seem to also be important factors. In case of open source initiatives, we would probably count Github stars and LinkedIn publications as well. What if I told you I just experienced a different perspective?
Cooperation with Sektor 3.0
Last month Netguru had a chance to cooperate with Sektor 3.0. It is an initiative thanks to which non-profit organizations use the latest technological solutions in socially useful activities. As a result, organizations function more efficiently, reach more people, and their experiences with new technologies inspire others to work more effectively.
Sektor 3.0 is a project of the Polish-American Freedom Foundation under the program New Technologies Locally. Its implementation was entrusted to specialists from the Information Society Development Foundation.
The role of Netguru developers was to join specific projects and help with organization and estimation of development. Moreover, Konrad Jarociński, R&D Lead in Netguru, was a part of the expert committee that picked the program's winners.
Our developers took part in the following projects (in alphabetical order):
Animal Alert
A social project to build a nationwide database of lost and found animals. Currently, everyone has to look for lost animals through posters, Facebook groups, and friends. Shelters and municipalities that find animals publish ads on their websites. Animal Alert will be a bridge that brings these groups together to effectively find missing animals.

Datkomat
A modern tool for making donations - secure and contactless. It is easiest to compare with a vending machine or an info kiosk, but with a very specific purpose - making donations. Datkomat enables the donor to make payments by card or using BLIK, a one-time code generated via banking apps. The product is directed at non-governmental organizations and socially engaged companies.

In my shoes
The project aims to build a virtual reality experience that will make the participant aware of the challenges, limitations, and emotions of people with disabilities in the work environment and daily activities by "getting into their shoes". The effect of this is to be a better use of the potential of persons with disabilities on the labor market and a change in the awareness of people who have contact with persons with disabilities, ensuring their normal functioning in social life.

Masz.to
The solution connects those who need with those who want to share. The Masz.to app will allow you to transfer items to NGOs or people who will give them a second life. This is not just a local application. It stimulates a social movement that is scalable throughout Poland and the world. Discover the needs of NGOs and give back what you no longer need!

NANA
An application connecting families with qualified nannies on the basis of nanny sharing or individual care. Thanks to the algorithm, it connects families with similar requirements and locations with a nanny that meets their requirements and is guided by similar values. Nana is closeness, education, care and trust. Find your nana!

Pacjenci pacjentom
Free application for mentoring in illness. The recipients are people suffering from chronic diseases, e.g. diabetes, metabolic diseases, cancer. Patients can establish a 1: 1 relationship with experienced patients, or recovery partners, right after diagnosis. Their role is to accompany, not give advice. In the application you can share emotional support (open conversation, no rating) and advice (healthy habits, help in getting reliable information). The creators dream that no one who gets a difficult diagnosis should be left alone with it.

PROFi_app
A non-profit application in the field of medical prophylaxis that informs users what tests should be done and shows that only one click separates them from making an appointment. The project uses machine learning to personalize the suggested tests.

RedDrop
RedDrop is a PR-CSR project that aims to minimize deficiencies in blood banks. By working with corporations and blood donors, RedDrop is expected to increase not only blood bank reserves, but also the frequency of donations from current donors. The project also aims to encourage and educate people who have not yet decided to become honorary donors.

Sprzętownik
An application for managing equipment and resources of non-governmental organizations, through which we hope to improve the operation of public benefit entities in the field of inventory and related activities. The creators have noticed that many organizations have a problem comprehending this topic and just keeping records takes them a lot of time that could be used for what organizations do best, i.e. helping.

Znajdź: pętla indukcyjna
The first interactive database of places and events in Poland with an induction loop. Thanks to the application, all interested persons (users of hearing aids/cochlear implants, loop owners (e.g. clinics, offices, cultural institutions, stations, customer service points, and implementers of the requirements of the Act on Ensuring Accessibility for People with Special Needs)) will be able to find complete information about the induction loop in one place.


All of these 10 projects challenged themselves to win the support from Sektor 3.0 and a 100.000 PLN prize to realize the project.

I had a chance to work with the Animal Alert group. We realized a couple of expert calls via Zoom. I met Animal Alert's great team - Justyna, Karolina, and Bartosz - a group of passionate and motivated people who love animals.

Participating in the project changed my thinking about IT projects a bit. I had several opportunities to make Open Source contributions but it was the first time I felt I could be a part of the project helping more people. The initiative might even save pets' lives!

Without any doubts I can say the project might also improve the lives of lots of pets owners. Statistics speak for themselves - every 7 minutes a new cat or dog appears in an animal shelter in Poland. Thanks to the app, the number might be reduced significantly. The project could reduce people's - and pets' - fear and increase happiness.

These conditions made me fully focused on helping. I wanted to give my full potential to help this project grow. My cooperation with the Animal Alert team was efficient and enjoyable. We learnt a lot from each other.

Dawid Janiga, Senior Frontend Developer from Netguru, who is cooperating with the In My Shoes project shares my sentiment. He says:
The last step of the cooperation was attendance at the Sektor 3.0 initiative final call. We were able to see presentations of all teams, get to know each project's values and goals.


Przemek Kotecki, Head of Operations at Netguru, coaching the team on development best practices

For me, privately, it was a great time, seeing so many people determined to do good. It also gave me even more motivation to take part in similar initiatives in the future. I would recommend taking part in Tech for Good projects to everyone. It's a great chance to change your perspective, gain unique experience, and open your heart.