The 4 Most Important Things I Learned During My 4 Years at Netguru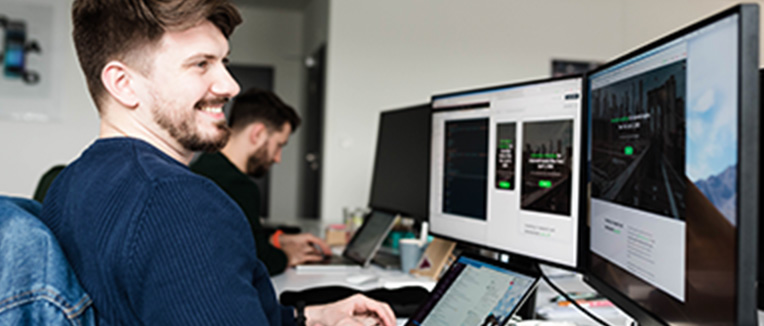 Being a part of Netguru is an amazing adventure.
I joined the company as very fresh junior PM, without experience in taking care of my own projects or mentoring anyone. The company was around 80 people and 5 PMs. After 4 years of being here, not only has the company reached 600 employees (with close to 50 PMs on board!), but also I feel that I grew at least at the same pace as the organization! Along the way, I became a leader and had the privilege of helping other managers to grow into their full potential. Some of them are also leaders right now. I also became a senior, but I still feel like I am just getting started!
The time I spent at Netguru got me thinking. What are the most important lessons learned that I can share with you? And I came up with a lot! But, due to the anniversary, I limited them to the four most important ones.
So, allons-y!
1. It doesn't matter if you made a mistake, what matters is what you got from it
I will be honest with you. I made a number of mistakes in my work. I overpromised, underdelivered, sometimes struggled with finding the right direction for the project I managed. I implemented a process that no one wanted to use and it ended up forgotten and covered with dust. But with each mistake I made, I took ownership and full responsibility. Also, I learned not to repeat it.
After each project, I do not only do a full project retrospective, but also a personal one. Each time I look at my biggest success, but also the biggest failure in the project. Could have I avoided it somehow? How to make sure I will never do this again? Was it noticed by my team?
Looking at your own mistakes, even if no one else noticed them, is one of the first steps to growth.
2. Feedback is the best gift you can give to your coworkers
Before joining Netguru, giving open and transparent feedback, but also receiving feedback other than praise for my achievements, was extremely hard. I was stressed, always wondering "is it worth saying this?". I was also always overthinking the feedback I've received, either undermining or overanalyzing it. Usually assuming bad and malicious intentions of hurting me from the giver.
Never, even in my wildest dreams, did I believe that I would be able to grow into understanding that the real purpose of giving feedback is not to "show someone their place" or "push someone back in the corner".
So, here is what the Netguru culture taught me: You can't grow without feedback. You can't change without it. If you put effort into building a healthy environment, people give it to you out of bravery, goodwill, and honest care about your growth.
3. You can overcome burnout in the right environment
Let's not fool ourselves. Having a highly rewarding job often means it's also highly stressful, demanding, sometimes tiring. And at some points, it can be also overwhelming. And hard. And you feel sort of stretched, like butter scraped over too much bread.
But just as Bilbo Baggins completed his journey with the help of his friends, we at Netguru support each other at challenging moments. You have a leader with whom you can always talk openly about how you feel. You have the possibility to work remotely or take a longer break from work to figure things out. You can change your position within the company. As long as you are honest with the people around you, you are capable of finding your way out of any situation.
4. There is no one way for you to do the project "right"
During my 4 years at Netguru, I participated in more than 20 projects. Some of them were small, workshop-type engagements. Some were projects that came to us with a huge legacy, others were greenfields that I participated in from the very beginning. Although I started most of them with our well-established flow in mind, I soon learned that the client's needs are not always in line with our out-of-the-box solution.
And which way our clients should go, that depends a good deal on where they want to get to. Sometimes, we were expected to deliver a project that was planned from A to Z, without any major changes. Other times, we were asked to challenge each idea of the client without hesitation and guide the project in the best possible direction. And yet another time, our main goal was to get it out of the technical debt that it was pushed into. Sometimes there were multiple stakeholders that needed to be gathered around the project on our side, sometimes there was just one person on the client side that funneled the information.
I was a Project Manager, a Scrum Master, a Project Owner, and a proxy Product Owner. A decision maker, a challenger, a brainstormer, but also a meeting facilitator or only a scribe. Each of the clients I worked with needed an individual connection with me and the team. They came to us because we are able to fill their needs, be flexible and adjust to the situation.
What is in this for a PM? You are hardly ever bored with the work. Working with each new client is an adventure during which you are not sure where will you land at the end.
These are my four main takeaways from working at Netguru and the lessons I live by every day. They all come down to putting our values into practice - you can read more about them here.
So what are your main lessons learned from your career path?
P.S. I also have an anniversary gift for you - some easter eggs! Throughout the text, I have hidden a few pop culture references, more or less transparent, are you able to find them?