The Role of Sourcer in the Organization - Case Study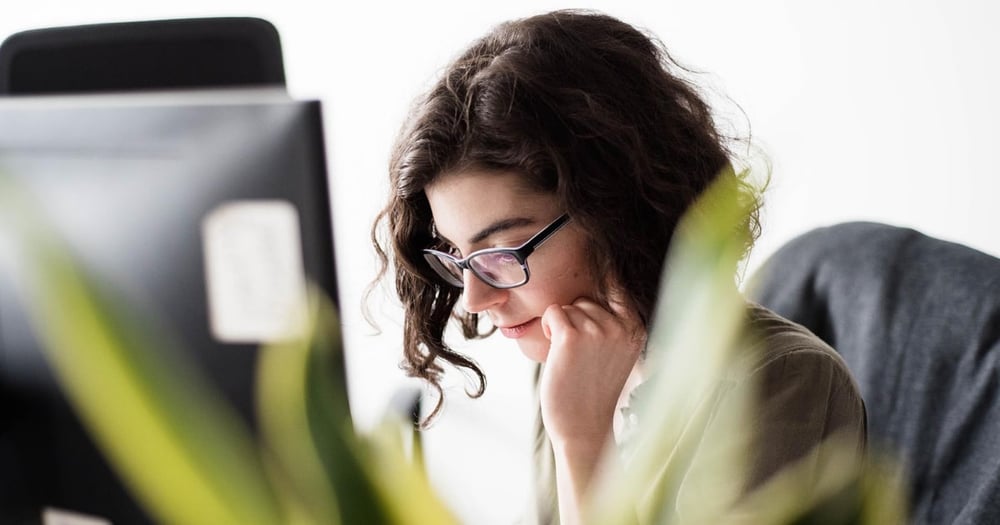 Joanna Guzik (Senior Recruitment Specialist) and Kasia Pająk (Recruitment Specialist) will present a case study on the role of a sourcer.
Asia will tell us about how the sourcer role is viewed and why it is not necessarily a step towards becoming a recruiter; Kasia, in turn, will show us what their team has done to take their sourcing competences to the next level.
Joanna Guzik: Is the role of a sourcer a step towards becoming a recruiter?
In the second quarter of 2020, together with the manager of our team, I created and carried out the recruitment process for the first Sourcing Specialist in the company. After the process concluded, the feedback given by one candidate rested in my memory in particular, and it still resonates with me now. She wrote that:
I am glad that there is a place for sourcers in the Netguru recruitment team. It is still so rare in Poland!
So rare in Poland. Well, why?! Where does rarity come from? Why is the work of sourcers not seen as being on a par with the work of recruiters? Why do people working as a sourcer think that this is just a step towards becoming or being promoted to a recruiter? Why don't they want to specialize in sourcing (or maybe they don't want it very much)?
The observation of this candidate was perfect, because long before the start of the search for the first sourcer to join our team, we had addressed these questions. We knew that we would not change the perception of this role on the market right away. 🙂 But we want to contribute to this by taking some small steps. The process we have created, supported by a competency matrix, has shown that in Netguru, we perceive the role and competencies of a sourcer as unique and of paramount importance.
The research began last year. At that time, I worked hard to improve the sourcing skills of the entire team. I'm no stranger to sourcing myself, and I have quite a bit of background in this area. I sourced a lot in the previous organizations I worked for, and later I had the opportunity to build a sourcing team. Then, Kasia Pająk joined us, who brought a huge dose of expertise and sourcing became for us (finally! 🙂) an inseparable part of our work.
In the meantime, I investigated how the role of a sourcer is perceived on the market. I came across some interesting conclusions:
there is a certain belief among recruiters that sourcers work "for them" – that tasks should be delegated to them;
on the other hand, some sources perceive recruiters as "admins" of the candidates they provide;
recruiters' sourcing skills are often very basic or limited;
recruiters and sourcers are roles that complement each other but are separate disciplines.
Intriguing, isn't it? 🙂 I immediately remembered the experience of working in RPO (Recruitment Process Outsourcing), where the hierarchical divisions between these roles were imposed, and every sourcer dreamed that their boring job would finally end and that they could become that recruiter, because at least they would be able to talk to some candidates. But the work of a sourcer is not boring! So either the positions were filled with mismatched people, or the organization did not understand the importance of this role for the entire talent acquisition process and did not care about specialization.
Another interesting fact was research in various groups and on LinkedIn. Together with our manager, we wanted to check whether the role of the sourcer is similarly perceived outside Poland. So we asked a simple (or maybe not so simple) question:
Do you see sourcing as the first step towards becoming a recruiter, or as a separate career path?
The percentages, and the individual responses, varied significantly! In the Polish groups, the conclusions of the discussion went towards building career paths based on gradual implementation of tasks, from administrative tasks, through sourcing, to end-to-end recruitment. In the foreign groups, however, the discussion was heated, and the participants talked about the paramount importance of sourcing and what drives them as sourcers. In addition, they strongly emphasized the separation between roles of sourcer and recruiter, but also the importance of cooperation between them. In their opinion, which I strongly agree with, sourcers and recruiters are equal partners. Here are some more interesting answers:
I'm a sourcer through and through and becoming a recruiter has no appeal to me because to me sourcing is its own thing and has its own path and career options;
Sourcing: It's an absolutely specialist trade and art. Modern sourcers embrace AI, automation, and coding. They don't have to be "people people";
I've done both and greatly prefer being a Sourcer. For me, it's the thrill of the hunt. Many companies are moving towards Sourcing teams that collaborate with Recruiters for proactive pipelining as well as working on reactive roles. Another feature that a Sourcing team can offer is market intelligence among other consultative benefits. Definitely an independent career track.
What makes those responses sound so confident? I think that the career paths of people who gave those responses abound in development options and are refined in such a way that people want to specialize in this area. They find it simply attractive to be a sourcer, their tasks are varied, and their value in the organization is properly appreciated. They are the right people in the right positions 🙂
This confidence and satisfaction was also visible among the participants of the Sourcing Summit Europe conference, which I had the pleasure to attend in Amsterdam in October 2019. The level of advancement among panellists from around the world, their substantive approach to sourcing, and emphasizing the hard and soft skills needed to practice this profession, only helped me answer the question whether the role of a sourcer is merely a step towards becoming a recruiter. The answer is: not necessarily! Sourcers and recruiters focus on different aspects of the process, using their unique skills and expertise.
Sourcers:
They are detectives, who won't rest until they find the information they're looking for – and they can search for this information in many ways;
Their ability to search goes beyond simple Boolean or X-Ray, and they look for talent beyond LinkedIn, Stack Overflow or GitHub;
They will find the most inconspicuous information about the candidate and use it to attract their attention;
They have a lot in common with Outreach – they know exactly what strategy to choose to make the candidate reply to their email.
Recruiters:
They are salespeople, psychologists, and masters of negotiation;
They research and understand competitors' recruitment processes and have a strong sense of the market trends necessary to perfect their recruitment strategies;
They are masters of active listening – if you mention something off-topic at the meeting, the recruiter will immediately catch it and elaborate on it or use it in later negotiations;
They are consultants and advisers, who cooperate with the Hiring Manager and are responsible for building recruitment strategies and plans.
At Netguru, we want these two roles to work well together and to be equal partners. Our process not only was a reflection of this, but also showed the key role of the sourcer and selected the best talent with the right competences. Our first sourcer will support key business roles and build sourcing strategies for them. But not only that! We want this person to share their knowledge and continuously improve the team's competences. Although we have already done a lot in this respect (Kasia will tell you more about it), our focus is still strongly focused on other areas of recruitment. The sourcer will therefore be an extremely important part of our team and the entire organization.
Kasia Pająk: What we did to improve the sourcing team's competences?
Sourcing is an extremely extensive field and requires many additional competences, which some recruiters on the market do not have. This is an area that is often ignored, but has been gaining strength in recent years due to the changes in the labor market. The market transitioned rapidly from an employer's market to an employee's market, especially in IT.
The Netguru team took steps to share knowledge and acquire new skills: testing new tools and plugins, working on data, non-standard approaches to sourcing, internal workshops and group sourcing (because eleven heads are better than one :)). We created a Slack channel for the team where we shared our sourcing tips, started a mini internal event (Sourcing Wednesday) and regularly posted interesting articles on this subject.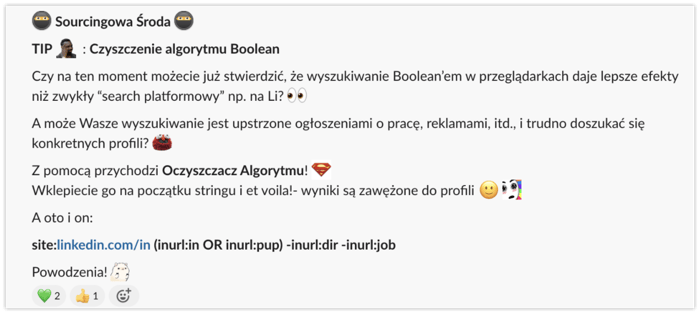 Recently, we have managed to standardize the issue of joint sourcing – we have created a template for the document that we fill in and we wrote the process down. We run joint sourcing sessions on a regular basis, where everyone, using their own methods and tools, takes an hour to expand the pipeline of potential candidates and support the recruiter who runs the process for the given position.
We have also organized the materials we have collected so far so that everyone has quick access to them and can easily find the information they are looking for. It is quite a substantial source of knowledge. It contains materials from workshops with external experts, (e.g. Kasia Tang), presentations and conference notes (e.g. Sourcing Summit Europe), a list of available and useful tools and extensions along with examples of use, a collection of information from Creative Fridays related to this sourcing (Creative Fridays is a series of internal weekly workshop meetings), etc.
Sourcing has often served us as a tool in itself to achieve other goals. For instance, to verify the financial expectations of people on the market and adjust our offering, or to make Hiring Managers aware of how important it is to be visible in professional social media and promote the achievements of their teams. Sourcing also fostered the cooperation of Recruiters and Managers and even entire technical teams, and made many people realize how sophisticated our work is.
Currently, we are preparing to onboard the first sourcer and provide them with the knowledge we already have and lay the groundwork. We want this new team member to act as an independent expert working hand in hand with Recruiters and Hiring Managers. Thus, we hope to overcome the current belief – unfair, in our opinion, that the importance and knowledge of people working as sourcers are limited, and to enable our sourcer to work in conditions that will foster their creativity and their career development.