Three Things That Keep Me Up At Night with Rodolphe Ardant, CEO and Co-Founder at Spendesk

Behind any product, business strategy, or excellent idea, stand people. They try hard to outthink the competition, and even early market success or scooping a hefty funding rund don't let them rest.
I'd like you to meet some of these people.
So I've invited Rodolphe Ardant, CEO and co-founder of Spendesk to share his challenges in Netguru's new format: "Three Things That Keep Me Up At Night". (Rodolphe will also be a speaker at our Disruption Forum in Paris this October.
Spendesk is a Paris-based company, founded in 2016. This fintech has developed a spend management platform that helps businesses take control of their spending (with tools like smart company cards, invoice tracking, automatic payment categorisation, and so on). The company made it to our "Top 10 Fintech Companies in France to Watch in 2020" list.
To date, they have tripled YoY growth rates, gained over 1,500 businesses as clients, and raised EUR 45m in funding (including a recent Series B round with 35m). So, what could the challenges be for the CEO of such a company?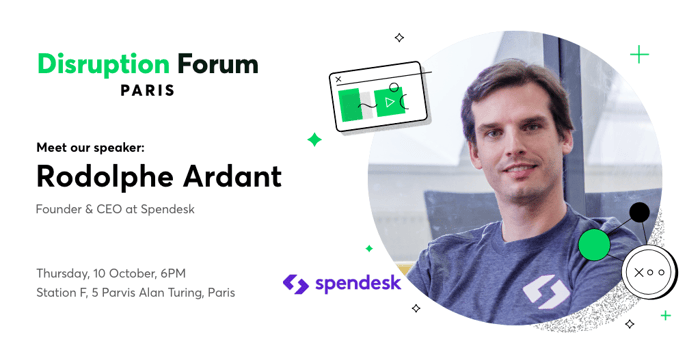 1. Fostering culture while growing fast
One of the things I'm most proud of at Spendesk is our culture. Ownership, excellence and customer-centricity are in our DNA. So one of my biggest challenges is to make sure we maintain and build on this as we scale. When Spendesk started to operate, all of it was just three people around a table. We're now over 100 people strong and growing fast, and we're about to open two new international offices in Berlin & London in addition to our Paris HQ.
How do we ensure our culture is consistent across locations? How do we ensure we continue to hire top talent when we're moving at a fast pace? How do we manage communications with larger groups across different time zones and offices? How do we quickly ramp-up new hires on all this knowledge? The list seems endless, but solving this challenge is super important for me.
2. Staying connected
In the beginning, I knew every one of our customers by their names. I did their setup, understood their business, and usually visited them in person if it was possible. But as the company has grown and with it the number of customers we serve, I find it a real challenge to maintain and strengthen my relationships with customers as much as I'd like.
This is a challenge I'm actively working on every day, and I encourage everyone at Spendesk to work on it as well. I set aside time to help out on support. I also make time for coffee chats with our customers to remain close to the market and really get to know the challenges and opportunities businesses are facing. I believe that real innovation is impossible without an intimate understanding of your customers.
3. Focusing on what's most important
With rapid growth comes rapid change, which also extends to the change in the scope of my role. It is tempting to want to tackle everything at once: coaching and mentoring, hiring, vision planning, supporting teams. It's a challenge to stay disciplined in keeping my energy focused. It also really comes down to delegating the right things sooner, so that we can move faster together.
--
"Three Things That Keep Me Up At Night" is a series designed by Netguru to explore the challenges in the fintech and insurtech industries. We talk to founders, CEOs, C-level executives, managers, engineers, and designers to get to know – as the title implies – the most important things on their personal and company radars.
Read also "Three Things (...)" with Patrick Tsao, VP of Products at Getsafe, one of the first digital insurance platforms in Europe for flexible and customisable coverage on your phone.