Top 10 Tech Conferences in NYC To Attend in 2020
Startup conferences are where CEOs meet, deals get done, and a huge amount of knowledge is dispersed across all of the attendees. Conferences also provide some form of density for a city, which is needed for a startup hub to thrive.
Here is an overview of the top startup-related conferences to attend in the Big Apple. If you are interested in the scene or are looking to join it, it's a good idea to attend one or more of these great events.
Ascent
Source: startupdevkit.com
Touted as New York's premiere tech conference, Ascent is focused on bringing senior leaders together to meet each other and eventually do business with one another. Some of the past speakers who have taken the stage at Ascent are Any Yang (CEO of Indiegogo), Jenn Odgen-Reese (Seatgeek's CMO), and Jager Mcconnel (CEO of Crunchbase).
Ascent also has a pretty robust exhibitor program, which allows startups to showcase their product in a booth for an affordable price. Of course, there are still standard sponsorships for bigger organizations as well.
Location: Sheraton at Times Square
Ticket prices: Prices range from $95 (Exhibitor pass) to $795 (VIP pass).
TechDay NYC and Founder's Summit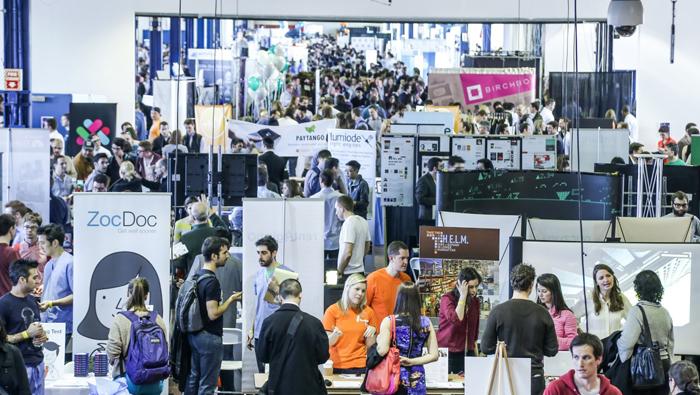 Source: www.bizjournals.com
TechDay is one of the biggest events in NYC and is focused primarily around startups exhibiting. TechDay features over 300 companies from New York's startup scene, who present to attendees what they are working on.
The companies are almost all highly tech-related, so you'll get to see what's on the cutting edge of the NYC tech scene before anyone else. Additionally, TechDay is full of other events. There are Techtalks throughout the day, as well as fireside chats and live stage demos. Watch out startup founders! TechDay has a dedicated summit the next day just for you. This is a startup fan's dream, so make sure you show up at TechDay NYC 2020.
Location and dates: Jacob K. Javits Convention Center on April 23rd, 2020
Ticket prices:
To Exhibit:  $975-$3,900, depending on booth size.
To attend:  $0-$325 (it's free to enter and the founder's summit the following day is included in this cost).
ProductCon
Source: Twitter
ProductCon is a conference put on by Product School, and it's aimed at anyone ideating, creating, or scaling… you guessed it: products!
They are known for getting some of the best product people in the world to speak at this conference, including the likes of Nir Eyal (Hooked), Morgan Brown (Spotify), and Abigail Gray (Google). Because ProductCon is part of the Product School family, attendees also get other perks such as joining the Slack community or suggestions of podcasts to listen to.
Locations and dates: ProductCon will take place at The Manhattan Center in September 2020 (date not specified yet).
Ticket prices: From $0 (free) to $1,200. The free option is to watch from home. Then the price goes up as you wait longer to register. Register here.
The AI summit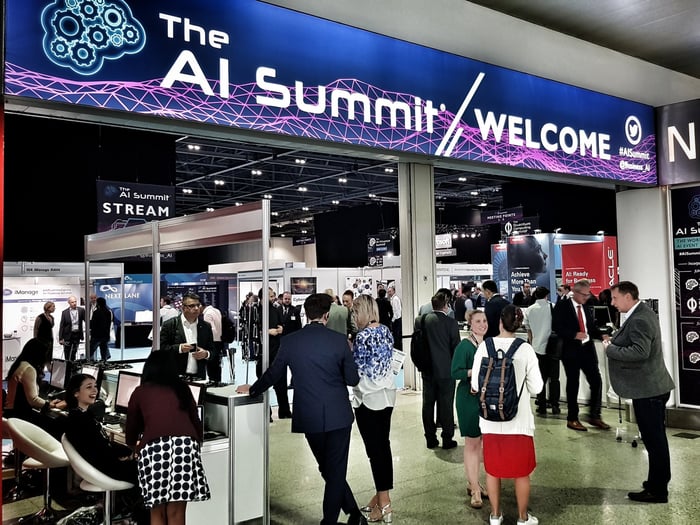 Source: aibusiness.com
The AI Summit is one of the few conferences dedicated solely to the impact that AI can have on business results. It has a who's who list of sponsors in AWS, Google, IBM Watson, Facebook, and is the center of the universe for AI information for business and technology leaders. The programming is split up in different verticals, with micro conferences within the Summit. There is a focus on Marketing AI, Finance AI, and several other tracks.
The topics of this summit go deep into the weeds of the technology and it impacts business results. This is a must-attend event if you're trying to stay ahead of your competitors in the AI race.
Location and dates: Javits Center in December 2020
Ticket prices: From $500 (for track passes) to $2,000 (full passes). Register here.
99U New York
Source: 99u.adobe.com
99U is one of the top conferences for designers and creatives to come together and learn about what's in store for design in the next decade. One element that 99U is known for is its hands-on workshops during the conference. Attendees can learn new skills and brush up on old ones simply by going up to a workshop and being open to something new.
Workshops focus on high-level ideas like AI or public speaking, but can also get into the weeds—like "the art of inhaling" or "how to build a brand." With past speakers like Seth Godin and Brene Brown, this is not a conference to miss.
Location and dates: Alice Tully Hall at Lincoln Center on June 3–5 2020.
Ticket prices: Tickets are $1,000 across the board. Register here.
Digital Marketing Innovation Summit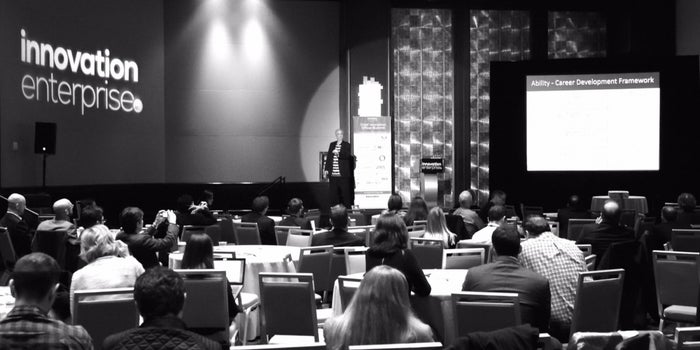 Source: entrepreneur.com
One of the most important activities to do when running a startup is to get some distribution. This comes through the channels of sales and marketing.
This summit is a deep dive into the latter, bringing together thousands of marketing professionals to network, learn, and do business together. With past speakers like the VP of Audience Growth for Conde Nast, VP of Marketing at Captain Morgan, and profiling authors like Deb Gabor, this is bound to be an unmissable event for marketing leaders within technology organizations.
As noted on the website, some of the topics covered are:
How to succeed in an AI-driven market
How to think about using influencers to grow
Marketing to Gen Z
Tons more!
Locations and dates: March 2020 at location TBD
Ticket prices: Prices start at $600. Next years' tickets have yet to go on sale. Stay tuned here.
Developer Week NYC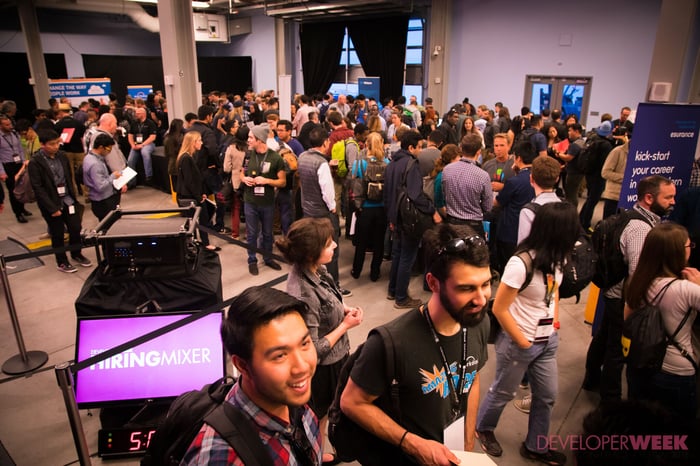 Source: developerweek.com
DeveloperWeek is New York's biggest developer-focused conference and expo. There are several different tracks that an attendee (of which 3,ooo+ are expected) can take part in, including tracks that focus on leading dev teams, mastering Javascript, scaling with microservices, and several more. They are bringing some excellent speakers to provide value to the attendees; heads of engineering from Meetup, Foursquare, and Bloomberg will be among the many speaking.
DeveloperWeek also boasts a legendary expo, where hundreds of startups can exhibit what they're working on. You can apply for an exhibition spot here. The last thing to note is that DeveloperWeek hosts a hackathon during the event to engage all the makers who want to build something.
Location and dates: June 16th-18th 2020 at Brooklyn Expo Center.
Ticket prices: Ticket sales are not open to the public yet but will be announced here. Note that there are discounts for students, government officials, and groups of three.
Mobile Growth Summit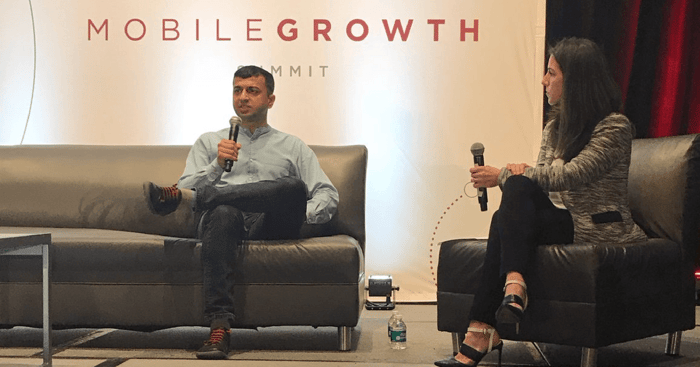 Source: leanplum.com
Mobile Growth Summit is an event to help you connect with and learn from other mobile growth professionals in startups and technology. This event has an interesting vibe, as it is much more intimate than the other events mentioned in this article, with just around 300 attendees and 25 speakers.
The more low-key atmosphere gives you a chance to get close and personal to decision-makers in this space, and could potentially get you closer to that hire you need to make or deal you need to close. With speakers from the C Suite of Hilton, Godaddy, and Pandora, this is an event not to be missed if you're working on a mobile app and are trying to grow.
Location and dates: It will take place on July 16th, 2020 at etc.venues.
Ticket prices: From $295 to $1,600 (early bird pricing). Buy your tickets here.
Empire Fintech Conference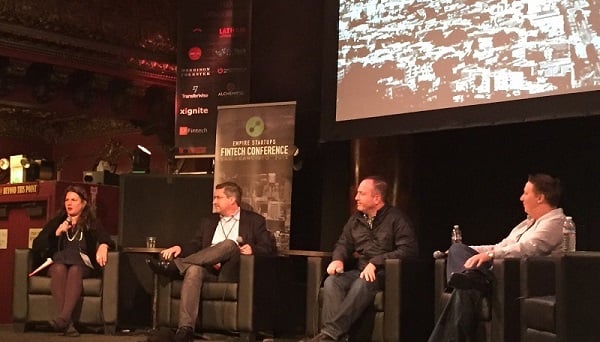 Source: www.leanplum.com
The Empire Fintech Conference is a tech conference dedicated to those building products in the financial technology space (or fintech). The roster of past speakers includes the CEO of Brex, Henrique Dubugras, who is one of the hottest founders in the fintech arena right now.
This is also a pretty intimate conference, with fewer than a thousand people attending. If you sell to larger companies and are building fintech products, it might be the perfect opportunity for you to get in front of decision-makers. It's also only one day, which makes it perfect for busy professionals.
Location and dates: April 1st, 2020 at New World Stages.
Ticket prices: From $195 to $495 depending on the startup stage.
Blockchain World Forum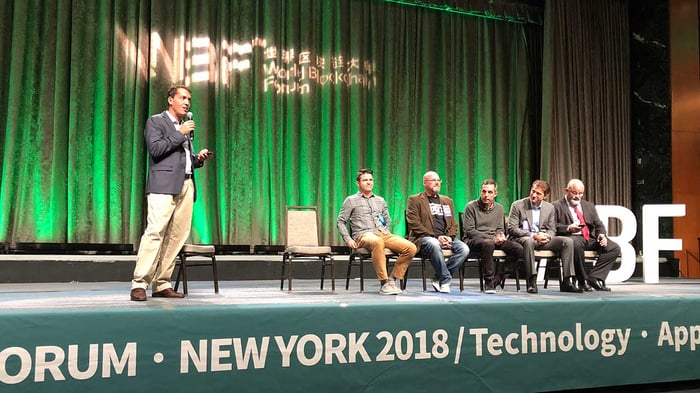 With blockchain really entering the limelight, New York is aiming to position itself as an authoritative hub for thinking on the matter. Due to that, they are hosting many blockchain events—one of them being Blockchain World Forum.
As listed on the event page, this is a chance to meet other blockchain founders. In this conference, they will also discuss regulations around blockchain and how to learn from the past mistakes of companies. This goes perfectly with New York, seeing as the city is arguably the financial capital of the world.
Location and dates: August 20th–August 22nd 2020, with location TBD.
Ticket prices: From $390 to $590, and they can be found here.
Top tech conferences in NYC
There is no shortage of opportunities to meet a future business partner, investor, or client in New York City.
These conferences are fantastic for getting out there and starting or growing your company. Whether you're into fintech or general startups, you can see there is a conference for you. We hope you act on this list and attend a couple in 2020!