UXDX 2018: 3 Days in 3 Cities. What I Learnt from Revolut, Minecraft, Dice, iZettle, Zendesk and Asos

It has been a while since my last post on must-have UX practices for fintech. I enjoyed the feedback I got, and I'm sorry I have kept you waiting. But there is a reason. For some time, I have been solving UX challenges for one of the biggest banks in Europe and a groundbreaking investment platform that enables individuals and their advisors to invest in top-tier private equity funds.
As if it weren't enough, my presentation pitch "Is User Experience Research a Science?" qualified for UXDX Europe. What would be a better spring for a UX passionate, I could hardly imagine.
During the intensive UX tour (I have visited Stockholm, Copenhagen and London in just 3 days), I've had the chance to discuss my thesis with the wider UX professionals community. But the UXDX events gave me something more valuable than just the means to satisfy the narcissistic part of my soul.
It has offered me an unique opportunity to discuss daily UX battles with the top minds from the digital industry. And this time I would like to tip my hat to them. Hence the list of what I have heard and learnt during my May tour on UXDX.
UXDX London: ASOS, Revolut, Apperio
Nik Crabtree, Lead Principal Software Engineer at ASOS Technology
One of the best speeches I've ever seen. Nik showed how ASOS is solving different production issues and how they managed to make the process more effective and bulletproof by dividing the production cycle into smaller parts. Great for fixing errors without disturbing the whole cycle.
Nik was sharing pros and cons of ATDD (Acceptance Test Driven Development) and how it results in the high quality software. Key pillars: shared understanding, shared ownership, test first approach.
My favourite part: 'There are no heroes, no second class citizens'.
The whole team is responsible, there is also no 'dev complete' stage. It's done, when all stakeholders are satisfied with the outcome.

Val Scholz, Head of Engagement at Revolut
Crème de la crème, but what would you expect from the brand new fintech unicorn? Inspirational speech about keeping focus on the things that matter and having the courage to actively seek trends and grab market opportunities. And there are always 'massive opportunities' in the market, according to Val. You just need to look for current or future big trends and unsolved problems. What kind of problems? For instance, saving money, mass transportation, easy access to crypto, global medical I.D.
My favourite quote:
'Companies and people tend to overvalue their solution by 10x'.
I was curious about the impact of Revolut's amazing card-box, and Val confirmed that this offline onboarding fosters their branding and digital experience. Winning the first impression should be high on the priority list for a company that is trying to make waves in any super-competitive market.
Also, Val highlighted the importance of building virality into your product. Some examples of virality features: waiting list, feature unlock or referral systems.
'Always think about how to leverage the network of your customers and partners to accelerate your growth' - added Val.
Scott Riseborough, Lead Software Developer at Apperio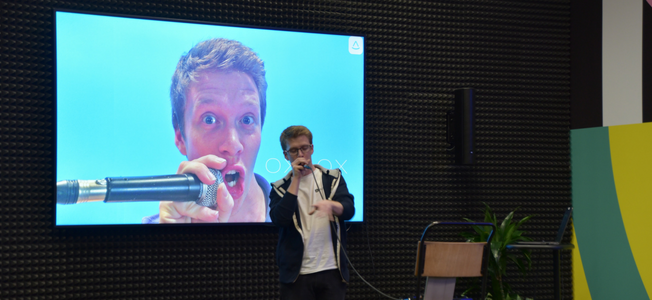 Last, but not least, the London list could not be complete without Scott's "QA - Manual vs Automation" speech. Both insightful and entertaining, Scott was beatboxing while talking to the audience about the importance of QA, namely manual and automated tests.
UXDX Stockholm: iZettle, EA Dice, Minecraft
Anna Sitnikova, Product Manager at iZettle
Anna shared iZettle's challenges related to the management of autonomous teams. She delivered a dynamic, witty presentation, packed with tips about how to align teams goals with the company' strategy, how to motivate teams, how to unlock their potential to fulfill their dreams and, at the same time, not to lose a track of the where the whole company is heading.
PS. After UXDX it turned out that iZettle will be acquired by PayPal for a whopping $2.2 bn. I think iZetlle's founders just proved that their nickname 'Square of Europe' was well-deserved.
Ross McKinley, Senior Build Engineer at EA Dice
Ross gave a great speech that would help any team that is fed up with prolonged work on projects. In short, he managed to shorten the production cycles within the company by three weeks.
Ross shared his lessons learnt and explained how they changed workflows in EA Dice to reduce the time needed to go from an idea to the final release of a new feature.
Oscar Nilsson, Experience Designer at Minecraft
Super-interesting presentation about "Purposeful Prototyping". It turned out that if you put more effort into prototyping, you will get a much more meaningful outcome from your tests.
Oscar's advice: don't be hasty, animate your prototype, and put in as many features as possible, hence saving time and budget on the coding on development stage.
UXDX Copenhagen: Zendesk, NordeaMarkets
Rasmus Landgreen, Senior UX Specialist at NordeaMarkets
Insightful presentation about the role of the product designer at Nordea. In this case, the product designer has to combine UX and UI skills (similar to how we define the PD skillset at Netguru). Rasmus also offered his principles and beliefs about leading the UX team in a company.
Timothy Allison, Product Design Lead at Zendesk
A well-thought-out presentation on how to build design systems for ever-evolving and complex digital products. Tonnes of real case studies and lessons learnt. For instance, the Zendesk team shared their ways of tackling the dashboard challenge - how to design one feature across a variety of products in a way that will cater to the needs of different target groups and, at the same time, foster a joint "Zendesk-like" experience.
Once again, all Stockholm, Copenhagen and London events were kindly and professionally hosted by the UXDX team. Big thanks for the amazing atmosphere, support and a great inspirational get-together. Thanks for having me!