What I Appreciate in Netguru as a QA

Currently, we're living in times when the IT labour market is exploding.
As a Quality Assurance Specialist, Project Manager, or Software Developer, you won't struggle for long when looking for a job. There is a huge number of enterprise software development companies, startups, or even big companies looking for talented people. Nearly two years ago, I decided to work as a QA specialist for Netguru. Why exactly did I make that choice and would I do it again?
Working from the moon (well, no one tried it yet, but you might be first)
The first thing that drew my attention was that you can work remotely at Netguru. Although it's quite popular in IT, many companies still don't offer the option of working fully remotely. Remote work is a major advantage, especially if your love to travel (workation anyone?) or you just live in another city (and don't feel like moving to Poznań, Warsaw, Kraków, or one of the other cities Netguru has an office). Of course, remote work might also be a pitfall as you might start turning into a cave troll. In my opinion, though, it is always good to have an option of doing something than not to have it at all.
Obviously, if you're a QA Specialist on a mobile project, you need access to real testing devices, so you need to visit the office from time to time. But the good thing is that you get your own personal device, so that you're not totally confined to the office. Also, having a flagship device that you can use as your private phone is a nice perk. And don't worry, it's not like Netguru is going to call you to check on you.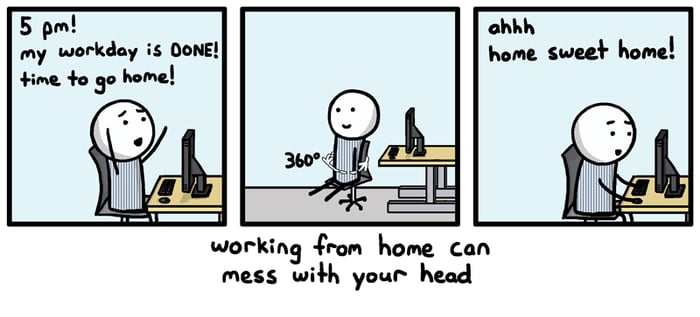 You're (kinda) the boss
Another thing that I really appreciate in Netguru as a Quality Assurance Specialist is that you can influence the product your team creates. From what I've heard, in most companies, people like me test stuff, add tickets for bugs and everything that's related to testing... but they don't have any real influence over what the end-product will look like and behave. In Netguru, a QA Specialist works on the overall product, not only by testing 'predefined test cases'. It's normal to engage in discussions with clients, give them feedback about features or even warn them about potential User Experience issues end-users might stumble upon, so that you (as a team) can take additional steps to prevent them. You don't test stuff to make sure it just works, but you contribute to the product to ensure the best possible quality and usability of the final app.
Devs are our BFFs
The main complaint I've heard from other QA Specialists and testers is that they're treated as a necessary evil in teams. Developers are looking down at them, rolling their eyes when a QA Specialist finds an issue or points out a flaw in the app they coded. Devs can have little respect for whole "Quality Assurance and Testing" enterprise. Gladly, that's not the thing in Netguru. I'm sure developers on my projects have trust in me. I know most of the time they're too busy coding amazing things to predict all the edge-cases or weird user behaviours. That's my part of the job, and if I find a problem, we look for solutions together that will have an acceptable impact/effect ratio and that our client will be happy with. It's cool that we can collaborate with devs instead of having some kind of an unhealthy competition with them.
Also, have you ever had that moment where you got stuck while writing an automated test, because you were missing some factories, seeds, or anything else? Just ask a dev for help! They're always happy to assist you or even do some pair programming with you, especially during 'Spec Fridays', which is a weekly event during which we focus on writing automated tests (and we have dedicated devs to help us).
You can be whoever you like
Netguru's QA team is getting bigger and bigger – we have over 30 members at the moment. Thanks to the team's size, we were able to create sub-teams dealing with specific areas. We call those areas 'kingdoms', and each of them is ruled by a king or queen. The great thing is that these kingdoms emerged naturally – no one forced us to do this. You can join any kingdom you like, depending on what's you're interested in.
Do you love to automate stuff? The 'Automation Kingdom' would be great for you (actually, this kingdom is so big it has subkingdoms: RnD, RSpec, and API)
Maybe you're a mobile-freak? Well then, you'd have to decide if you're #team-android or #team-ios (or both?), and you can help us develop the mobile testing process and flow
Are you into Designs and UX? We've got the 'Design Kingdom' for you!
We've got 14 kingdoms in total, so everyone will find something for themselves. Within these kingdoms, we write articles, do research, tutor other QA Specialists during internal workshops, and many other things. I find it great that you can develop yourself in a way you want, or try something new and test yourself.
Variety
Variety in projects is one of my favourite things in Netguru. It seems that Netguru can attract fun projects like a magnet. A karaoke app? Check. Talking robots? Check. An app for one of the biggest conferences? Check! An app that allows users to share around 12,000 bikes in New York City? Check! As a QA Specialist, I really appreciate the fact that I can work on many different products on different platforms (web, iOS, Android) and in different technologies (native mobile apps, Ruby on Rails apps, React Native apps). Thanks to this I don't feel like I'm stuck in an old marriage with a project that doesn't get me excited anymore.
So, this is the list of things that make me happy as a QA Specialist. There are other general points that are nice to have, e.g. the fact that doggos are welcome in the Poznań's office. You can read about these things and many others in the Diary of a QA intern. Finally, the answer to the question from the introduction: yes, if I could go back in time, I'd apply to Netguru once again.