Hi! We are Netguru. We help entrepreneurs and innovators shape the world through beautiful software. We're looking for people to join our team and build a culture based on trust, taking ownership, and transparency. Introducing innovative solutions and improving our internal processes are the foundation for our development and achievements.
As a Certified B Corporation®, we offer a safe, inclusive and productive environment for all team members. We respect and want to build on our diversity. We are open to workplace adaptations.
We also help team members develop their skills through internal learning opportunities, R&D projects, and personal growth budgets. Our efforts bring results: Netguru ranks as one of the most desired IT employers, alongside Facebook, SpaceX, and Netflix.
Over the past ten years, Netguru has changed the way people bank, listen to music, learn languages, and rent bicycles. Some of our clients include Fortune 500 companies and startups like solarisBank, Hive, Temi, and more. Netguru works with the largest brands in the world, such as Volkswagen, IKEA, and Keller Williams.
We are looking for a passionate Designer for our Growth Team. If you are ready to take care of the Netguru brand and the quality of netguru.com and you have the talent and skills it takes – apply now!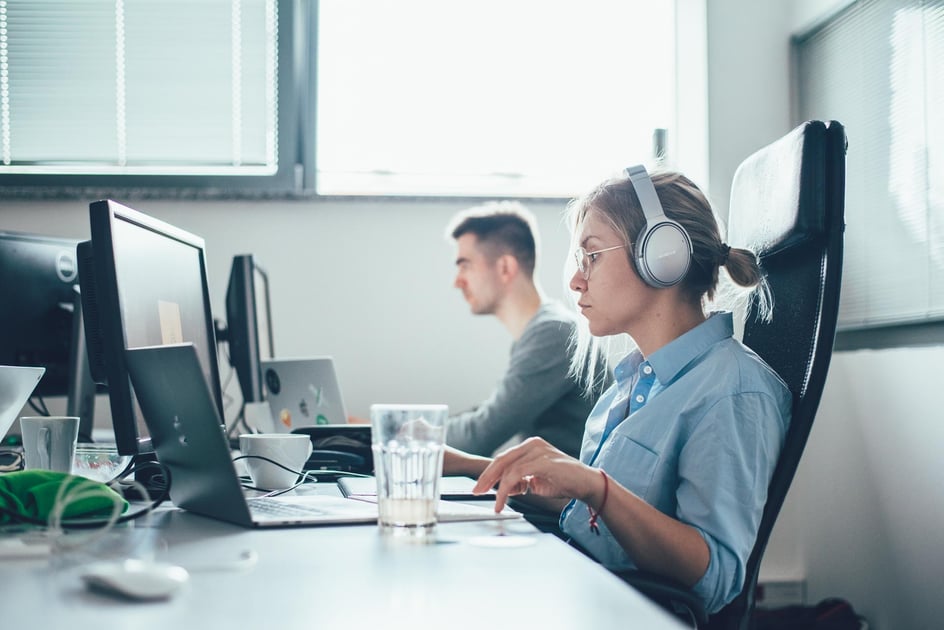 What's in it for YOU?
Working in a fast-paced yet friendly environment.
Collaborating with experienced and highly qualified specialists from different areas of expertise.
Enjoying flextime and flexplace: adjust your daily schedule to your individual needs, work from the office or from home.
Having a smooth start: your leader and a buddy will support you and mentor you.
Using great tools: Adobe Creative Suite (Photoshop, Illustrator), Figma, Canva, Google G Suite.
Working on the best equipment: we will provide you with a MacBook and additional accessories for your computer (e.g. an external display) to make your work even more efficient and comfortable.
Let us guide you through your main responsibilities:

Brand design and long-term brand development.
Creating compelling brand marketing, communications, and promotional assets for both internal and external use (for digital and print).
Leading creative brand asset design and management from concept to in-market execution.
Improving processes by introducing solutions and how-tos.
Delivering key visuals and templates for the Growth & Employer Branding Teams.
Delivering user- and conversion-friendly UI/UX design for netguru.com.
Guarding brand coherence across all media and creating quality assurance standards/policies.
Working with designers, content managers, and top growth experts.
Ready to apply? First check if you:
Have an eye for detail and coherence.

Have a strong command of written and spoken English (CEFR C1+); Polish not required.

Have successfully developed brands and created assets for marketing campaigns.

Are great at creative and strategic thinking, with a knack for building bullet-proof design systems.

Have a strong sense of composition and know how to build information architectures.

Know the principles of Ul and UX design.

Have a strong portfolio to prove the above.

Have measured the success and failures of your design choices.

Have great communication skills and experience in working with non-designers.

Are able to explain complex things in a simple way and can write perfect manuals.
It would be a plus if you:
Know the principles of brand building and growth practices.
Have a basic understanding of illustration or you've worked with internal illustrators.
Have a basic knowledge of video/animation production (you've worked with external agencies).
Have used tools such as Google Analytics and Hotjar.
Perks and benefits for you:

Generous private health insurance package with dental care.
Optional life insurance for you and your family.
A growth budget for your educational plan.,
Masterbenefit: discounts on car leasing.
Discounts on Apple products.
Various internal initiatives: webinars, knowledge sharing sessions,

internal conferences

.
If you want to read more about why working at Netguru might be your thing, check out our 7 reasons to work at Netguru.

We are waiting for our new Brand Designer!
Are you ready to join us on our journey? 🚀 Apply today!

What will happen next?
Need more information? Drop us a line at jobs@netguru.com!