Opening soon
Click for the details
Sorry, our forms might not work
Our mission at Netguru is to help entrepreneurs and innovators shape the world through beautiful software. As a Certified B Corporation®, we offer a safe, inclusive and productive environment for all team members. If you want to work from home and be a full time employee, great - you can apply right away.
Paid days off: 28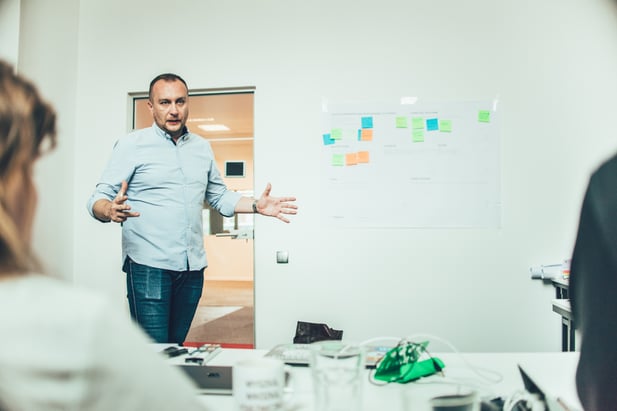 We are looking for a Client Partner who will help our customers from around the world solve their business problems through technology.
If you join us, you will:
Formulate and execute a sales strategy for an assigned market vertical to achieve set revenue goals,
Engage with prospective target accounts to identify new business opportunities and convert them to create long-term relationships,
Coordinate cross-functional sales pursuit teams to engage customers and win strategic deals,
Create a value offering for an assigned vertical together with Tech Experts and a Community of Practice,
Partner with the Growth and Strategic Engagements Teams to drive awareness about Netguru's value proposition,
Work closely with the Pre-sales Team and Tech Experts to develop technology solutions tailored to customer needs,
Build relationships and become a trusted partner to senior decision makers on the customer's side,
Represent Netguru at conferences and events to promote Netguru's brand,
Exercise thought leadership by sharing industry insights on social media and engaging with the media.
You ideally have:
Very good command of English (C1+), and you are a native speaker of German
At least 5 years of experience in IT services sales or a consulting background
Proven track record of building relationships with senior decision makers including C-level
Established network of contacts in Financial Services, Retail or Healthcare
Experience in generating leads and winning software development or digital transformation projects
Ability to speak with authority on industry and market trends, competitive practice, issues, etc.
Demonstrated success in consultative and solution sales helping improve the client's business through technology
Ability to navigate and manage relationships in complex global accounts
Experience presenting at and leading meetings with senior executives including the C-level suite
Exceptional communication skills and can quickly build relationships based on mutual trust with customers and colleagues
An honest, transparent and professional approach that fits our organizational culture
Readiness to travel for customer meetings
Perks & Benefits:
Employment Contract + bonus
28 days of paid leave

Various internal initiatives: webinars, knowledge sharing sessions, internal conferences
Learn more about the additional support we offer for Ukrainian citizens or those who have decided to relocate to Poland due to military action in Ukraine (regardless of their nationality) - click here. We hope that this assistance will help you feel safe and welcomed in our country.
Joining Netguru as a Client Partner means:
a unique opportunity to work for a fast-growing, professional software services company with a global reach,
having a real impact on Netguru global growth,
enjoying a high degree of autonomy in challenging and diversified sales projects,
working in a strong organization that prioritizes learning and has innovative and constantly improving processes,
working alongside experienced and highly qualified experts from various fields,
taking advantage of flextime and flexplace – adjust your daily schedule to your individual needs,
competitive fixed salary with result-based uncapped bonus options,
working on the best equipment – we will provide you with a Macbook, iPhone and all the tools you need.
If you need any disability-related adaptation at any step of the recruitment process – simply let the recruiter know! We'd be happy to help.
Don't hesitate and apply right away! In case of questions - drop us a line at jobs@netguru.com!
Any questions? Talk to Dominika!