Ongoing
PLN 7 000 - 12 000
+ VAT (Contractor)
PLN 5 800 - 10 000 Gross (UoP)
View Career Path
Our mission at Netguru is to help entrepreneurs and innovators shape the world through beautiful software. We care about trust, taking ownership, and transparency. As a Certified B Corporation®, we offer a safe, inclusive and productive environment for all team members, and we're always open to feedback. If you want to work from home and be a full time employee, great! We want to create the right opportunities for you.
B2B: +16 paid days off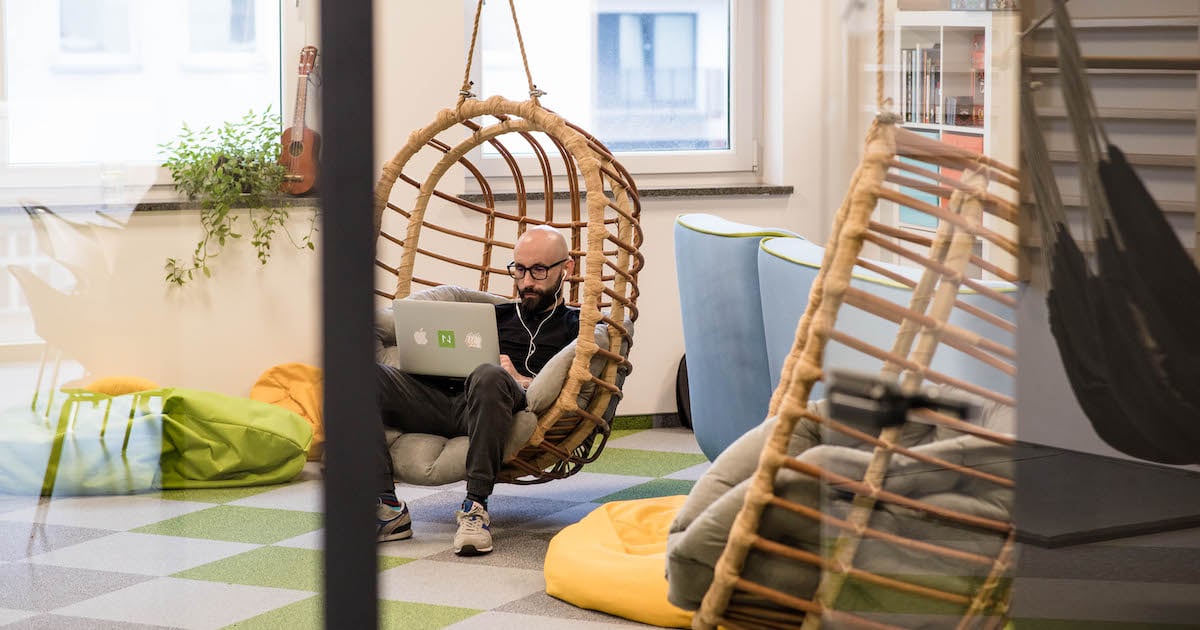 Job description
Hi! We are Netguru. We help entrepreneurs and innovators shape the world through beautiful software. We're looking for people to join our team and build a culture based on trust, taking ownership, and transparency. Introducing innovative solutions and improving our internal processes are the foundation for our development and achievements.
We also help team members develop their skills through internal learning opportunities, R&D projects, and personal growth budgets. Our efforts bring results: Netguru ranks as one of the most desired IT employers, alongside Facebook, SpaceX, and Netflix.
We are looking for an experienced Frontend Developer to strengthen our team. Looking for new challenges or just want to switch to really entertaining projects? Do not hesitate and apply to Netguru!
Joining Netguru means:
Enjoying flextime and flexplace: adjust your daily schedule to your individual needs, work from the office or from home.
Working on the best equipment: we will provide you with a MacBook and additional accessories for your computer to make your work even more efficient and comfortable.
Having a smooth start: your leader and a buddy will support you and mentor you.
Working in an experienced team of great specialists.
Contributing to projects for clients all over the world.
Making an impact on our existing processes and creating new ones – we're always open to brilliant ideas.
Dev-friendly processes such as Continuous Integration, Continuous Delivery, Code Review and bug bashes.
Ready to apply? This is what we are looking for:
Must-haves:
Proven, min. 1+ years' commercial experience in building React and/or Angular web applications.
Awareness of state management patterns and solutions (e.g. Redux / Mobx).
Practice in using ES2015+.
Ability to create a DRY and S.O.L.I.D. code.
HTML5 APIs knowledge.
CSS3 knowledge.
Experience with Responsive Web Design.
Real-world git experience.
Knowledge of testing (i.e. React Testing Library, Jest, Jasmine, Karma).
Familiarity with typed solutions like TypeScript/PropTypes.
Knowledge of Docker' basics.
Good command of written and spoken English (min B2+); Polish is not required.
Strong communication skills.
Nice-to-haves:
Knowledge of common JS libraries (lodash/ramda/underscore, date-fns, react-intl, react-final-form etc.).
Familiarity with tools such as Webpack /Prettier / Babel / Eslint.
Knowledge of:

Single Page App architecture,
type systems - Flowtype, Typescript,
E2E testing (Cypress)

Some experience in:

Server Side Rendering, code-splitting,
front-end performance and/or SEO optimisation,
Node.js.

Familiarity with Continuous Integration practices and tools (i.e. CircleCI, Jenkins).
Some experience with TypeScript.
Some experience in Server Side Rendering / Static Site Generation, (i.e. Gatsby, Next.js).
Perks & benefits:
Access to the WorkSmile platform offering benefits adapted to your preferences:

Multisport card,
Private health insurance package,
Life insurance,
And hundreds of other options to choose from 15 categories (shopping, leisure, travel, food, etc.)

Support for your growth - a book budget and a head/manager's budget available to every employee,
Discounts on Apple products,
One-time 1000 PLN home office bonus,
Home office equipment sharing option,
Various internal initiatives: webinars, knowledge sharing sessions, internal conferences.
What does the recruitment process look like?
Application
An Email from our recruitment team if your application matches our requirements
A task
Call with the recruiter
Pair programming
Final stage - meetings with the Team Leader
Sounds like a perfect job? ;)
Don't hesitate & apply now
Got questions? Feel free to contact Hania!