Application Closed
PLN 16 500 - 24 500
Before Tax (Business Contract)
PLN 13 800 - 20 770 Gross (Employment Contract)
Stock option plan
Performance bonus
Click for the details
Sorry, our forms might not work
Our mission at Netguru is to help entrepreneurs and innovators shape the world through beautiful software. As a Certified B Corporation®, we offer a safe, inclusive and productive environment for all team members. If you want to work from home and be a full-time employee, great — you can apply right away.
Perks: +1 000 PLN home office bonus, Multisport card, private health insurance, discounts on Apple products, development budget and more

B2B: +20 paid days off

Performance bonus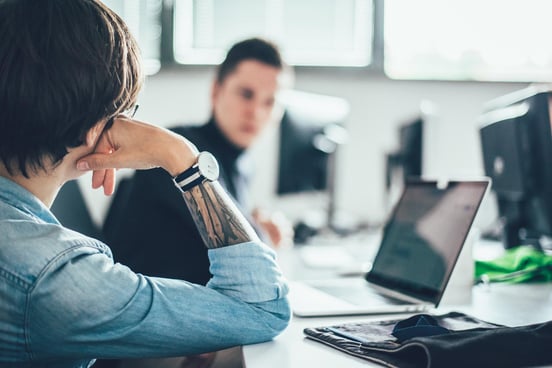 Revenue Operations is a new division in the Business Development department. Partially rooted in our current Sales Operations and Research teams, its main mission is to improve our efficiency in all areas related to the customers, sales process and revenue. The new division will combine the following parts of our operations:
Strategy and planning

Process and workflow

Enablement

Analytics/measurement/insights

Data management for Revenue Function (Growth + Business Development)

Technology platforms/tools
Together with the new team comes an opening for the role of a manager, who will have the opportunity to shape it from the very beginning. The division itself covers a broad range of duties, and the list below should give a flavor of what the manager's role is about.

Your role as the Revenue Operations Manager will include:

Strategy and Planning
Co-shaping and operationalizing our go-to-market (GTM) strategy. Designing an end-to-end customer strategy, organizing different Netguru functions around it to maximize conversions, profitability, and the customer experience.

Aligning the Business Development Team's makeup, setup, and incentives to enable GTM strategy execution.
Process and workflow
Designing new or redesigning existing processes to combine different function needs whilst keeping the customer at the center of our operations.

Building end-to-end processes that are easy and user friendly for maximum adoption.

Capturing best practices and changes in playbooks for the revenue functions to follow.

Ensuring full execution of existing processes.
Enablement
Designing a set of sales enablement materials and training to ensure the Business Development Team is capable of, for example, delivering Customer Development Calls with level three offering or digital acceleration pitch to drive expansion of the existing customer base.

Iterating on Value Based Proposals for maximum conversion in New Business sales.

Ensuring new offerings are launched with customers and the market in mind.
Analytics/measurement/insight
Developing strategies to maximize our profitability – talent pool utilization, pricing, bench sell-out.

Redesigning segmentation to accommodate, among others, customer and project needs, value and types of services sought, talent match.

Proactively feed suggestions and initiate changes based on market/internal analytics and observations.
Data Management for Revenue Function (Growth + Business Development)
Aligning and connecting different data sources – SFDC, HubSpot, Google Analytics systems, etc.

Improving revenue predictions and billable headcount needs.

Designing and launching a Blank Case Study process.
Technology Platform/ Tools
Knowing SFDC, HubSpot. LinkedIn Sales navigator, google sheets, and data analytics tools to support the revenue function.

Automating processes through tools, like proposals creation, to make the sales team more efficient whilst maintaining quality.
Managerial & Leadership
The duties listed above are very broad, and to deliver them successfully you will lead a team of specialists (and possibly leaders). This will mean:
Leading all team live related aspects – recruitment, motivation, job scoping, standard setting, rewards, recognition, and realignment of expected standards.

Managing cross functionally with no hierarchical authority over to ensure project completion.

Using the player-coach approach – skilfully shifting between managing and getting involved to lead by example.

This role is for you if you have:
Managed a team through Team Leaders or managed a cross-functional team with more than one type of role – Sales Ops, Sales Enablement, BI, Data, Sales team – with strong contribution to sales processes or similar.

Experience in building a new function.

Experience in designing processes, building playbooks, and converting a static strategy written in a google document into live, end-to-end systems.

Proven ability to work autonomously to end level goals and KPIs.

Experience in leading many complex, cross-functional projects at the same time.

Experience working with data and process automation.

Experience in selecting areas for analysis and improvement, and commitment to proactive improvement and change proposals – i.e. Pricing optimization, talent allocation, or customer segmentation.

Strong execution skills and ability to work through conflicting priorities and interests to achieve a project goal.

Good understanding of how the sales process works, as well as the types of materials and training a sales team needs to be successful.

Desire to prioritize based on the short term needs and long term strategy.

A good understanding of modern sales organization tech tools and the ability to implement those that will lead us to the best ROI on our sales operations.

Deep knowledge of SFDC, HubSpot. LinkedIn Sales Navigator, Google Sheets, data analytics tools.

Motivation to hold teams accountable for CRM data quality standards, i.e. up-to-date assignment end dates and assignments statuses at different stages of the talent pipeline (Talent Requests, Booked, Start Dates).

Joining Netguru as a Revenue Operations Manager means:
Having an opportunity to create a new division on the foundations of existing ones.

Having autonomy to create and redesign processes, shape or co-shape strategies, and convert them into live, end-to-end systems.

Leading company-wide projects with a significant impact on the entire organization.

Working in an organization focused on delivering excellence and the finest solutions with well-functioning processes on board.

Managing a team of specialists or leaders. Working with a motivated and ambitious team who think outside-of-the-box, develop top solutions, and value open communication.

Having a dual strategic and operational role involving cooperation with a whole variety of stakeholders.

Perks & Benefits:
Access to the WorkSmile platform offering benefits adapted to your preferences:

Multisport card,
Private health insurance package,
Life insurance,
and hundreds of other options to choose from 15 categories (shopping, leisure, travel, food, etc.)

Individual growth budget for your educational plan,
Discounts on Apple products,
One-time 1000 PLN home office bonus,
Various internal initiatives: webinars, knowledge sharing sessions, internal conferences.
Learn more about the additional support we offer for Ukrainian citizens or those who have decided to relocate to Poland due to military action in Ukraine (regardless of their nationality) - click here. We hope that this assistance will help you feel safe and welcomed in our country.
If you need any disability-related adaptation at any step of the recruitment process – simply let the recruiter know! We'd be happy to help.
Don't hesitate and apply right away! In case of questions - drop us a line at jobs@netguru.com !
Any questions? Talk to Karolina