Ongoing
PLN 10 700 - 17 800 + bonuses
Before Tax (Business Contract)
PLN 8 900 - 14 800 + bonuses Gross (Employment Contract)
Click for the details
Sorry, our forms might not work
Our Business Development Team takes care of our clients from the very first hello. The Team leads the process through qualification, needs analysis, project estimations and negotiations, to signing the deal.
The BD Team is 50+ people strong. Our business and team are growing really fast. That's why we're looking for YOU!
The recruitment process will start in Q2 2023. Right now, we're gathering applications for this role. Send us your application and we'll be in touch once this recruitment process kicks off!
Base salary + quarterly bonuses

Perks: + 1 000 PLN home office bonus, Multisport card, private health insurance, discounts on Apple products, development budget, and more!

B2B: +20 paid days off

Required skills: 3+ years in IT software sales/consulting; C1+ English.

Location: remotely in Poland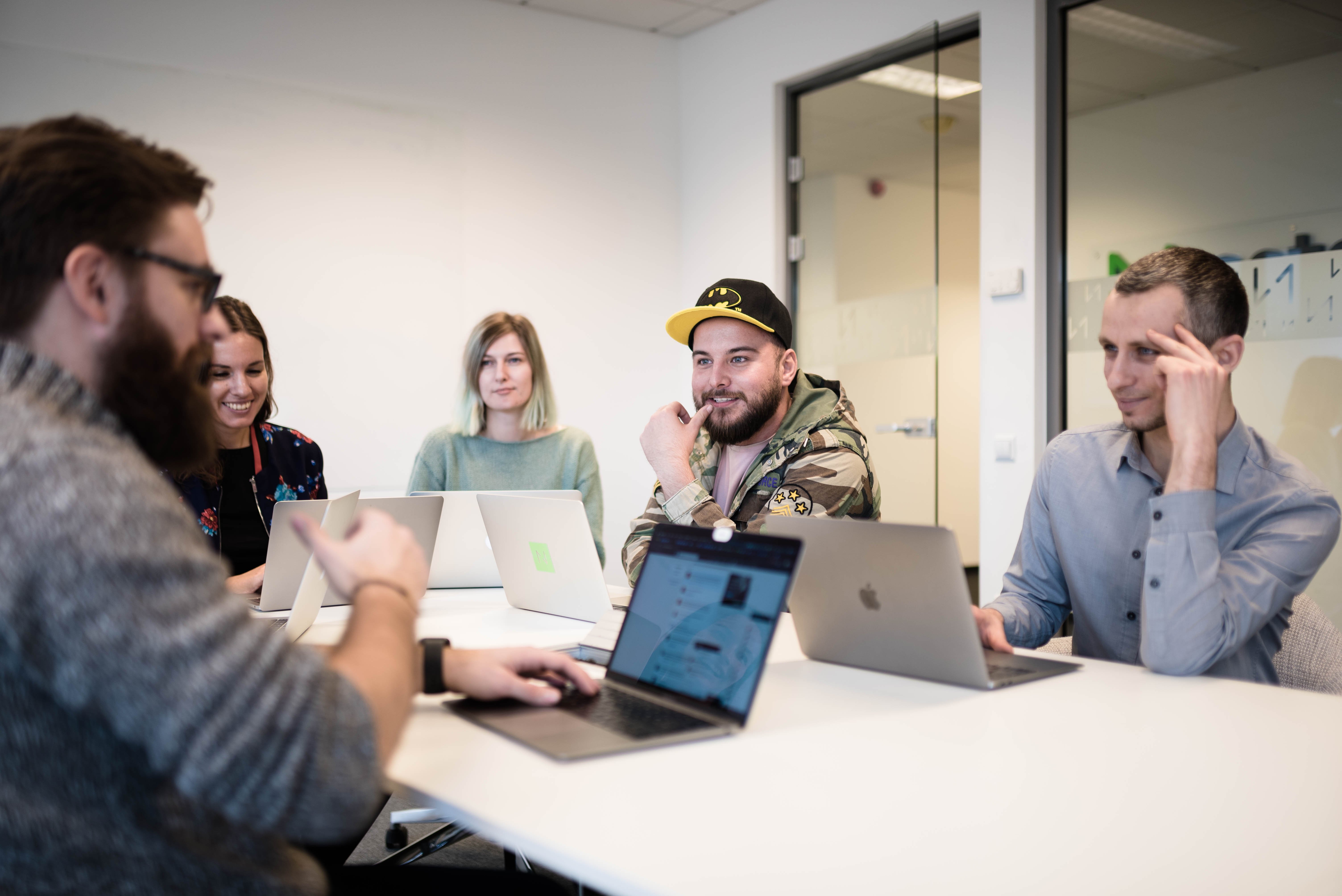 Your responsibilities:
Growing business within an assigned market vertical or account base.
Leading the full sales cycle. From prospecting, through winning to existing customers management and expansion.
Generating new opportunities through outbound activities and effectively converting marketing generated leads.
Partnering up with domain experts to consult clients' executives on their needs and identify commercial opportunities.
Building commercial proposals and leading negotiations to start long-term, value-based business relationships.
Acting as a business partner, nurturing relationships with existing clients and watching over exceptional customer experience on a daily basis.
Creating and executing account growth plans for a portfolio of prospective and existing customers.
Co-creating and executing financial strategy (margin and revenue) for a portfolio of accounts.
Co-creating specific service offerings, as part of the go-to-market strategy.
Staying relevant to the customers by keeping up with latest industry trends, networking though industry webinars and events.
Working to a set of KPIs including revenue, margin and NPS.
Ready to apply? This is what we are looking for:
Must-haves:
At least 3 years of experience in a similar position in IT software sales OR in a consulting role in a specific industry (financial services, retail, healthcare, proptech, greentech, media and telco, etc) with direct revenue accountability.
Experience in building opportunities pipeline through outbound activities - market research, business analysis, networking, and referrals.
Experience in leading full sales process – from prospecting through deal signing to managing and growing the existing business
Proven track record of closing business deals exceeding 1M PLN and identifying cross selling and upselling opportunities within managed accounts.
Experience working with the companies at different growth stages - start-ups, scale-ups and enterprises. Practical knowledge on how to approach, win and manage the cooperation with each type.
Excellent command of written and spoken English (CEFR C1+), Polish not required.
Exceptional communication and interpersonal skills to build relationships based on mutual trust with customers and colleagues.
Ability to build and convey the vision in a compelling way and strong negotiation skills.
Well-established network within an industry and an ability to build a strong network within the accounts.
Understanding of the new technologies.
Honest, transparent and professional approach that fits our organisational culture.
Practical skill in building business proposals.
Hands-on experience in crisis and conflict management.
Nice-to-haves:
Experience in planning and executing strategy for selling to a new industry/country and building new services offering.
Understanding of the Account-Based Sales approach.
Working knowledge of Salesforce, HubSpot, LinkedIn, Outreach.io or other CRM systems.
Able to present company at external conferences and maintain professional social media presence.
Experience in working in remote-first culture.
Our values are important to us, so we expect certain attitudes from you:

Staying curious and refraining from making assumptions about your prospects.
Being proactive in looking for solutions instead of complaining.
Being responsible for your results and measuring your performance.
Questioning the status quo in a constructive manner.
Being supportive to other team members.
Being humble, honest, and transparent: no tricks, no gimmicks.
Being mentally prepared to cope with losses.
Perks & benefits:
Access to the WorkSmile platform offering benefits adapted to your preferences:

Multisport card,
Private health insurance package,
Life insurance,
And hundreds of other options to choose from 15 categories (shopping, leisure, travel, food, etc.)

Support for your growth – a book budget and a head/manager's budget available to every employee,
Discounts on Apple products,
One-time 1000 PLN home office bonus,
Various internal initiatives: webinars, knowledge sharing sessions, internal conferences.
What's in it for you?

You'll join our 50-people Business Development Team.
You'll get bonuses for exceeding target quotas.
You'll work on high-volume diverse and exciting projects with clients from Europe, the United States, Asia, and the Middle East in a fast-paced sales cycle.
You'll get sales knowledge on dedicated workshops with top sales experts.
You'll work with experienced and highly qualified experts from different fields. They'll support you through our various knowledge-sharing initiatives.
You'll have a clear career path: you'll know exactly what skills to work on to grow.
Your leader will deeply care about your development: you'll meet every 3 months to discuss your progress and share feedback.
You'll take advantage of flextime and flexplace – adjust your daily schedule to your individual needs.
You'll work on the best equipment – we will provide you with a Macbook, and all the tools you need.
What will happen next?
You will receive an email from our recruitment team with the information if your experience matches our requirements.
If everything goes right, we will meet at online interviews!
If you need any disability-related adaptation at any step of the recruitment process – simply let the recruiter know! We'd be happy to help.
About Netguru
Our mission at Netguru is to help entrepreneurs and innovators shape the world through beautiful software. We care about trust, taking ownership, and transparency. As a Certified B Corporation®, we offer a safe, inclusive and productive environment for all team members, and we're always open to feedback.