Our mission at Netguru is to help entrepreneurs and innovators shape the world through beautiful software. We care about trust, taking ownership, and transparency. As a Certified B Corporation®, we offer a safe, inclusive and productive environment for all team members, and we're always open to feedback. If you want to work from home and be a full time employee, great! We want to create the right opportunities for you.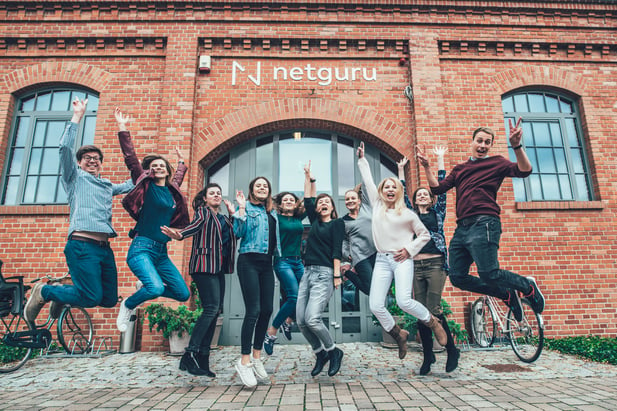 We are thrilled that our Talent Acquisition Team is growing, so right now we are on the lookout for an Intern who would like to try their strengths in the field of sourcing. You feel that you don't have any experience, but would love to learn a lot? Don't hesitate and grow your sourcing expertise with us! :)
Joining Netguru's Talent Acquisition Team as a Sourcing Intern means:
Growing yourself and the people around you - you will give and receive regular feedback in a team of open-minded people who will always have your back,
Having a clear career path, based on clearly defined goals - you will frequently meet with your leader who will help you make full use of your potential. After a successful internship you will be offered a Junior Sourcing Specialist role!
Room for experimenting and questioning the status quo,
Taking part in our weekly Creative Friday meetings - to help you replenish your creative mind, share knowledge and ideas, and get together :)
Flexplace - having a lot of flexibility in terms of working hours and location,
Working on the best equipment – we will provide you with a Macbook and additional accessories for your computer to make your work even more efficient and comfortable.
To help you understand your typical day, let us guide you through your main responsibilities:
Using creative search methods to find and attract new talent on different social media platforms,
Working predominantly on various technical positions,
Testing new platforms, new tools, and new techniques to reach passive candidates,
Effectively turning passive candidates into active and engaged ones,
Measuring the effectiveness of conducted activities,
Working closely with different internal clients - Recruiters, Recruitment Manager and Team Leaders, Employer Branding Specialists.
Ready to apply? This is what we are looking for:
Advanced command of written and spoken English (B2+) and Polish (B2+),
Eagerness to develop yourself in the Sourcing Specialist path,
Being proactive, collaborative, and receptive to feedback,
Readiness to work on ambitious goals,
Excellent communication and writing skills.
If you want to read more about why working at Netguru might be your thing, check out our 7 reasons to work at Netguru.
If you need any disability-related adaptation at any step of the recruitment process – simply let the recruiter know! We'd be happy to help.
We are waiting for new Sourcing Interns!
Are you ready to join us on our journey? 🚀 Don't hold back and apply!
Any questions? Talk to Aleksandra!