Being Kotlin enthusiasts and seeing how great 2017 KotlinConf talks were, when it was announced that the 2018 conference will take place in Amsterdam, we knew we must be there no matter what - we were not disappointed. The organization, talks, party, live concert (yeah there was even live concert by Queen and Freddie Mercury was brought back to life), ability to network with other Kotlin devs, all were top notch - the quality you could expect from JetBrains.
Together we decided to sum up all that happened during those two crazy days and collect the list of best talks that we had the chance to attend.
Day 1
Keynote

Video:

https://youtu.be/PsaFVLr8t4E

Summary: Nice Conference Opening Keynote by Andrey Breslav. You can find there a lot of interesting information about how it started, Kotlin in numbers, incoming release, language evolution and plans for the future.

Rating 8/10

Recommended for: Everyone

A Multiplatform Delight

Video:

https://youtu.be/WkIry790PHI

Summary: Great talk by Jake Wharton and Alec Strong about the new possibilities that Kotlin gave to the well know Android library - SQLDelight. In this talk, the authors talked about their approach to convert the library to support multiple platforms.

Rating 9/10

Recommended for: Everyone interested in how multiplatform works in practice and especially SQLDelight library users.

Android Suspenders

Video: https://youtu.be/P7ov_r1JZ1g

Summary: One of the best talk about coroutines and how they fit into Android by Chris Banes. The author is an engineer working at Google, this presentation is based on the knowledge gained while working on his open source project

TIVI

, that probably some Android devs might have already seen.

Rating: 7/10

Recommended for: Android devs interested in introducing Coroutines into their project.

Annotation Processing in a Kotlin World

Video: https://youtu.be/a2RoLFzrFG0

Summary: Really great talk by Zac Sweers. You can find out what is the @Metadata annotation and how it can help you to better understand Kotlin code during annotation processing, how we can get rid of reflection and replace it with codegen (

Moshi

case study) or how to generate Kotlin code using

KotlinPoet

.

Rating 8/10

Recommended for: Everyone, especially those interested in annotation processing and codegen

Architecting a Kotlin JVM and JS multiplatform project

Video: https://youtu.be/pcwIs749KSE

Summary: Felipe Lima, an engineer working at Airbnb, shares the knowledge gained while working over his pet project -

Kotlin multiplatform NES emulator

(wow). While the project still needs some care as it's not fully functional on all the platforms, you can already gain some knowledge about how to architect such projects.

Rating 8/10

Recommended for: Anyone interested in using Kotlin multiplatform capabilities.

New Type Inference and Related Language Features

Video: https://youtu.be/MyljSWm0Y_k

Summary: After watching last year's great talk from Svetlana about

Kotlin Types

, we had high expectations, and we knew that we could expect a lot from her 2018 talk. Svetlana takes us through the newest Kotlin features that are yet experimental. She also introduces us to the new type inference algorithm, **Spoiler alert** SAM Issues are solved by this change, so using RxJava with Kotlin might become a bit more pleasant without using workarounds like RxKotlin does **End of spoiler**

Rating: 9/10

Recommended for: Everyone - one of the nicest introduction to Kotlin updates

Representing State: the Kotlin Edition

Video:

https://youtu.be/-lVVfxsRjcY

Summary: In this talk, you will see and learn if Christina's mom money spent on college, actually did pay off ;) (it surely did in my opinion). Nice talk about how to represent the state in your code using possibilities that Kotlin gives you, and how definitely not to do it.

Rating: 9/10

Recommended for: I'd say beginners to intermediate, but Christina is such a great speaker that I would recommend watching it to anyone to learn and see how to execute a nice technical talk without making people sleepy.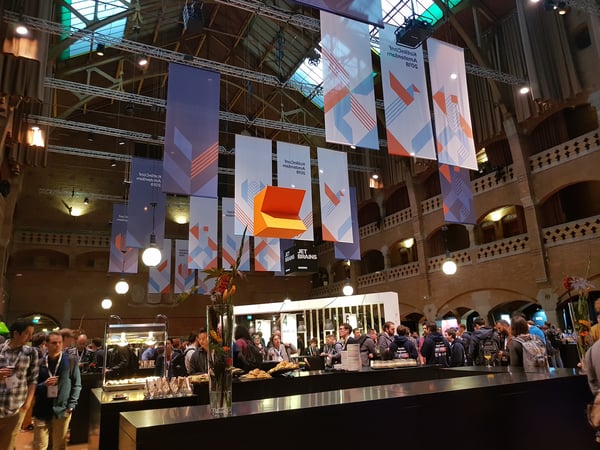 Party

Video: What happens in Amsterdam, stays in Amsterdam

Summary: Just WOW

Rating: 11/10

Recommended for: @Everyone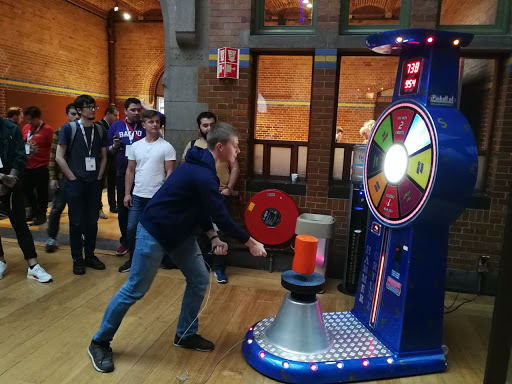 Day 2
Making Noise with Kotlin/Native

Video: https://youtu.be/vc04QKnryKs

Summary: Really nice talk by Josh Skeen. A great introduction to Kotlin/Native based on

an ascii aquarium

project. It contains a lot of useful information, starting from environment configuration, through adding external libraries and implementing different features, to building application for a specific platform. Josh shows that Kotlin/Native is a very powerful tool and we definitely should try to use it!

Rating 9/10

Recommended for: Everyone interested in Kotlin/Native

Functional Programming in Kotlin with Λrrow

Video: https://youtu.be/VOZZTSuDMFE

Summary: Nice introduction to

Λrrow

by Raúl Raja Martínez. In this talk, the author did a comprehensive walkthrough of the most important features of that library. The presentation contains a lot of code examples that show how we can enhance Kotlin code with Typed Functional Programming.

Rating 7/10

Recommended for: Everyone who wants to start with

Λrrow

Kotlin Coroutines in Practice

Video: https://youtu.be/a3agLJQ6vt8

Summary: In my opinion - one of the best talks at KotlinConf18. Roman Elizarov gives us a lot of useful tips of how we can use the new

Kotlin Coroutines

in practice. He showed us why we should care about them - we don't have to worry about shared mutable state and synchronization. Moreover, we can easily communicate (transfer a stream of values) between different coroutines using

Channels

. Before that talk, I had many doubts when it comes to coroutines, but now I will try them for sure!

Rating 10/10

Recommended for: Everyone!

Best Practices for Unit Testing in Kotlin

Video: https://youtu.be/RX_g65J14H0

Summary: Philipp Hauer shows us how we can improve unit testing in Kotlin. He gave us a lot of useful information about libraries, tests configuration and how this language can have a big impact on unit testing. You can find more information in the article written by Philipp -

https://blog.philipphauer.de/best-practices-unit-testing-kotlin/

. Below you can find some highlights from the presentation:

Use

JUnit5

Define proper Test Class Lifecycle

Group the test methods by using @Nested inner classes

Find your's favorite mocking and assertion libraries

Reveal the power of data classes

Rating 7/10

Recommended for: Everyone who wants to improve unit testing in Kotlin

Kotlin puzzlers, vol 2

Video:

https://youtu.be/Xq9vBZs0j-8

Summary: What can I say? It was an AMAZING talk by Anton Keks. If you think that you know Kotlin - you should definitely check this one. Anton presented some very interesting nuances of syntax or language features as puzzlers - a piece of code that doesn't work the way it seems it should work. I really encourage you to check this one! All Kotlin puzzlers are available on Anton's Github:

https://github.com/angryziber/kotlin-puzzlers

. Moreover, you can find vol 1 (presented on KotlinConf17) here:

https://youtu.be/ukwVzLq_pHk

Rating 10/10

Recommended for: Everyone

Closing Panel

Video: https://youtu.be/heqjfkS4z2I

Summary: The closing panel had a form of Q&A session, where the audience had the chance to ask any Kotlin-related questions to the JetBrains team and other Kotlin experts gathered live on stage. Some questions were tricky, some were touching the things that not everyone likes about Kotlin, and some did receive great applause. They were, definitely, not easy.

Rating: 10/10 @hhariri JS jokes will never be outdated

Recommended for: Everyone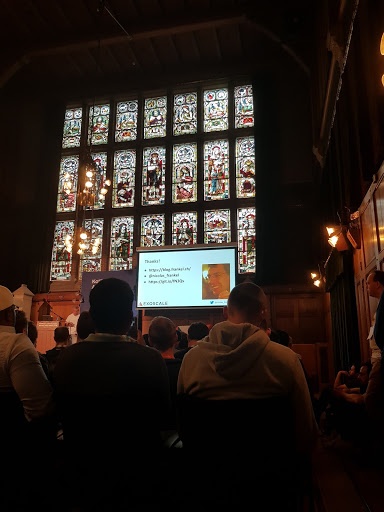 Summary
KotlinConf 2018 was a great experience and we had lots of fun *pun intended*. We are looking forward to 2019 edition and ability to network with other Kotliners once again.
Have a nice Kotlin!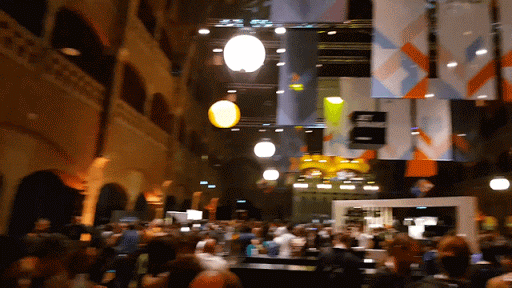 Authors