A Comprehensive Mobile App for the Middle East's Leading Developer
Here is an example for header caption. Don't forget to change it!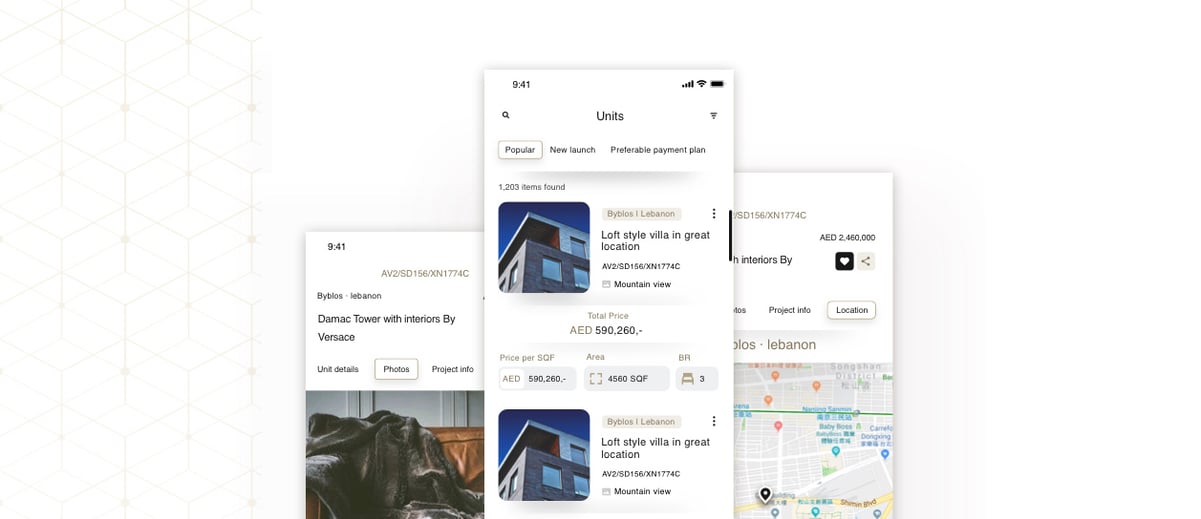 About this project
DAMAC Properties is one of the Middle East's leading developers of luxury homes. The company developed an idea for an app in which all of the information the agents needed, is available at their fingertips. The team at Netguru has been instrumental in helping DAMAC to produce a comprehensive digital product that delivers a range of features.
Having delivered close to 25,000 homes, and with a development portfolio of almost 40,000 units at various stages of progress, DAMAC Properties is one of the Middle East's leading developers of luxury homes. The company strives to bring uncompromising customer service to a high-end market that is becoming increasingly competitive.
The leading players in the worldwide real estate market are investing heavily in cutting-edge technologies to digitally transform their organisations. DAMAC has been on the forefront of this trend - the company is currently on the home stretch of building an application that will streamline the work of its agents.
The journey to becoming a market leader
DAMAC has been operating in the real estate market since 2002, delivering residential, commercial, and leisure properties across the UAE, Saudi Arabia, Qatar, Jordan, Lebanon, Oman, and the United Kingdom. Over the past 17 years, despite major market fluctuations and the financial crisis, the company has been able to achieve steady growth and retained its top position in the industry. One of the key ingredients behind DAMAC's market leadership is a rare combination of long-term strategy, execution and the adoption of innovative technology solutions.
To further this strategy, DAMAC has been partnering with well-established brands such as Versace Home, Fendi CASA, the Trump Organisation and more to instil trust, and vouch for the excellent quality of its real estate projects.