Hiperpool Case Study
Relaunching a live marketplace app in 6 weeks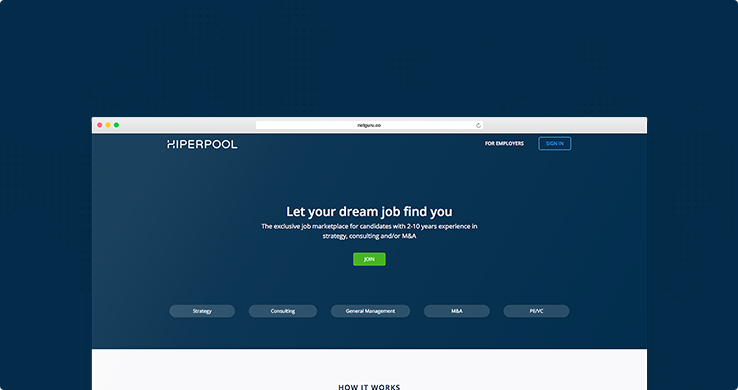 Hiperpool is a selective marketplace that connects high-potential business talent to the most exciting opportunities.
Challenge
The London-based startup had some difficulties finding a quality development team before partnering with Netguru.
Difficulty in finding quality software engineers in London.
Bad experiences with remote dev teams.
Taking control of the code in an overdue project.
Reconfiguring a living app with visitors, users and ongoing promotions.
Process
Patience, self-confidence and assertive communication were the keys to gaining trust of the client and performing a rapid overhaul of the Hiperpool recruiting platform. Netguru's team was able to put the project on track and introduce proven project management.
Precise planning during the scoping session.
Focus on step by step solutions.
Upfront and transparent communication with daily updates.
Expanding the team to 2 developers.
Results
In less than 2 months, Netguru was able to release a new and stable version of the Hiperpool platform. It was a great success. Netguru helped Hiperpool's founders solve their technical problems and launch a quality product.
Delivering a quality recruitment marketplace with great user experience.
Building trust in remote dev teams.
Stable development that facilitates adding new features and further improving the platform.
Access to a scalable development team.
Numbers
5 minutes to join the community
20 t

eam members

2 m

onths until relaunch

3 y

ears of cooperation