Our mission at Netguru is to help entrepreneurs and innovators shape the world through beautiful software. We care about trust, taking ownership, and transparency. As a Certified B Corporation®, we offer a safe, inclusive and productive environment for all team members, and we're always open to feedback. If you want to work from home and be a full time employee, great! We want to create the right opportunities for you.
B2B: Regular +16 paid days off; Senior +20 paid days off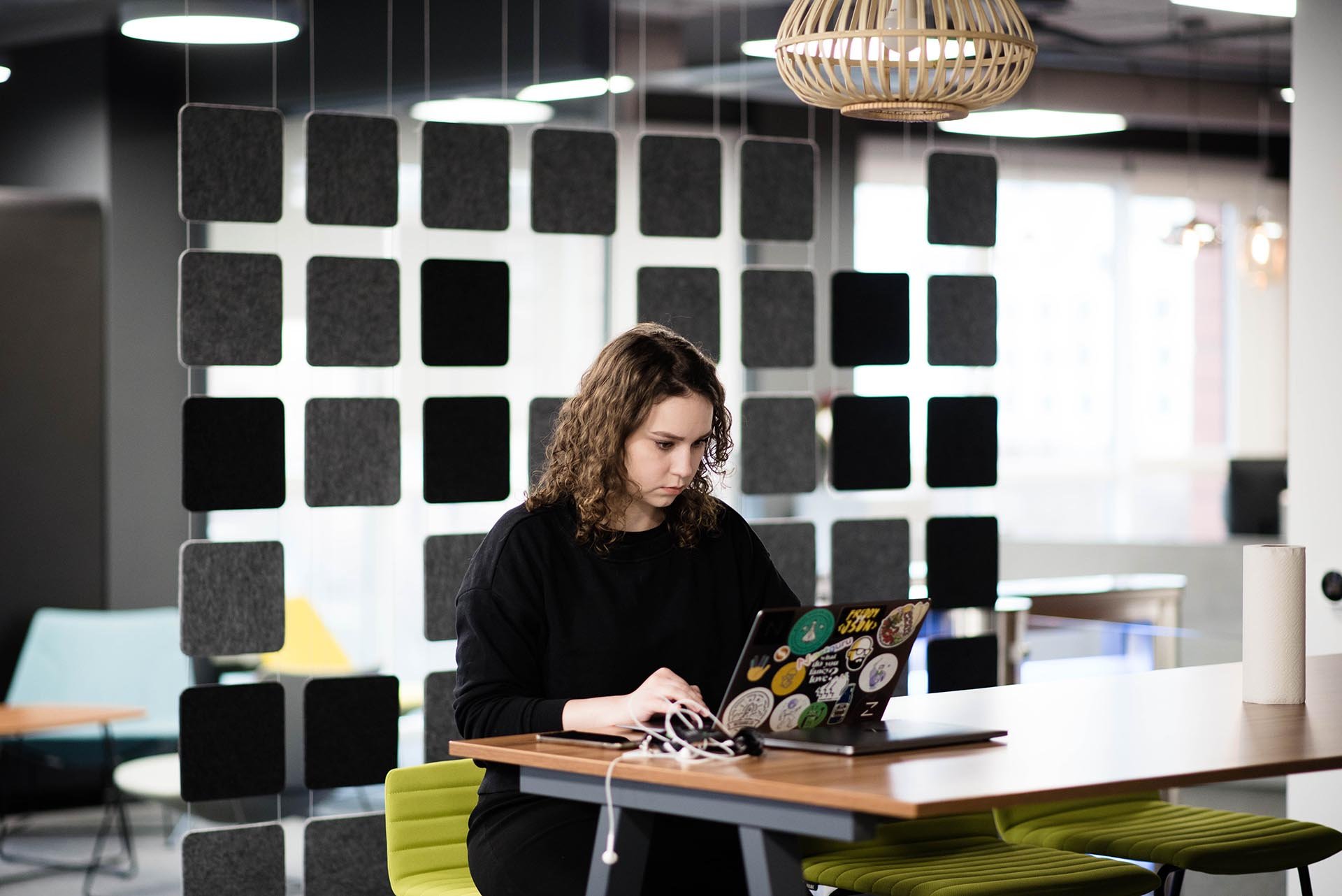 Hi! We are Netguru. We help entrepreneurs and innovators shape the world through beautiful software. We're looking for people to join our team and build a culture based on trust, taking ownership, and transparency. Introducing innovative solutions and improving our internal processes are the foundation for our development and achievements.
As a Certified B Corporation®, we offer a safe, inclusive and productive environment for all team members. We respect and want to build on our diversity. We are open to workplace adaptations.
We also help team members develop their skills through internal learning opportunities, R&D projects, and growth budgets. Our efforts bring results: Netguru ranks as one of the most desired IT employers, alongside Facebook, SpaceX, and Netflix.
Over the past ten years, Netguru has changed the way people bank, listen to music, learn languages, and rent bicycles. Some of their clients include Fortune 500 companies and startups like solarisBank, Hive, Temi, and more. Netguru works with the largest brands in the world, such as Volkswagen, IKEA, or Keller Williams.
We are looking for a Growth Hacker who will help us effectively grow our clients' products and businesses with different marketing tools and techniques. You will join the Product Management Team (part of Delivery Team) and you'll work solely with our clients' brands. You'll be the clients' go-to person and advisor on anything growth-related.
Salary:
Regular Growth Hacker: PLN 5,750-9,375 + VAT (B2B) + 16 paid days off or PLN 4,800-7,800 gross (UoP);
Senior Growth Hacker: PLN 9,375-13,500 + VAT (B2B) + 20 paid days off or PLN 7,800-11,300 gross (UoP).
What's in it for YOU?
Having a real impact on top brands from around the world.
Having a global exposure by working with international clients (95% of our clients are from abroad).
Helping innovators by providing meaningful services.
Working in a fast-paced yet friendly environment.
Collaborating with experienced and highly qualified specialists from different areas of expertise.
Using great tools: Hubspot, Salesforce, Zapier, Metabase, Ahrefs, SurferSEO, plus any tool you want.
Enjoying flextime and flexplace: adjust your daily schedule to your individual needs, work from the office or from home.
Working on the best equipment: we will provide you with a MacBook and additional accessories for your computer to make your work even more efficient and comfortable.
Having a smooth start: your leader and a buddy will support you and mentor you.
Let us guide you through your main responsibilities:

Advising and supporting clients with their go-to-market strategy.
Supporting clients in growing their products.
Analyzing data and making recommendations based on campaign results and product usage.
Creating and executing a strategy for any organic channels.
Reporting and documenting efforts and results.
Constantly experimenting and improving marketing funnels.
As a Senior Growth Hacker, you'll also have these responsibilities:

Driving discussions and consulting your clients' growth strategies and tactics.
Overseeing marketing campaigns for your clients.
Advising on the best go-to-market approach.
Choosing marketing strategies that drive expected results for your clients.
Ready to apply? First check if you:
Have a good understanding of SEO – finding relevant keywords with good search traffic and intent potential, analyzing competitors' visibility.
Have a relevant experience in conducting content marketing activities - writing, creating and editing content that broadens the reach.
Have basic knowledge of the tools listed below:
Facebook Ads, LinkedIn Ads, Twitter Ads, Google Ads, Analytics, Tag Manager, and Search Console.
Have at least 3 years of experience in B2B/B2C marketing.
Have a business and KPI-oriented mindset and are able to put yourself in the client's shoes.
Understand business processes and B2B/B2C sales funnels.
Have a very good command of written and spoken English (CEFR C1+); Polish not required.
For a Senior Growth Hacker, check if you:
Have experience with consulting and advising clients.
Have experience with both B2B and B2C environments.
Have understanding of business models and pricing.
Have maturity and independence to lead a client, without supervision.
Knowledge and experience of broad set of marketing tools and tactics.
It would be a plus if you have:
Practical knowledge in building landing pages and A/B testing.
Knowledge of:


Demand generation techniques,
Marketing automation solutions and analytics tools,
HTML, CSS, BI.
Perks and benefits for you:

Access to the WorkSmile platform offering benefits adapted to your preferences

Multisport card
Private health insurance package,
Life insurance,
And hundreds of other options to choose from 15 categories (shopping, leisure, travel, food, etc.)

Support for your growth – a book budget and a head/manager's budget available to every employee,
Discounts on Apple products,
One-time 1000 PLN home office bonus,
Home office equipment sharing option,
Various internal initiatives: webinars, knowledge sharing sessions, internal conferences.
If you want to read more about why working at Netguru might be your thing, check out our 7 reasons to work at Netguru.
We are waiting for our new Growth Hacker!
Are you ready to join us on our journey? 🚀 Apply today!
What will happen next?
You will receive an email from our recruitment team if your application matches our requirements.
If this is the case, you will be invited for an online language check to verify your English skills.
We'll also ask you to complete a recruitment task.
If everything goes well, we will meet you at online interviews (there will be two of them).
If you need any disability-related adaptation at any step of the recruitment process – simply let the recruiter know! We'd be happy to help.
Need more information? Drop us a line at jobs@netguru.com!