🤖 MLguru #8: PyRobot, State of AI and Free Machine Learning Workshops in London
Welcome to MLguru - our bi-weekly newsletter. This is our 8th edition, all of which I hope have helped you stay up to date with the latest news from the world of machine learning.
Let me know if you like it - share it on social media using the #MLguru hashtag or write me a private message.
Have a great read,
Konrad
Machine Learning News
Free Machine Learning Workshops in London
Have you heard about our latest machine learning workshops for fin-techs? Last week I had the pleasure of leading them in Berlin (I'm on the left). They included step-by-step plans on getting starting, solutions specific to finance and fin-tech, a case study and intimate discussions.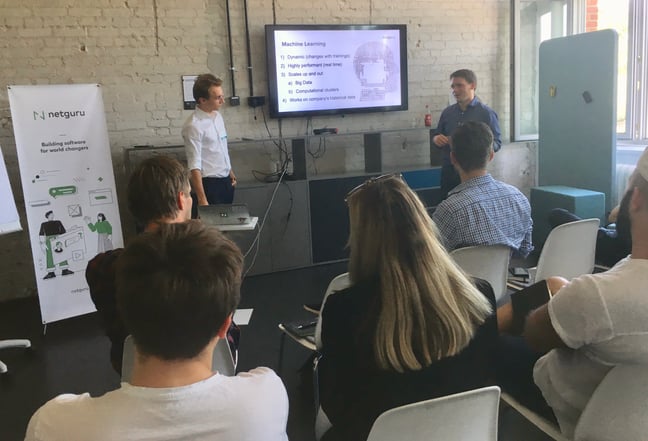 Next Friday, Piotr Gloger and I will have the opportunity to host them again in London. We still have a few places left, so feel free to sign up and join us.
---
PyRobot is here!
PyRobot is a Python package that provides a consistent set of hardware independent mid-level APIs to control different robots. It abstracts away details about inter-process communication and low-level controllers and allows non-robotics researchers (such as machine learning ones) to focus on building high-level artificial intelligence applications. It looks (and works) really well, you can read about it (and see some action videos) on its official website.
---
One GANpaint click and you can do magic
There are many Photoshop-like tools online. Nevertheless, GANPaint can do magic in seconds. It draws with object-level control using a deep network. Each brush activates a set of neurons in a GAN that has learned to draw scenes. Check out the video to see how it looks in action.
---
Size does matter
Let's be honest - in the machine learning world size does matter. That is why Intel researchers figured out how to compress AI models without compromising accuracy. Sounds great? Read more details in VentureBeat.
---
Machine Learning Must Read
Nathan Benaich and Ian Hoharth have just created the State of AI Report - 136 pages full of great insights. It's a must read for everyone interested in machine learning.
Some slides have been dedicated to deep learning in medicine, such as diagnosing eye disease or detecting cardiac arrhythmia. If you are interested in modern technologies in healthcare, read our latest interview with Michał Sosnowski from Soma Healthcare, who shared his opinions on patient management apps.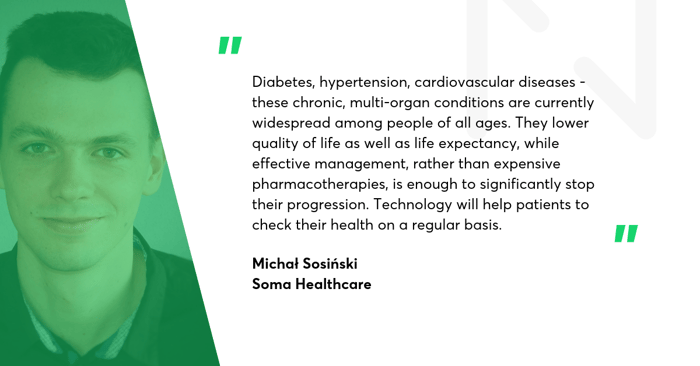 Read the full interview here or download our complex report about Patient Management Apps.
Let's stay on the heath topic and talk about the environment. In a recent study scientists from the University of Massachusetts, Amherst, performed a life cycle assessment for training several common large AI models. What were the results? They found that the process can emit more than 626,000 pounds of carbon dioxide, which is equivalent to nearly five times the lifetime emissions of the average American car.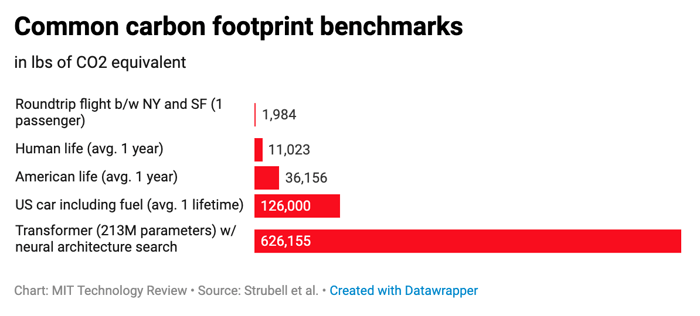 Sounds crazy, right? But don't worry. Technology can be good as well. Some time ago, my friend Michał Marcinkiewicz showed how machine learning can contribute to sustainable agriculture and environmental protection. Read the full article here.
And that's all for today. I'll get back to you in 2 weeks.