Design Process for pros — Overview & Steps | Comprehensive Guide 2023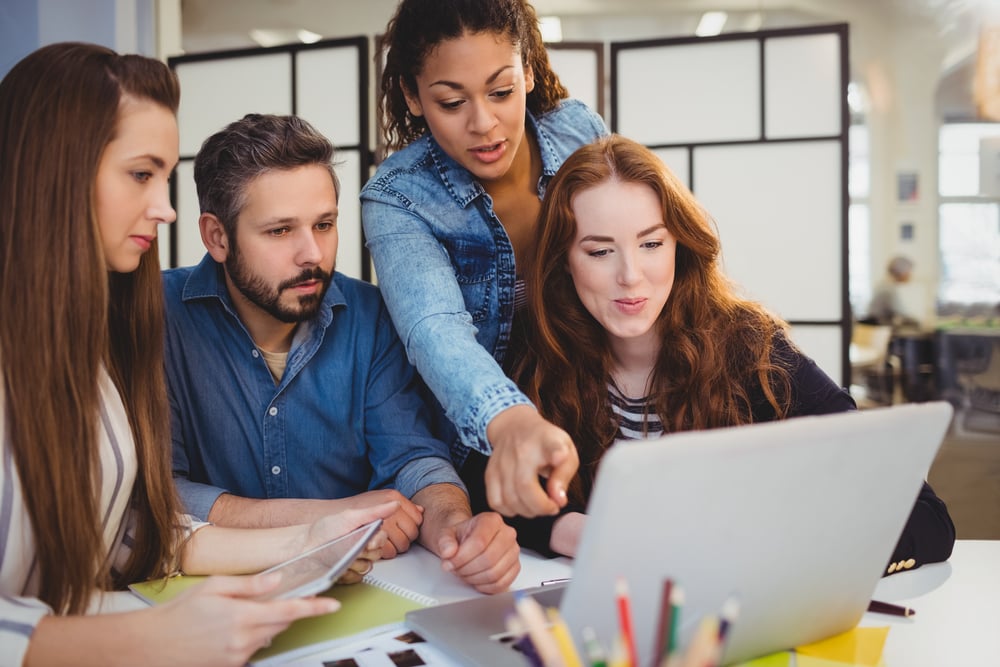 The Netguru team has had the privilege of working with a diverse range of clients building digital products for millions of users all over the world. With this depth of experience, we want to share how we've structured the Design Process we use for our projects.
Design Process for Pros is a practical guide for product designers, regardless of their level of experience, to better understand the systematic approach required in any product design process. Each of the chapters covers a specific phase of the UX design process that we've practiced over the years.
Chapter 1: Project Introduction & Setup
Chapter 2: Discovery
Chapter 3: Ideation
Chapter 4: Wireframing
Chapter 5: Testing
Chapter 6: Design
Chapter 7: Implementation
Chapter 8: Project Termination
In each chapter, we cover best practices, methodologies, tools, checklists, FAQs, for collaboration both with clients and teammates. Feel free to jump straight into chapters and sections relevant to your current learning objectives. This resource is intended to help you operationalize your knowledge in product design.
Understanding the Design Process
Before we go into pragmatic considerations, let's first take a step back for a broader understanding of what a design process is. In this introductory chapter, we cover the following:
What is the Design Process? Why do we need a well-defined design process?
Popular design process models: Double Diamond, Design Thinking, and Design Sprints
Key design principles to consider: human-centered design, heuristic evaluation, and the client-partner relationship
The latter part of this chapter outlines the list of practical topics covered under each phase in our design process.
What is the design process?
A design process is a systematic approach to problem-solving that incorporates creative and analytical thinking to deliver effective solutions. It refers to a series of steps that a designer or a team of designers follows to solve a problem.
Netguru's Design Process promotes collaboration and teamwork by involving multiple stakeholders in problem-solving, feedback, and iteration.
It starts with understanding the problem, gathering information, learning the user's needs, exploring potential solutions, prototyping, and testing before finalizing the product.
Proper implementation of the design process deploys structured and analytical tools to collaborate, gather data, and generate insights in order to make properly informed design choices. This includes various forms of research, design, and testing methods, which we'll cover throughout this ebook.
Why have a well-defined design process?
Organizations that create digital products will greatly benefit from having a clear structure for their design process because it:
Establishes clear expectations: When you share your design process with project stakeholders, you can work together to set deliverables and deadlines, where each party knows what they expect of each other.
Puts the client's mind at ease: By laying out a clear process, stakeholders are aware of how the design team works. They can monitor what's happening at every design phase and see how their idea translates into a product.
Challenges assumptions: Coming up with solutions through a structured design process enables the design team and project stakeholders to take into account multiple perspectives. This empowers them to see their own biases in order to find creative solutions.
Promotes collaboration and teamwork: A pragmatic design process brings together multidisciplinary professionals, eliminates silos, and encourages individuals to work together. This can bring out the best in problem-solving.
Reduces risk of failure: By defining the scope of a project and laying out a plan for how it will be executed, the design process ensures consistency and quality in design outcomes. It also allows for iterative learning through feedback loops so that mistakes can be corrected.
Popular design process models
There's a wide range of design methodologies, and we apply quite a few of them depending on the nature of the project. We've taken from various known approaches and adapted them to our practices and culture.
We cannot claim that the Design Process we use is the most superior framework in design. We believe that every organization can benefit from engineering their design process to their own specific contexts.
To help you formulate a design process that's right for your business, there are several well-known blueprints that can serve as references. Let me give a preview of three approaches: Double Diamond, Design Thinking, and Design Sprint.
Double Diamond
The Double Diamond design process is a framework that enables designers to create innovative solutions to solve complex problems. The Double Diamond design process is composed of four phases (Discover, Define, Develop, and Deliver) known for so-called divergent and convergent thinking approaches.
Divergent thinking is an open-ended approach that allows for the exploration of numerous paths, ideas, and solutions without restricting possibilities. Convergent thinking, on the other hand, is a more focused approach that narrows down possibilities until the single best option emerges.
Discover: Understand the problem you're trying to solve by collecting the information and talking to people affected by the issue.
Define: Use insights from the discovery stage to frame the fundamental challenge, pin down the right problem, identify user personas, and create a clear brief.
Develop: Start establishing your solution. Keep your user personas in mind and create a proof of concept where you test ideas.
Deliver: Build the solution to the problem and gather market feedback.
These four steps move the design process from the problem space to the solution space. The framework is generally used for a long-running process and whenever broad brainstorming is required. At the same time, the Double Diamond is an iterative design process, not a linear one. Don't worry if you think that you have to go back to earlier design process steps to distill your ideas.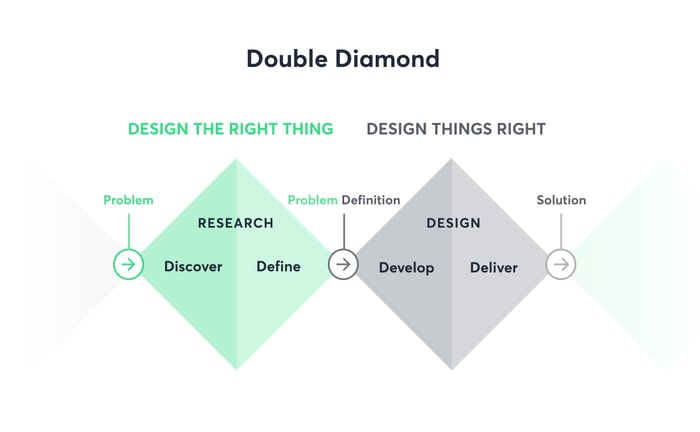 The Double Diamond design process
Design Thinking
Design Thinking is a human-centered approach to problem-solving and innovation that puts the needs of users and stakeholders at the center of the design process. It emphasizes collaboration, user empathy, experimentation, and iteration to solve complex problems. Design Thinking combines creativity with analytical problem-solving in order to find innovative solutions to meet user needs.
It has a non-linear, iterative framework comprised of five phases:
Empathize: Gain an empathetic understanding of the problem by setting aside your own assumptions and researching users' needs to generate insights. This step involves understanding your target audience by observing their behaviors and gathering data points from them.
Define: Collate data and analyze observations to define problem statements and create user personas. This step focuses on defining the problem statement in a human-centered way by synthesizing insights from the empathy phase.
Ideate: Come up with creative ideas through brainstorming sessions. Generating multiple potential solutions to the problem statement you've identified in the previous phase.
Prototype: Determine the possible solution for each problem by creating prototypes (scaled-down versions of the product) to investigate your ideas.
Test: Use your output from the prototyping stage to test out concepts with target users to get feedback. Return to previous design process steps to make changes and refinements if necessary.

The 5 stages of Design Thinking
Design Sprint
A Design Sprint is a condensed process that uses design thinking to reduce the risks inherent in introducing new products or features. Each design sprint should only last for a few days — we at Netguru do it in five days. This model takes influences from the Agile development approach and is tailored to digital products.
Ideally, you should only spend up to a day for each step of the sprint, as follows:
Understand: Begin by discussing the problem at hand and researching it in depth, identifying customer needs and mapping out potential solutions.
Define: Evaluate phase one findings, outline context and desired outcomes, and choose focus, goals, and metrics.
Sketch: Share a diverse range of ideas individually, narrow down to a single solution sketch per person.
Decide: Share solution sketches, finalize direction and design concept, and decide on a single idea.
Prototype: Design and build a limited-scope prototype without a fully functioning backend.
Validate: Put your prototype in front of people, gather user feedback, and end the sprint with a validated concept or an invalidated one to improve on.
Practitioners of design sprints say that this model is ideal when starting a new design project to create a vision and define a product. It promotes collaboration and encourages creative problem-solving in a short amount of time.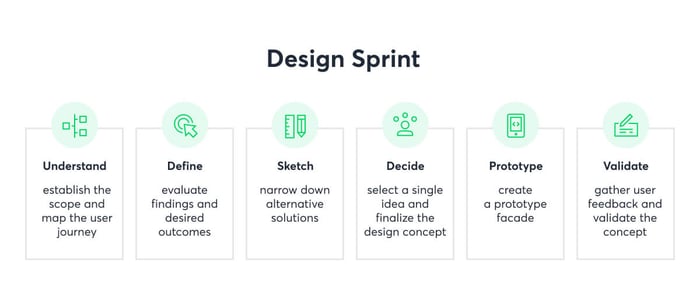 A Design Sprint
Key design principles to consider
In addition to these design process models, there are a few principles that are extremely important to our design teams. You'll notice that these principles throughout this guide.
Human-centered design
Human-centered design is an approach to problem-solving that puts people at the center of the process. The core of the human-centered design process revolves around empathy — understanding users' needs on a personal level.
Human-centered design has four principles (following the framework from the Interaction Design Foundation):
People-centered: Focus on people and their context in order to create things that are appropriate for them.
Solve the right problem: Understand and solve the right problem, the root causes, the underlying fundamental issues. Otherwise, the symptoms will just keep returning.
Everything is a system: Think of everything as a system of interconnected parts.
Small and simple interventions: Do iterative work and don't rush to a solution. Try small, simple interventions and learn from them one by one, and slowly your results will get bigger and better. Continually prototype, test, and refine your proposals to make sure that your small solutions truly meet the target group needs.
Design heuristics
There are a few design or usability heuristics that matter greatly to our designers, and we test for them using a heuristic evaluation. A heuristic evaluation is a usability inspection method to identify problems in an interface design and assess its overall quality.
This method involves having a small number of evaluators (usually 3-5 individuals) review the interface and provide feedback on its usability. Heuristic evaluations are fast, affordable, and efficient for designers to identify early design issues compared to other usability inspection methods.
Evaluators assess the overall usability of a product based on their own subjective judgment. Because the feedback from evaluators can cover a broad range of areas, design teams focus on and test for key design heuristics, such as:
Match between the system and the real world: Assess how closely the interface maps to users' mental models of the task they are trying to complete.
Consistency and standards: Investigate any inconsistencies between different parts of the interface, including both visual designs (elements like fonts, colors) and navigational structures (like menus).
User control and freedom: Checks that users can easily undo their mistakes, as well as navigate freely within the system without being forced into certain sequences of actions.
Error prevention: See if any errors resulting from incorrect user input could be avoided through good design practices such as confirmation dialogs or additional validation checks on data inputted by a user.
Recognition rather than recall: Determine if objects on the screen are clearly identifiable so that a user would recognize them rather than having to remember them in order to take an action correctly.
Flexibility and efficiency of use: Assess how quickly tasks can be completed by assessing factors like keyboard shortcuts available for advanced users.
As the findings of a heuristic evaluation can be subjective, they may not provide as much detailed data as other usability inspection methods. However, they can help to identify potential problems which could then be explored further with other methods when more resources are available. Ultimately, the goal is to use this method to quickly assess an interface and make improvements before it is submitted for user testing with real users.
Client-partner relationship
For an engagement to be successful, you must tailor the design process around the client, the product idea, and their requirements. This begins with taking a genuine effort to understand who the client is, who their customers are, and the problems they're trying to solve.
At the same time, while it's important to listen to the client, it's also valuable to lean on your own expertise to draw out ideas they may not have originally considered.
Whether you're an in-house designer, a freelancer, or part of a consulting team, the burden is on you to earn the client's trust and strengthen the client-partner relationship. This is why, throughout this guide, you'll see tips on how to communicate with the client, questions to anticipate from them, and how to respond.
8 Steps of the Design Process
As you'll likely appreciate, the eight steps in our Design Process draw heavily from the frameworks and principles above. Similarly, it's critical for you to understand that it is not a linear process that we follow sequentially. It's an iterative loop. When our analysis requires us to revisit an earlier stage, then we do so.
In the succeeding chapters, we'll go through each of the eight phases of our product design process at Netguru. You'll find common sections in each chapter, particularly the following:
Methodologies and process descriptions
Questions the client may ask
Questions to ask yourself
The desired outputs or outcomes
Supplementary reading materials
Here's a preview of what you can expect from each chapter:
1. Project Introduction & Setup
The design process begins even before the first client meeting. The first step in your design journey is thorough preparation. In this chapter, you'll learn about:
What the first contact with a client looks like
What questions to ask
How to talk to a client (communication tips)
How to set up asset folders (in Google Drive, InVision, and Figma)
2. Discovery
This is the phase where you and the client will ask questions about the problems you're trying to address and the right solutions for them. Conducting thorough research will help answer most of these and provide a path forward. In this chapter, you'll learn about:
When and how to run research
Various forms of research methods
3. Ideation
With all the data you've gathered at this stage, you should already have a solid base to further specify your product concept and describe it in detail. In this chapter, you'll learn about:
How to run ideation and conceptualization exercises
Tools for ideation
4. Wireframing
Wireframing is the bridge between researching and designing visuals. It lets UX designers test-drive ideas and iterate quickly early in project development. In this section, you'll learn about:
The benefits of developing a wireframe
What's included in the wireframing phase
Elements included in a wireframe
Wireframing best practices (do's and don'ts)
5. Testing
Every design iteration should be tested using methods appropriate to the project's scope and the stage you're in. In this section, you'll learn about:
The benefit of testing
When to test wireframes or designs
Tools and techniques for testing in specific situations
Tips for testing designs
6. Design
In this phase, UX designers should be able to finalize the design artifacts. In this section, you'll learn about:
Where to look for inspiration
How to collect inspirations and prepare mood boards
How to prepare style guides
Specific design states and how to prepare one
Designing for specific devices
Best practices for working in teams (do's and don'ts)
Where to find design resources
7. Implementation
For designers, this phase is about coordinating with the developers while preparing the design assets. In this section, you'll learn about:
Tools for asset production and management
Asset naming conventions
Prepare assets for Android and iOS
8. Project Termination
Every product design process, much like any other type of project, must be concluded properly. In this section, you'll learn about:
Where to put the source files and store assets at every stage of your involvement in the project
A project termination checklist
Retool your design process
We encourage you to refer to this guide as a manual of practice while you work on a design project. At the same time, adapt this design process to your specific context and build on it for your next projects.
From one team of designers to another: we wish you well!
Supplementary reading