Introduction to Disruption Guide Fintech 2022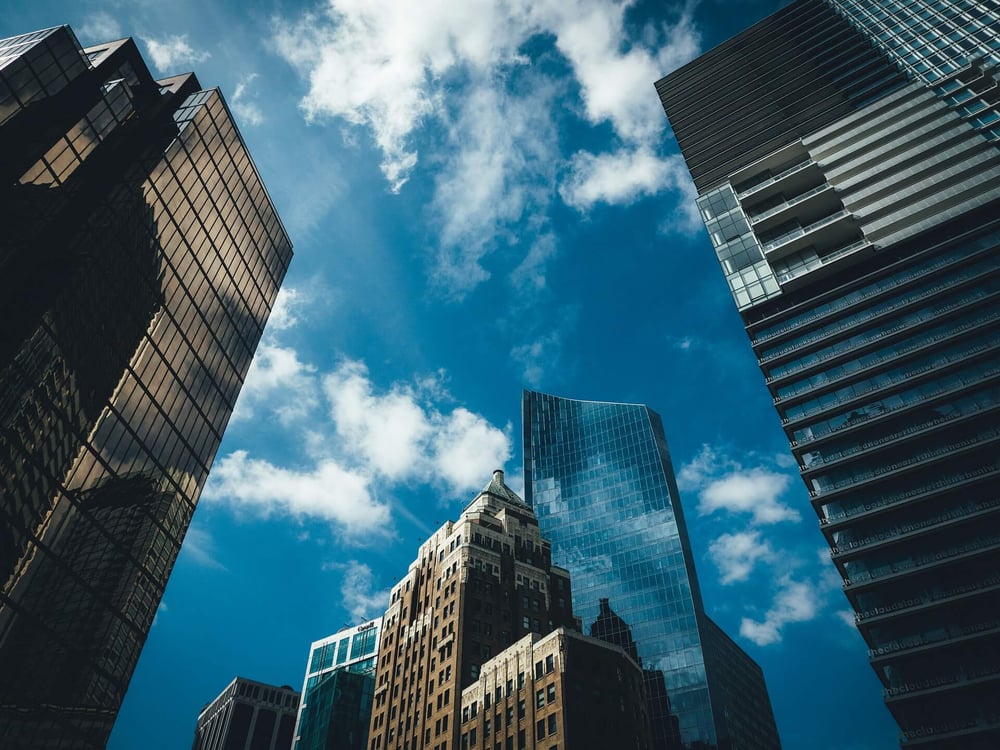 In just two years, fintech has undergone revolutionary change. What was considered a small player in the finance sector ten years ago is now one of the largest funded industries globally.
Fintech weathered the storm that was 2020, thanks to mass digital adoption and dramatic growth in the use of financial technology. Almost overnight, we saw local brick-and-mortar banks replaced with just a few taps on a smartphone, payments become cashless, and digital investing take strides towards the mainstream.
Arguably, 2021 gave businesses a taste of a new normal. Instead of looming lockdowns, many companies welcomed their teams back into the office. Others defrosted their frozen hiring plans, and some embraced a more employee-first way of working.
Then 2022 brought more extraordinary events as Russia invaded Ukraine
It's not yet clear how the war will impact the fintech industry in the long term. So far, we've seen companies operating in the Russian market lose revenue as sanctions against the country mount up. Money transfer companies have been forced to reevaluate their policies. And cryptocurrency has risen in prominence as Ukraine has collected more than $56 million in financial aid through crypto donations.
While the past few years have reaffirmed the crucial role fintech plays in global economic development, interest and investment in the industry continue to rise, and its rapid evolution shows no sign of slowing.
To help you easily stay up to date with all the must-know industry information, we've created this go-to resource for the fintech community. Packed with essential insights, trends, and companies to watch, it's everything you need to know in one comprehensive guide.
About Disruption Guide Fintech
Netguru's Disruption Guides are an opportunity to learn about an industry from the people actively shaping it.
Over the years, we've worked closely with leading fintechs, including Solarisbank, Moonfare, Paysafe, and many big European banks, to build an engaged community of experts, forward-thinking leaders, and great minds. Across the Disruption series of events and publications, they generously share their knowledge, expertise, and experience on critical aspects of the industry to help others succeed.
Why not check out Netguru's Disruption Guide from 2021?
While building this year's edition, the Marketing and Consulting team at Netguru attended New York Fintech Week 2022 to go deeper into the fast-changing world of fintech. This guide is a fusion of the knowledge and insights our team gathered throughout the event, expert input from our judging panelists, and a detailed review of the areas defining fintech in 2021 and early 2022.
Whether you're a fintech startup preparing for your first round of funding, a venture capitalist looking for your next big opportunity, or an established player in the fintech game looking to build on your success – this guide will help you get ahead.
What's Inside the Guide?
Chapter 1: Introduction
Chapter 2: Companies
Fintech Unicorns
Fintech Startups With the Highest Investment
Biggest IPOs in 2021
Chapter 3: Fintech Leaders
Corporate Innovators in Fintech with the Biggest Impact
Most Successful Startup CEOs
Inspiring Design Directors
Fintech CTOs to Follow
Top Finance Editors
Chapter 4: Fintech Network
Most Active Fintech VCs
Fintech Accelerators
Fintech Hubs
Chapter 5: Insights
Best Fintech Podcasts
Top Fintech Newsletters
Fintech Magazines and Blogs to Follow
Fintech Events Worth Attending
Chapter 6: Technology Trends
Top Fintech Technology Trends
Fintech Design Trends To Watch
Chapter 7: Endnotes
The Fintech Industry in the First Months of 2022
After a tumultuous two years brought about by the pandemic, 2022 has started with new challenges.
Note: We originally planned to release this year's edition of the Disruption Guide in early March, but decided to postpone efforts as we took the war's impact into careful consideration.
How Russia's war in Ukraine is impacting the fintech industry
Russia's invasion of Ukraine has had a devastating humanitarian impact worldwide. Its global domino effect is tearing the world, lives, and businesses apart. Fintech, just like any other industry, is no exception.
With sanctions from the EU, UK, and US, economic shockwaves are being felt far and wide. Energy prices have risen sharply, supply chains have been disrupted, inflation is on the increase, and economic growth in Ukraine, Russia, and many neighboring countries has stagnated.
We're seeing the world turn finance into a weapon of war.
We've seen fintechs of all types in Russia grind to a halt as a result of sanctions. These measures have disrupted entire business operations and inhibited access to foreign capital – removing Russia from the global fintech map almost entirely.
The war's impact has also increased the need for cybersecurity in fintech. So far, there haven't been any signals of Russian-backed attacks on global financial infrastructure, but in mid-February, even before the war broke out, there were reports of Ukrainian banks being a target. And the threat persists. Consequently, the importance of robust cybersecurity remains critical worldwide, and fintechs providing solutions to increase protection against potential threats will be in high demand.
The state of fintech today – and what the future holds
Despite uncertain times, 2021 was a pivotal moment for fintech, especially in terms of investment. Global fintech investment reached $210 billion across 5,684 deals, up from $124.9 billion in 2020.
Of this, total UK fintech investment hit $37.3 billion in the year, up sevenfold from $5.2 billion in 2020, according to KPMG. And total fintech investment in the Americas reached $105 billion in 2021, including a record $64.5 billion in VC funding.
This record-breaking investment meant we saw 42 fintech companies achieve unicorn status and 30 soonicorns were added to the watchlist, making 2021 a landmark year for the industry.
Digging a little deeper into the fintech trends of 2021:
Buy now, pay later (BNPL) surged forward amid a push for greater flexibility around payment options. Swedish fintech Klarna, a leader in the BNPL space, drove 2021 merchandise volumes to $80 billion and now connects 147 million active consumers with over 400,000 global retailers.
Blockchain showed its value in the cases of cryptocurrency and the exploding trend of NFTs (non-fungible tokens). This increased interest meant a staggering $6.6 billion was spent on blockchain solutions in 2021, up from $4.5 billion in 2020, and $2.7 billion in 2019.
Fintech embraced a more customer-centric approach and leveraged AI, data analytics, and automation. As referenced by Forrester, the pandemic spawned a "new type of customer" – a customer that is looking for a more human-first approach – and fintech took note.
The success of Fintech-as-a-Service (FaaS) solutions continued to grow, as did the booming adoption of embedded banking APIs.
Mobile-only challenger banks continued to expand rapidly, including Monzo, Revolut, and HelloBank, among others. Together, they have continued to revolutionize banking and the customer experience.
Judging Panel Members
Fifteen professionals from the fintech community worldwide joined four experts from Netguru to vote on seven categories in the guide. The panel shared their opinions on topics ranging from the top companies and people in fintech right now to the trends shaping the industry.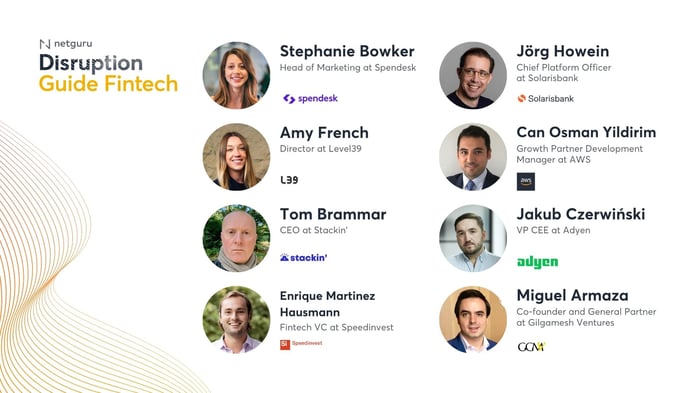 Stephanie Bowker
Head of Marketing at Spendesk
Stephanie is the Head of Marketing at Spendesk, the spend management platform transforming the way modern businesses control, track, and automate company spending. Before stepping into her role at Spendesk, Stephanie worked at Intuit and was the first product marketing hire at Gusto.
Jörg Howein
Chief Platform Officer at Solarisbank
Dr. Jörg Howein is Chief Platform Officer and has been a member of Solarisbank's Management Board since February 2020. In this position, he is responsible for Solarisbank's central production platform. Previously, Jörg Howein was Chief Product Officer and VP of Projects & Growth at Solarisbank.
Amy French
Director at Level39
Amy French, Director of Level39, joined the team back in 2014 – quickly excelling to take leadership of a diverse community of 200 high-growth tech businesses. At Level39, she has been instrumental in forging partnerships between Level39 and global institutions, investors, academia, and government.
Can Osman Yildirim
Growth Partner Development Manager at Amazon Web Services
Following more than ten years working in technology sales and partner management, Osman Yildirim is currently Growth Partner Development Manager at AWS. Throughout his career, he has developed expertise in a variety of areas, including enterprise software sales, partner recruitment and training, and channel management.
Tom Brammar
CEO at Stackin'
Tom Brammar is the interim CEO at Stackin', an app-based service that improves people's relationships with money using personalized behavior-based coaching. Prior to his time at Stackin', Tom co-founded financial services company L.O.A.F. Throughout his career, he has also held many board and advisory roles.
He's a Macro Tourist with a fascination with all things finance, tech, and ex-G8 markets.
Jakub Czerwiński
VP CEE at Adyen
Jakub is the VP CEE at Adyen, the Dutch fintech company connecting consumers to the most innovative and seamless shopping experiences across any channel.
With over ten years of experience in commercial roles and a strong background in fintech and hospitality, Jakub helps global brands grow their business through seamless payments. His domains are unified commerce, platforms, and marketplaces.
Enrique Martinez Hausmann
Fintech VC at Speedinvest
Enrique joined the Speedinvest Fintech team in 2018. He works as an associate and focuses mainly on fintech in Europe and developing economies.
Previously, Enrique worked in EY's Transaction Advisory Services department, where he focused on FIG, as well as business development and product management roles at various startups in Berlin.
Miguel Armaza
Co-founder and General Partner at Gilgamesh Ventures
Miguel Armaza is a Co-founder and General Partner at Gilgamesh Ventures, a venture capital fund focused on seed level investments in the fintech sector across the Americas (LATAM and the US). He's also the founder of the Fintech Leaders Podcast.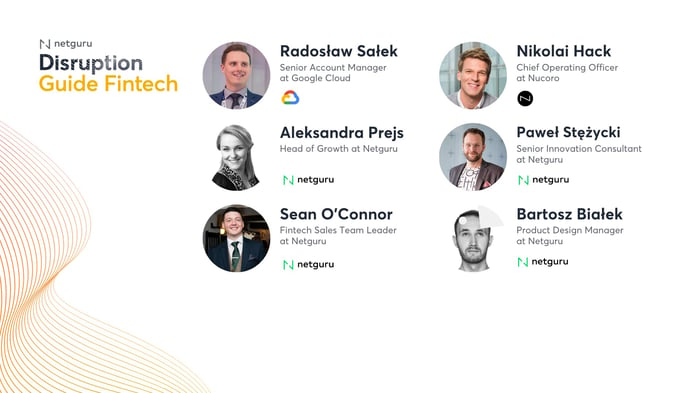 Radosław Sałek
Senior Account Manager at Google Cloud
Radosław has been helping FSI (Financial Status Indicator) customers in their digital transformation journeys for over 15 years. From the first virtualization at Dell through the first databases in Cloud at Oracle to finally moving customers to the cloud and beyond with Google.
Nikolai Hack
Chief Operating Officer at Nucoro
Nikolai is the Head of Strategy & Partnerships at Nucoro, an investment and savings platform that helps financial businesses succeed in the digital age. In his role, he leads on the direction of the business and the development of Nucoro's partnership programs.
Before joining Nucoro as one of the founding team, Nikolai spent several years in management consulting.
Aleksandra Prejs
Head of Growth at Netguru
As Head of Growth at Netguru, Aleksandra is responsible for the continuation of growth at Netguru and the coordination of all marketing and communication processes.
Before joining Netguru, she managed marketing and PR activities in Poland's hottest social media analytics startup. Aleksandra also spent over three years as a journalist covering the media and marketing industries, which led to her deep understanding of B2B marketing.
Paweł Stężycki
Senior Innovation Consultant at Netguru
Paweł is a forward thinker focused on building customer-centric solutions for the banking, fintech, healthcare, and entertainment industries. He helps innovation projects grow and ensures they flourish over time.
With expertise in product design, business design, and solution architecture, a background in user research, and an extensive track record in banking, Paweł knows how to make the most of both market dynamics and tech.
Sean O'Connor
Fintech Sales Team Leader at Netguru
Sean first started working in the fintech space back in November 2014. At the time, he was a young salesman, and as soon as he started learning about the rapidly expanding fintech market, that was it.
Over the past eight years, Sean has been thankful to work alongside and consult with some of the world's leading payment fintech companies.
Bartosz Białek
Product Design Manager at Netguru
As Product Design Manager, Bartosz is responsible for quality of delivery and project success, business growth, and team operations and development.
He enjoys creating things that not only look beautiful but also answer users' needs and inspire others. Always curious, he likes to write about the relationship between design and business. He's particularly fascinated with technology, social revolution, new media, and human interactions.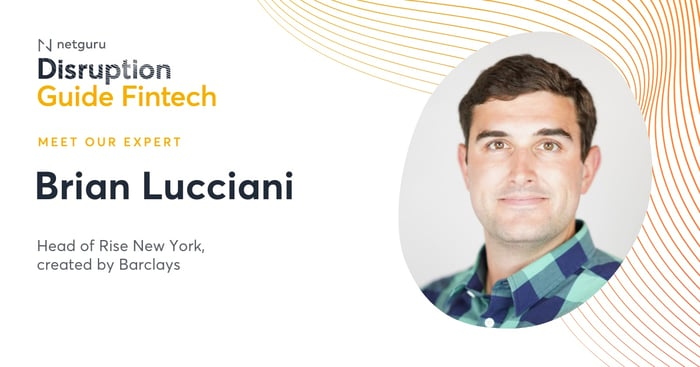 Brian Luciani
Head of Rise New York
Brian is the Head of Rise New York, a global community of the world's top innovators working together to create the future of financial services, created by Barclays.
Its mission is to connect technology, talent, and trends from across the Rise ecosystem to accelerate innovation and growth in the financial services industry.
Brian has deep expertise in business development, sales, investment banking, and operations and experience with global leaders in finance and technology (BNY Mellon, Goldman Sachs, Johnson & Johnson, WeWork).
Note: Brian wasn't part of the judging panel but provided a comment about corporate innovators.
We hope you find this Guide valuable and that it helps you navigate the world of fintech in the coming months.