Burning Minds - Digital Consulting for Tomorrow
Boost your knowledge with Netguru experts
We're getting ready for this next year!
Stay tuned for the next edition
Another edition of our one-of-a-kind knowledge sharing event took place on Friday – 30th of June 2023.
We were happy to include some of the greatest names in the tech world inside and outside Netguru to be part of this venue
Let's meet the speakers of Burning Minds - Digital Consulting for Tomorrow.
Burning Minds 2023 Speakers
Brian T. O'Neill

Founder, Principal at Designing for Analytics

Patryk Szczygło

Senior Consultant | Research & Development at Netguru

Paweł Stężycki

Senior Innovation Consultant (Fintech) at Netguru

Marcin Oziemski

Engineering Lead at Netguru

Michał Poczwardowski

Staff Engineering Manager at Netguru

Maciej Markiewicz

Security Engineering Manager at Netguru

Anita Jaszewska

Engineering Manager at Jobandtalent

Karolina Długosz

Sustainability Practise Lead at Netguru

Daniel Alcalde Güelfo

Consulting Director at Netguru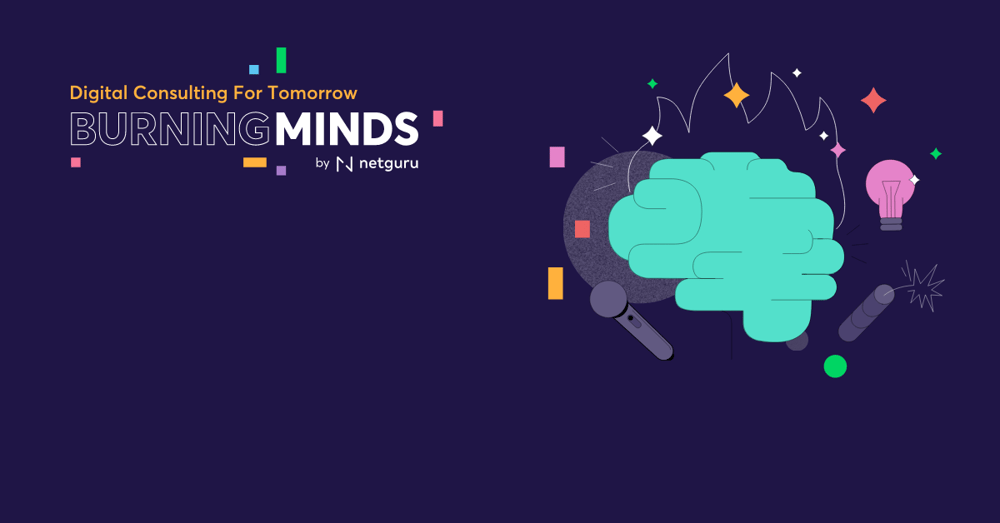 Burning Minds - Digital Consulting for Tomorrow - line up
Below you will find the detailed agenda of Burning Minds 2023
Kick off and welcome speach

Delight Not Deliverables: Why Discovery is Key to Designing Indispensable Human-Centered ML Solutions

Speaker: Brian T. O'Neill

Believe it or not, your clients don't want analytics, ML or AI from you—even if they ask for it. If that's true, what does it mean to delight a client? What about users and other humans in the loop who aren't the client? How do ML-based solutions complicate the work of technology consulting and creating client value?

In this keynote, Brian T. O'Neill, host of the Experiencing Data podcast and founder and Founder and Principal of Designing for Analytics, will discuss how product mindset, human-centered design, and a consulting mindset can enable teams to deliver clients delight—and not just deliverables.

Apply AI To Work With You

How will AI impact your work? You can join forces and work together with any number of virtual coworkers. Adapt AI and gain as much value as possible.

Money 2030 - The Future Of Fintech (and what's in it for you)

It will be a story on what drives transformation and change in the financial industry but shared from the perspective of the future users. I've tested a similar story on an audience in Saudi Arabia and it resonated well.

You will learn about the opportunities for digital companies and how to foresee them. On the more practical level, I will discuss the trends in finance/banking in different regions of the World, making is a good story for people working in the financial industry.

I will also share some hints as to how to take advantage of trends analysis if someone aims to become more of an industry expert (financial is an example, but the logic is more general).

Efficient Teams: Scratching The Surface Of Metrics

Do you know whether your team is efficient or not?
How do you measure that? How can we improve team performance?

I would like to answer these questions. More precisely, start unpacking it because it's a really broad topic.

Emotion-Driven Development

Speaker: Anita Jaszewska

Do you think you're 100% rational? Well, let me tell you a secret: none of us are. And that's great news! I will explain to you what emotions are, what they are not, how to understand them, and how to incorporate them into the thinking process that can help your (self) development.

Clear Writing, Clear Thinking: Observations On Writing And Its Influence On Thinking

Speakers: Michał Poczwardowski

I write every day for business and pleasure. After finishing a book, I always write a review. This process of writing reveals gaps in my understanding and helps to clarify what I have learned.

We are a social species; we build upon past generations and everything that they learned. It's impossible to achieve anything without communication.

During my talk, I will give you all the tips and tools to improve both, your writing and your communication skills. I will emphasize the importance of clear writing and its connection with clear thinking.

Writing is a key element of decision-making, and smart decisions are what we aim for.

Software, Security, and the Butterfly Effect

In early January 2023, one of the leading software development tool providers reported unauthorized access to IT systems. This brief communication, sent at 5 a.m. to the email inboxes of several thousand clients, triggered a chain reaction whose costs are difficult to estimate. The effects will only be visible in the future.

In my speech, I will tell you about what a supply chain attack is and why it's so easy to hack many companies at once. I will also discuss our role and experiences in preventing such attacks. You're welcome to join.

A Very Serious Session On Climate Change, Futures Literacy And… The Role of Technology

Moderator: Barbara Rybicka
Panelists: Karolina Długosz, Dani Güelfo

Green Tech is there for a reason. Regardless of how reluctant we are to explore the worst-case scenarios of climate change, and how tangible it is that we don't take the scale of climate risk seriously, conceptualizing the future is what we should be doing. Especially having Green Tech as part of our portfolio.

Futures Literacy is a capability. It is the skill that allows people to better understand the role of the future in what they see and do today. Being futures literate empowers the imagination, enhances our ability to prepare, recover and invent as changes occur.
Burning Minds 2024!
Do you want to be with us during the next year's edition of Burning Minds?
Sign up and get notified about the date! 💚
Click for the details
Sorry, our forms might not work